*Super long post ahead!
On the morning of 25 October 2012, I woke up earlier than usual. I was too excited! It was Blake's first ever school excursion, and we are going to Jurong Bird Park!
We quickly rushed out of the house, as we had to be in school earlier than usual, and my dad was already waiting for us downstairs, along with my mom and sister.
Blake knew that there was something special going on that day, and he was excited to get to school! Perhaps it was all the talk I have been giving him days leading up to 25th. I kept telling him about a place we were going to see a lot of beautiful and colourful birds! I had given him his school's excursion backpack to carry around, and he got even more excited. Hehe. In his little backpack were his raincoat, my disposable poncho, and a set of his clothes.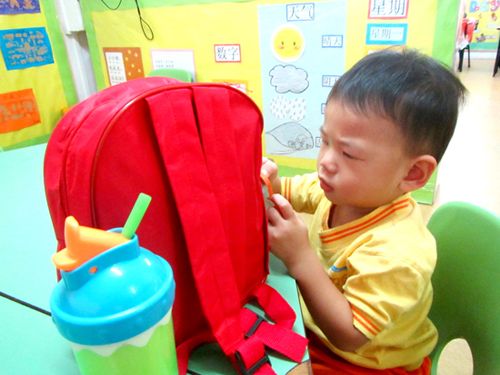 When we reached his school, Blake could not sit still. He wouldn't sit to have his breakfast, and was in a "why am I waiting?" kind of mood. He was restless. He kept saying, "Bye! See you!", throughout the time in school, while we waited for all the other children and their parents to arrive. During this period, the teachers and kitchen staff were all busy packing our lunches too.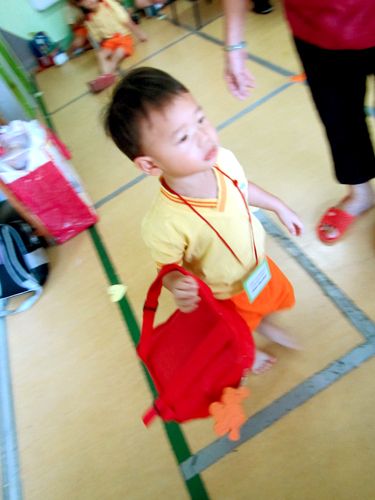 When we were finally lining up in the school's front yard, waiting for the buses to arrive, Blake got even more excited, and rushed towards the gates.

He really couldn't wait any longer. Hehe.
But it was a while before we boarded the bus, as we took the second bus, and were the last to board. So in the midst of all the waiting, photo-taking time!

Blake's teacher took this shot for us. Hehe.
Finally, we boarded the bus, and we're off! Blake was so excited, he wow-ed at everything he saw outside the window. Hehe. Lucky bugger got the window seat.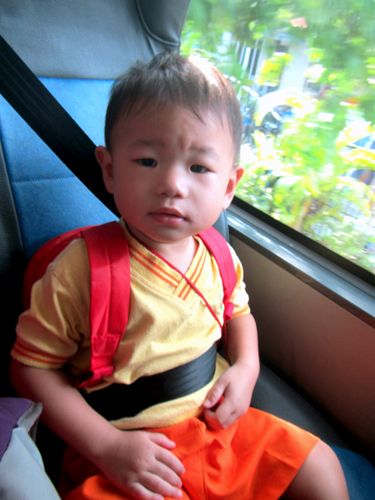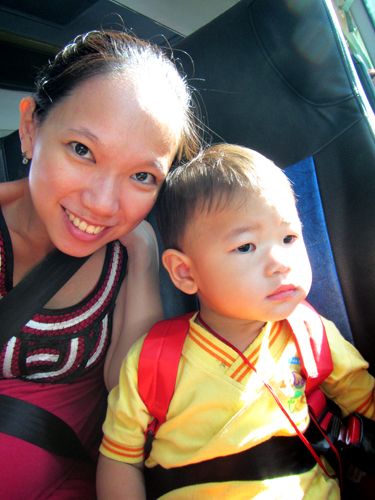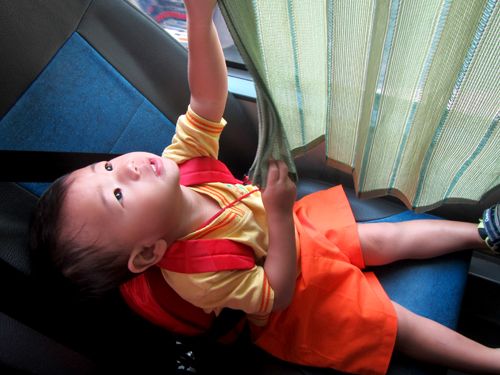 Halfway through the journey, Blake got bored and he started to play with the curtains on the bus. He was playing peek-a-boo with the world outside the windows. That entertained him for quite some time, and before we knew it, we've reached the bird park!
While waiting for the school's principal to get all our tickets, everyone lined up to take photos with 'Birds of Play' signboard. One of the teachers said, "This is proof that we came to Jurong Bird Park!" Haha. It was quite funny.

The littlest of the lot. Hehe.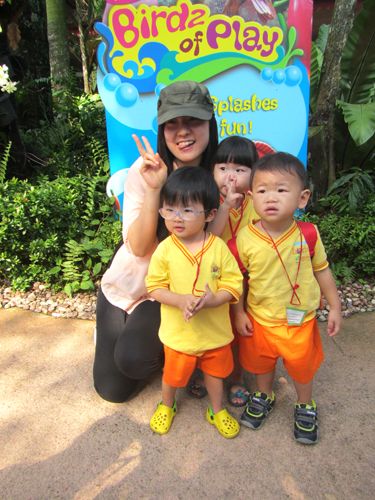 With their form teacher, Teacher Meng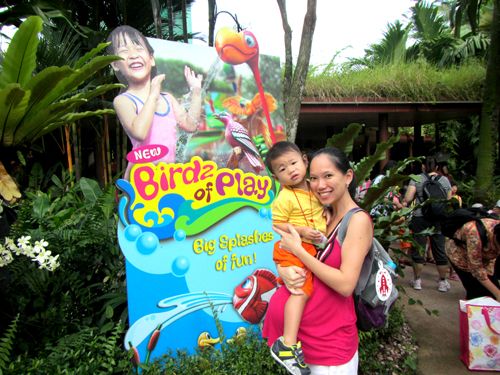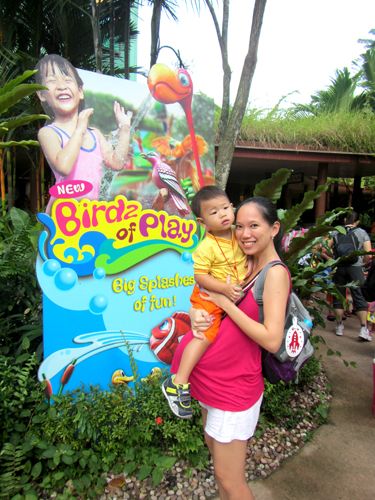 Me and my baby!
When the principal returned with our tickets, the whole school was more than ready to invade the bird park in their sunshine school uniforms! Hehe.
First stop, the penguins!

Blake saying, "Hi!" to the penguins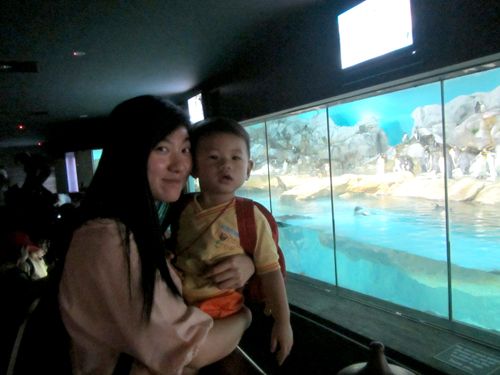 Teacher Meng was so-called assigned to assist me whenever I needed help cos of my heavily pregnant belly.
We then moved onto the owls. Blake refused to walk on his own through his section, not cos it was dark, but because he couldn't see the owls! I was wondering why he asked me to carry him all of a sudden! I had thought it was the darkness and eeriness of the place, but he was doing fine when we were at the penguins'. But the moment I picked him up, he turned to where the owls were at, pointed at them, and went, "Wow!" Haha.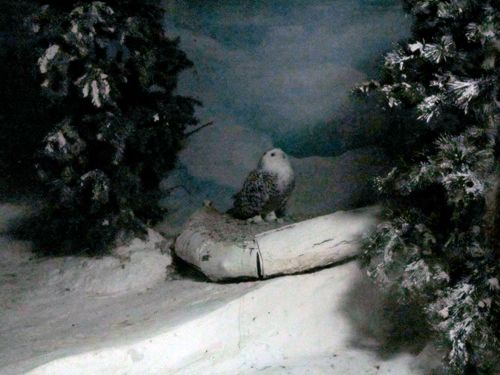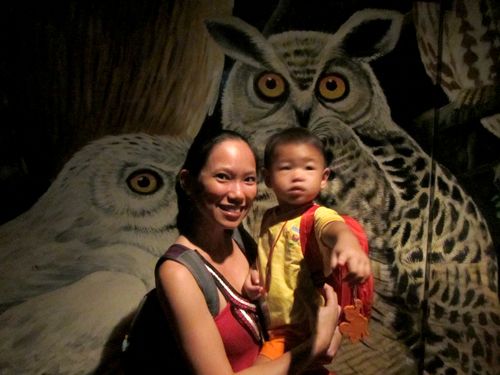 After two cooling attractions at the start of our bird park outing, we braved the sun and heat to look at the other birds.

Yup, being carried cos he couldn't see the birds. Haha.
When we reached this particular section, Blake struggled to get down.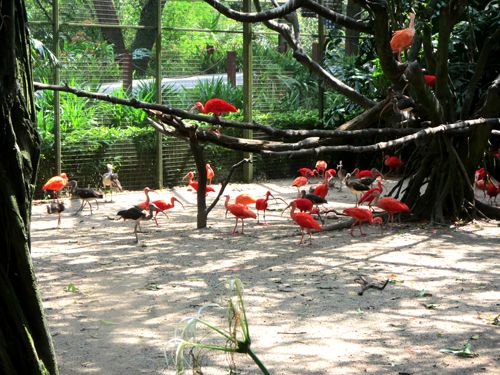 And the reason behind the struggle to get down? He could see the birds clearer, and freely, when he's on the ground. Haha! He was so excited at this attraction that he ran up and down, left and right, yelling, "BIRD!"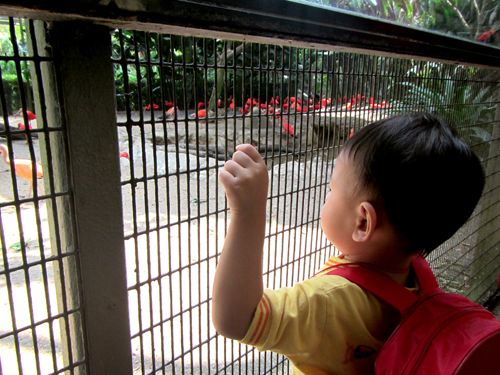 After this, the children were starting to be a little tired and hungry. So we headed over to Pools Amphitheatre, where everyone can sit down and have their lunch, while waiting for the show to start.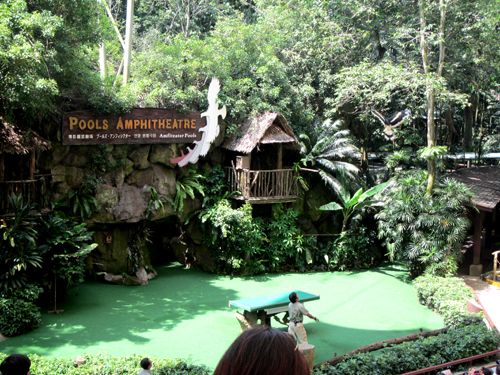 With his trusty water bottle, patiently waiting for something to happen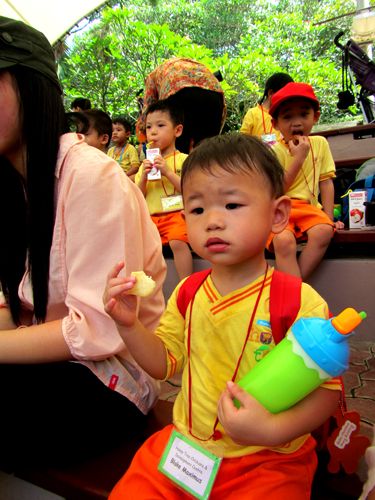 Snacking away from the goodies the school packed.
And yes, silly mommy forgot to remove his backpack until halfway through the show.
I didn't take any photos of the show as I was too busy attending to Blake, and feeding myself. Haha. I was initially gearing myself up to struggle with a crying toddler (the last time we went to an animal show in the zoo, Blake cried so badly we had to leave), but Blake surprised me when he sat through the whole show, enjoying every moment of it! He let out cries of, "Wow!" when the birds flew past us, and clapping whenever the crowd clapped. I was thoroughly amazed, and proud of my little boy. Hehe.
After the show, it was time for the activity that all the children were waiting for – Water play!
We made our way to the water playground, found a nice shady spot to put our things and get changed, and it was off to the waters!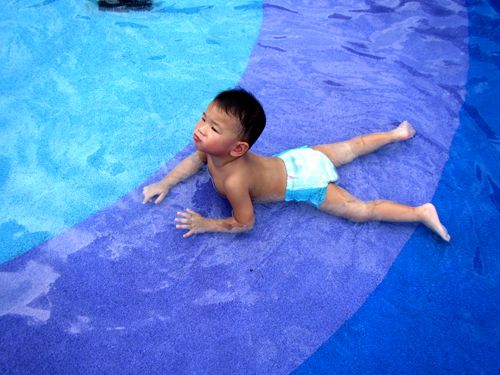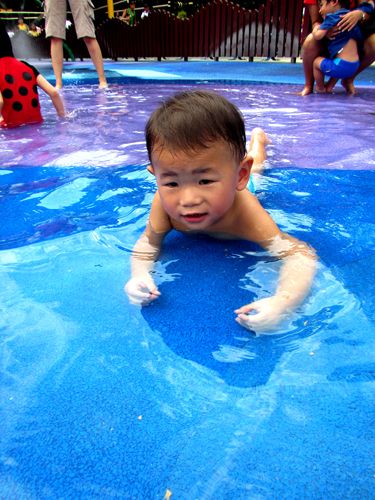 The water was definitely a huge welcome on such a hot day, and with Blake so in love with water now, he couldn't be happier to see the water playground!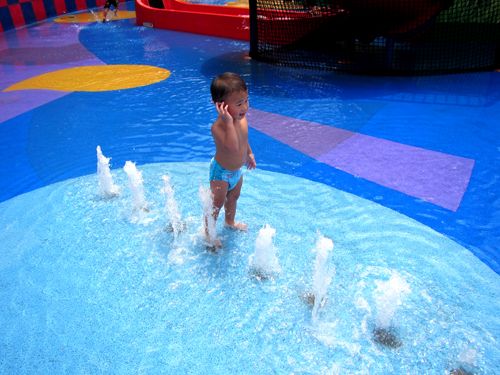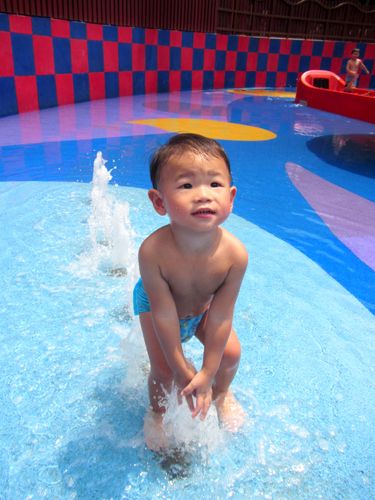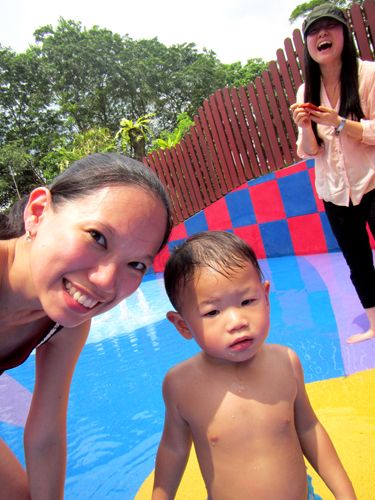 The teachers were all pretty taken aback by Blake's enthusiasm in water play. They came up to me, one by one, telling me how great it was to see Blake in his element. Hehe. At one point, a few of his teachers surrounded Blake, and begin to splash water on him. Blake was laughing non-stop!
The teachers kept egging Blake to run towards them, and to play with them. Blake happily obliged, and had so much fun with all the teachers!
Madam Teo (his class's assisting teacher) came to tell me that Blake was such a delight to have around, because he doesn't splash water on anyone on purpose, not even when the other children attempted to provoke him into doing so, or when the teachers told him to splash back, in the name of fun! Haha. Definitely a proud mama moment for me there!
When children started to leave the water playground to wash up, Blake's school principal, Ms Elle, came to me and asked if Blake had gone onto the slides. I told her I couldn't bring him up as it was kind of dangerous for the both of us. The staircase leading up to the slides had been taped off, and the only other way up was to climb up a net structure – not exactly something a heavily pregnant woman with a toddler should be attempting.
Ms Elle then offered to take Blake up, while I waited at the bottom for him. She said it would be such a pity if Blake didn't go on the slide at least once, seeing how much he enjoyed everything else at the water playground. I agreed readily, cos Blake had been trying to get me to bring him up the slides, but I kept dragging him away.
Blake was more than happy to have someone take him up to the slides, and with another teacher catching all the students at the bottom, I managed to take a video!
So glad Blake had so much fun, and so super happy that the teachers were all more than happy to get themselves all wet (none of the teachers brought any change of clothes!), just so all the children can have all the fun!
After Blake washed up, we played for a little bit at the dry playground.
Then, Teacher Meng approached us, and told me that there is a cooler spot to play, and that his classmates were all waiting there. So I picked Blake up and walked him over to the shaded area. He was super happy with this place, cos not only was it much cooler, but it had all his machine ride-ons! Haha.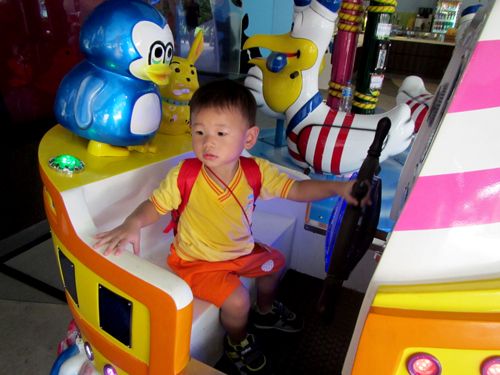 There was even a mini arcade, which Blake kept trying to push the door open to get into. I let him in, only because there was air-con. Something we both very much needed. Hehe.
When everyone was done washing up, it was time for the tram ride. We waited to get a whole tram to ourselves, and we named the tram "The Honey Tree Tram"!
Blake started to become cranky at this point as it was time for his afternoon nap, so I popped his pacifier into his mouth, and carried him throughout the rest of the journey.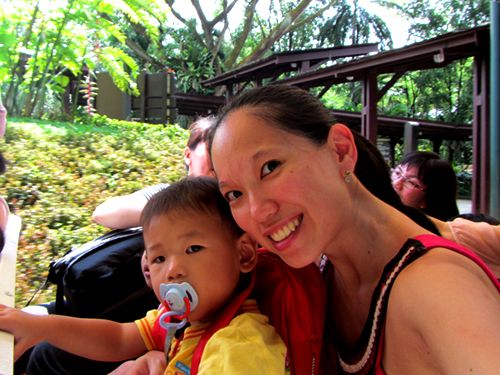 Tried to get everyone within the two rows in, but Blake was too low, and two of the children behind got blocked by me…
After the tram ride, everyone was exhausted, but we still had 30 minutes to go before we could leave. We had to wait for the buses to arrive.
I took this time to bring Blake to the souvenir shop, to get a little reward for him. He behaved so well, I was so proud of him! That and because, I cannot leave anywhere without buying anything, when I'm determined to buy something home. Haha.
I got Blake two soft toys (he chose them) in the form of a Toucan and a Cockatoo. I had planned to get only one for him, but this boy of mine liked these two so much, he wouldn't let go and carried them all around the shop. He did put them down when I told him to, though. I had to find Teacher Meng before I can make any purchases, as she was carrying our bags (so sweet, right?). So as a bonus reward, for not struggling or throwing tantrums when I put the toys back and left the shop, I got them both for him. Haha.
While Teacher Meng watched him, I went into the shop quickly to make the purchase, and returned to surprise my boy.

Look at how smitten he is with the Toucan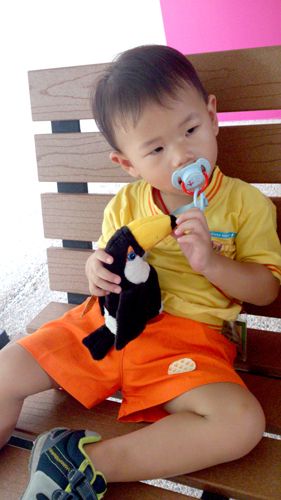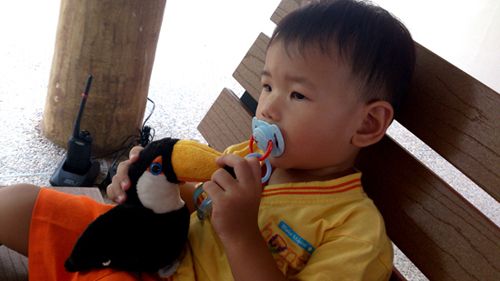 Blake fell asleep shortly after he got hold of his new toy
Soon, the buses arrived, and we were on our way back to school.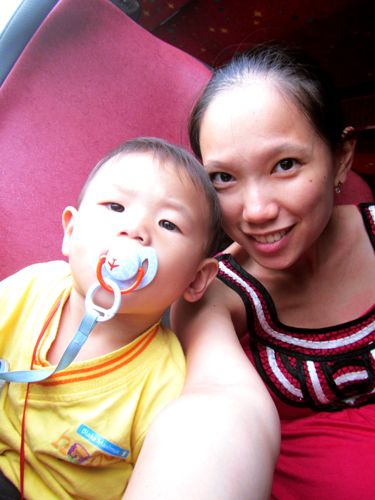 Just before he laid down on my lap to rest on the journey back to school
When we were back in the school, Blake drank his milk while waiting for my dad to pick us up. When he was done, my dad called (perfect timing!), and we left for home.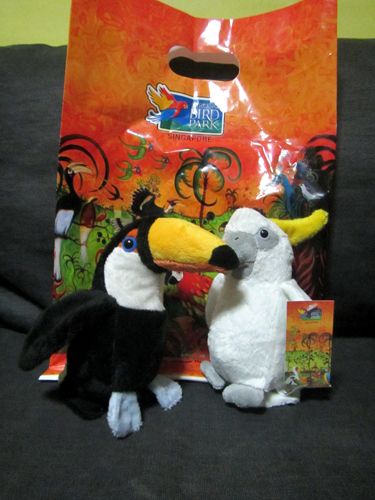 Blake's new feathered friends
Ending this super long post are more pictures of Blake with his new feathered friends, and his duckie, the morning after our first school excursion: