Media Invite
After our trip to S.E.A. Aquarium, we made our way down to Sand Bar Singapore via the Sentosa Express for lunch.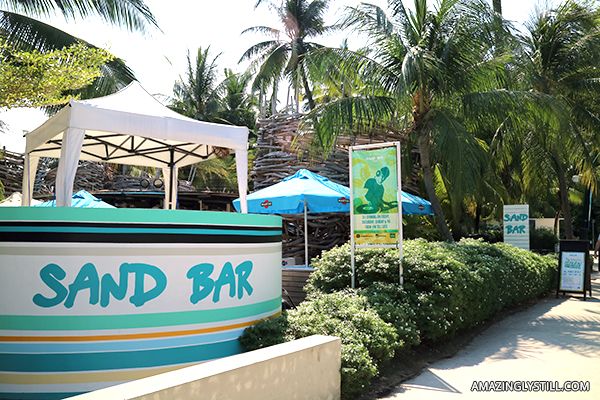 It was blazing hot and a part of me wished we were dining in an air-conditioned place. Thankfully, we were seated at a cooling spot, under a giant umbrella, with big cushioned booth seats. The children got comfortable real quick, which is a good sign – Sand Bar has positive vibes!
We got down to ordering immediately as everyone was hungry, and I received a quick tutorial on how to use the C Side Menu & Rewards app (available on android / ios).
You can place your orders through the app without having to move. No walking to the counter or flailing your arms frantically to get the staff's attention are necessary here. I love technology!
Oh, and besides ordering from Sand Bar, you can also order items from Flame, located just next door. And that's what we did!

Margherita Pizza, $16
This was ordered with the children in mind, but Sean and I each took a few pieces too.
I could either be reaching the age where I can no longer stomach thick crusted pizza, or I have grown extremely fond of thin-crusted pizza that have been baked to perfection just like this – crispy crust with generous amounts of cheese that stretches so well!

BBQ Ribs, $16
Absolutely mind blowing.
I have said this before and I'll say it again… I LOVE RIBS, especially ribs that are flavorful and cooked well to the point where the meat falls off its bones easily! And this was it!
The potato wedges served with the ribs are made from real potatoes. As in, they literally cut the potatoes up in the kitchen and work their magic on it before it's served with the mains. A refreshing change without losing out in flavor! I actually prefer these to the orange ready-to-cook ones now.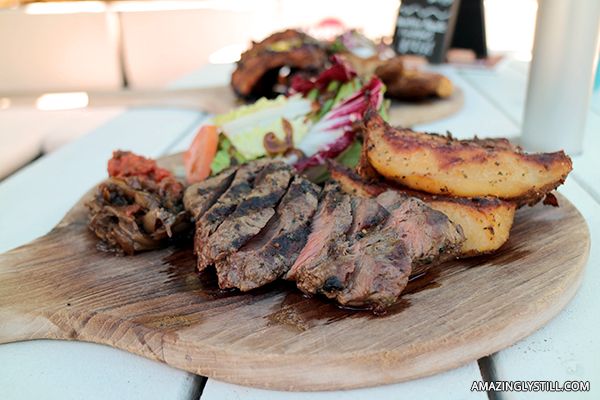 Flat Iron Steak, $18
This was highly recommended by a friend, so we definitely had to order it. And it was only after it was served did I realize that we forgot to mention how well we'd like the steak to be done. By default, it's served medium rare.
The younger me will probably balk at eating a medium rare steak. I used to be the kind who will order all her steaks well done (I know right, wasted all that beef), but the late 20s me has discovered the joys of medium rare charboiled steak! And the Flat Iron Steak sure lived up to my our expectations.
I liked that it came sliced up for us. That made eating with the children so much easier. There are onion jam and tomato compote on the side to go with the steak, but I prefer to eat the steak as it is. It's tender and juicy, it simply melts in your mouth! Way more than good enough on its own.
After our meal, I decided to take the opportunity of the glorious sun rays and beautiful back drop to take some family photos! So… Be warned. Photo spamming ahead, because I cannot decide which is the nicest of the final three!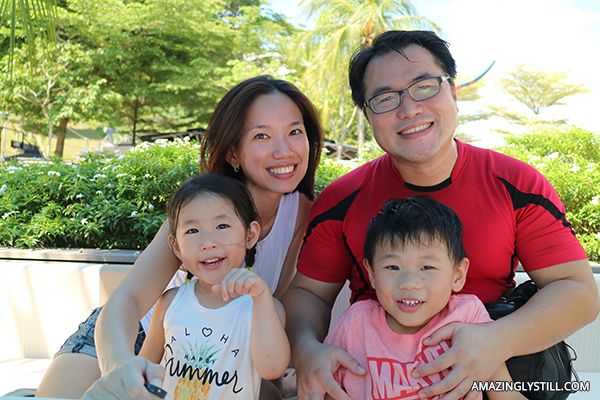 Then we proceeded to cool off at The Ice Cooler within Makan², which is just down the road, with some Hawaiian Shave Ice!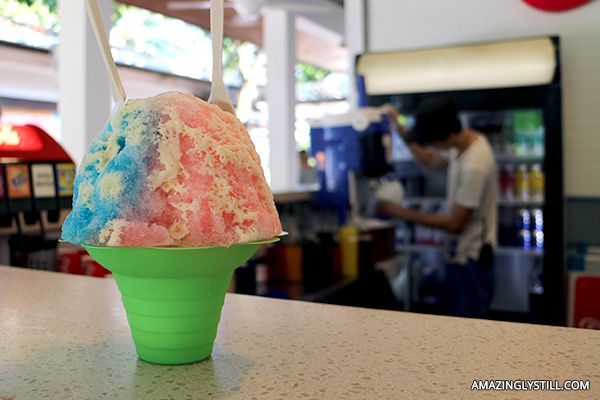 For the boys: Vanilla, Pink Lemonade and Carnation Milk

For the girls: Strawberry, Lemon Lime and Blue Raspberry
Before you dismiss it as being the same as our local dessert, Ice Kacang, there's slight difference between the two.
Firstly, the ice shaved is much finer than our local version. You'll also get to choose your flavors – over 30 to choose from, not including add-on toppings. And every flavor has great likeness to what it's representing (e.g. Strawberry tastes like the strawberry fruit) without feeling it's really just all sugar syrup.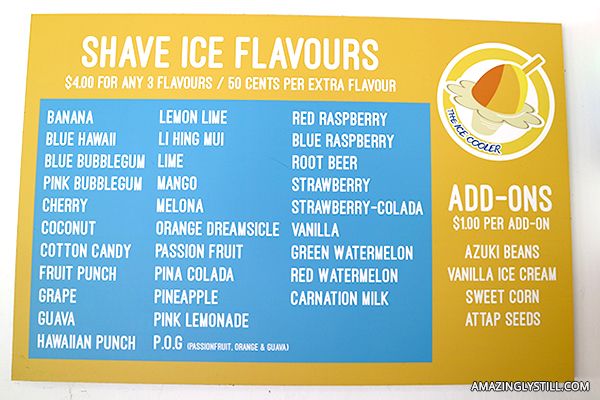 Lastly, the greatest differentiation… There is no kacang! Just the way I like my shaved ice!
And if you have no idea what combination you should get, like us, you can ask the friendly staff for suggestion and he'll ask if you like things sweet or sour before coming up with a combination just for you.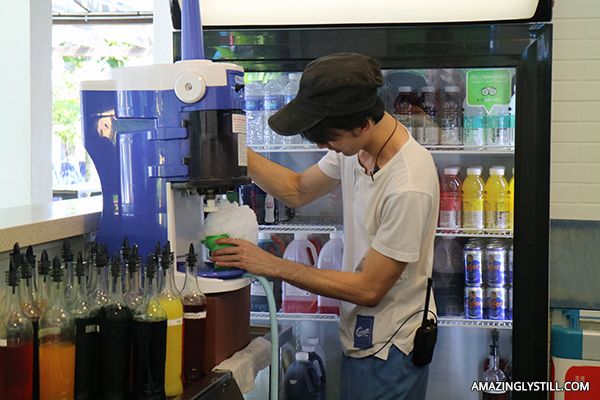 When we finished our shave ice, the children started to play with the mural right next to The Ice Cooler. And the result of it…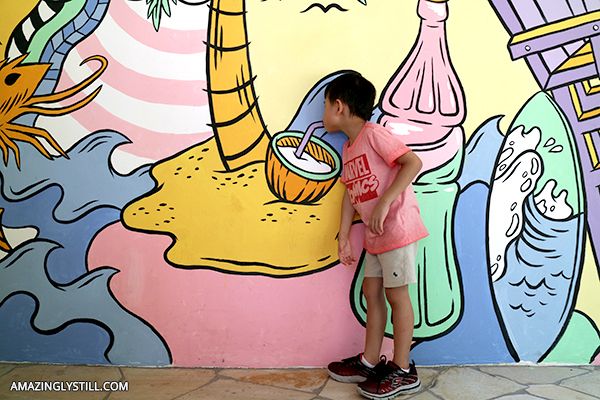 MORE PHOTOS!
Here's another Instagram-worthy backdrop found around Makan².

Yay!
So happy when there are yums in my tums!
* * *

Sand Bar Singapore

Opening Hours
Mon – Thur: 12pm – 10pm
Friday: 12pm – 1am
Sat :11am – 1am
Sun: 11am – 11pm

For more information, visit their Facebook page

Makan²
Mon – Sun: 11am – 9pm

Both are located at Siloso Beach and can be contacted at +65 6631 8938
Disclaimer: While we were invited to Sand Bar and Makan², this review was provided on a voluntary basis (must be good that I will write about it and recommend to you!). No further compensation were received.