Ever since the children saw the bumboat for the first time back in June, I've been thinking of bringing them for a ride as they had expressed interests in it. So over the September holidays, as a treat for Blake's birthday, I took both of them on a ride!
We purchased our tickets from KLOOK the night before, cos I remembered it was cheaper than buying over the counter. I paid a total of $51 for 1 adult and 2 children, saving about $4. Haha! Cheap thrill for every dollar saved!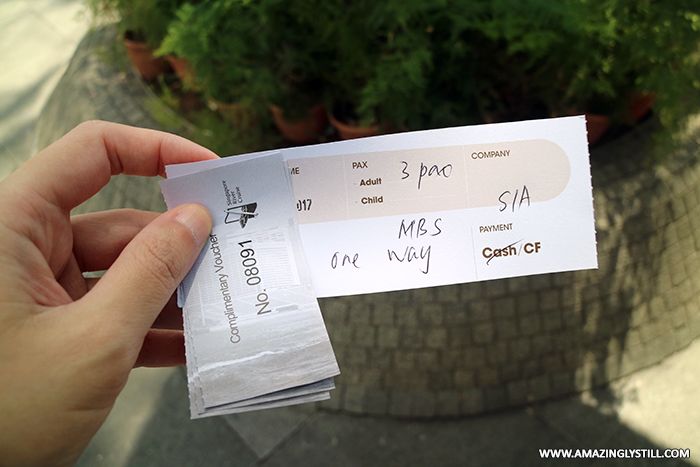 It may say 'Complimentary Voucher' on the tickets, but this is not a sponsored post or advertorial post for KLOOK or River Cruise Singapore, ok? That's just what they give to customers who make their purchases from KLOOK.
Our tickets were also torn in advance as we had informed the staff that we'd like to get off at the Bayfront South Jetty, which was about the half-way mark from where we boarded at Clarke Quay Jetty. I wish I moved a little faster to take photos of the tickets before they got torn… Sigh.
Onwards and upwards! It was time to board the bumboat!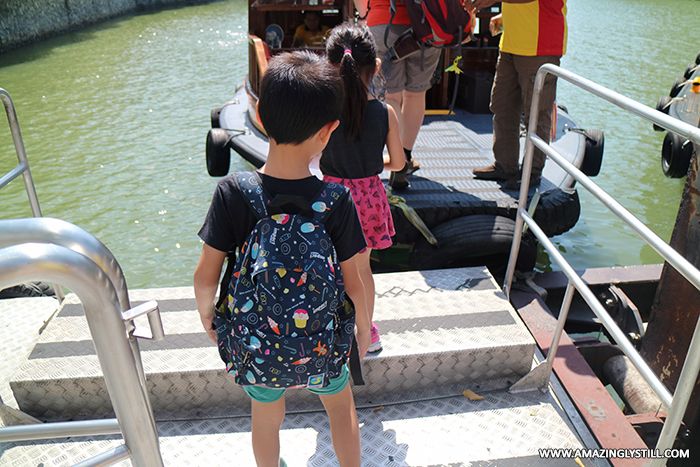 It was really sunny that morning, so the children weren't too pleased when I made them go all the way to the end of the boat so that we could sit out in the open. Haha! But seeing how miserable they were, and how the seats were too hot for them, we went back in after this shot taken by a fellow tourist!
Tip: Offer to take photos for others and they'll be more than happy to return the favour!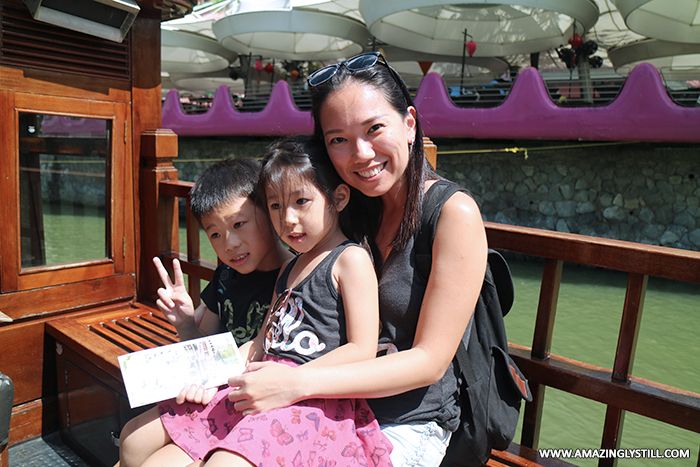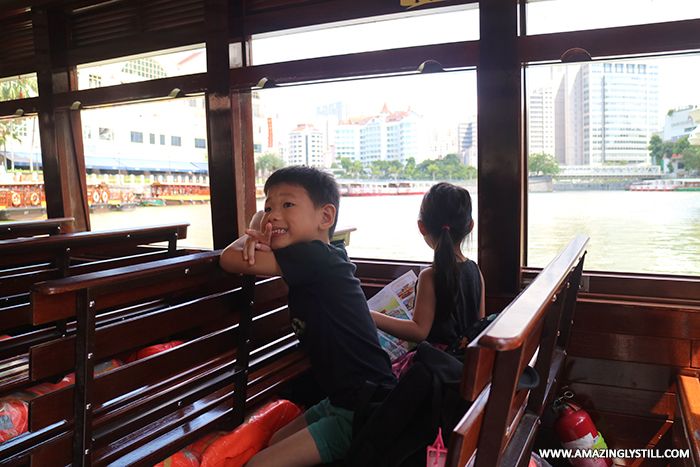 Happy campers in the cooling shade
The bumboat moved slowly along Singapore River, following the pace of the audio commentary being played.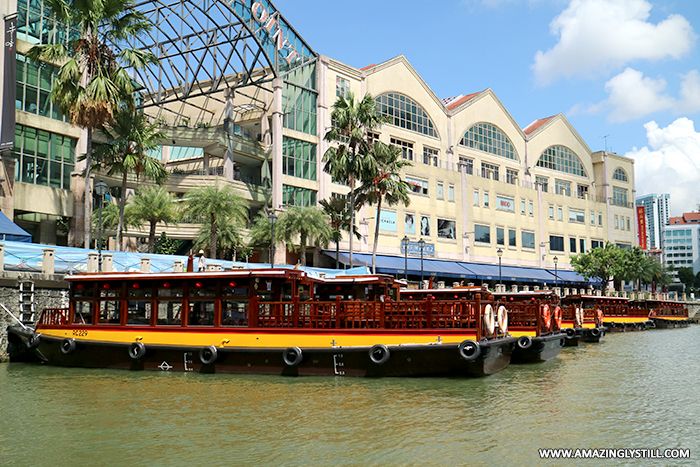 I don't know if the children actually paid attention to the commentary, but they were mesmerized by the sights and were excited to be going under bridge after bridge.
While the children were occupied with the ride, I was moving from seat to seat, snapping whatever photos I can.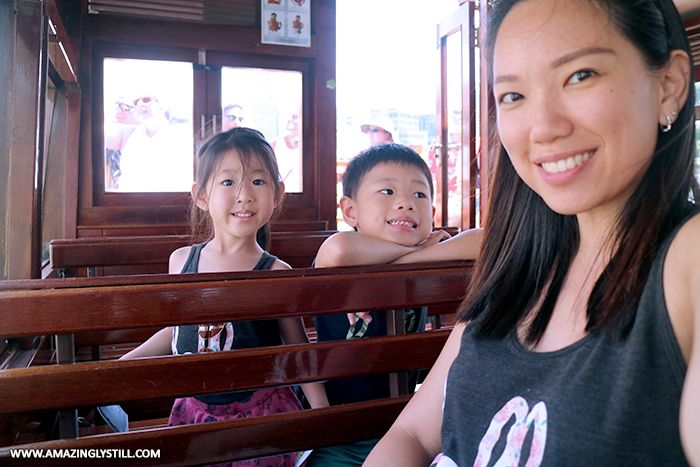 They're 30 years old, just like me!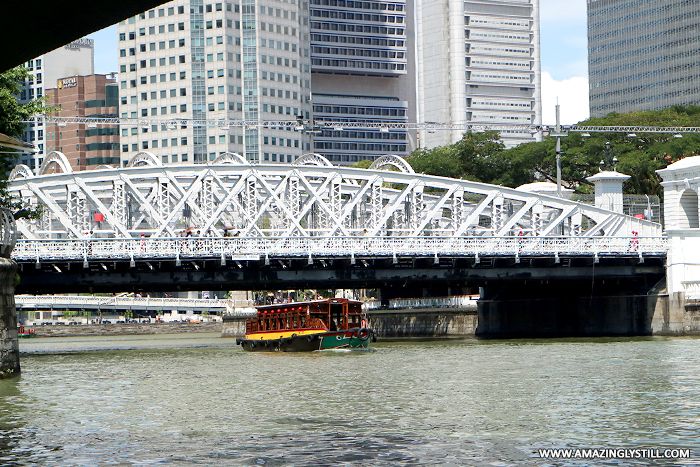 The Merlion!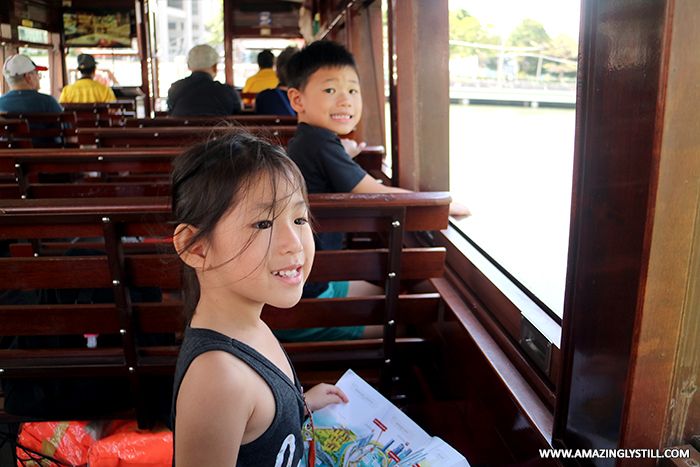 As we were nearing our destination, I started to get a little more daring with my photos. Haha! I asked the children if they were comfortable with sticking their heads out of the boat so that I could snap a shot. They were more than happy to do so! I guess they felt that the boat was safe and stable enough to do it. Haha!
They actually stayed like this for me for a while as I shot in burst mode crazily. And yes, with kids being the main focus, out of all the shots taken, this was the best one. Haha!
After we completed our journey to Bayfront South Jetty, we bade our bumboat farewell, and made our way to part two of our day's out – Gardens by the Bay! But that's a post for another day. Hehe!