Sponsored
When I was approached to do a product review for a steam cleaner, I thought it would be an unknown brand that was new in the market. I totally did not expect it to be Kärcher!
Digressing a little, a few years back, we were shopping around for a vacuum cleaner; Sean did a lot of research on various brands, and he was most attracted to Kärcher. He had rant and raved about it for a couple of months before we finally brought our first Kärcher home!
Back to the present, I attended their briefing and demonstration session for their latest Kärcher Steam Cleaner, along with five other parents. I was so psyched!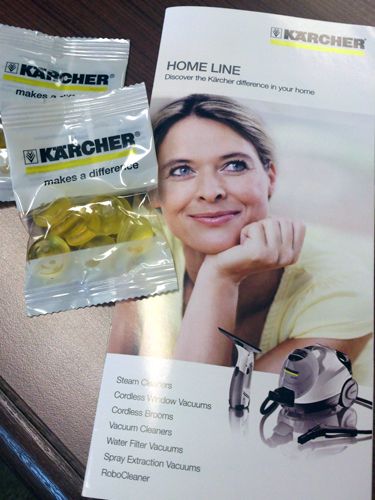 Great welcome gifts – Gummies from Haribo, in Kärcher's signature yellow! Hehe.

Jeremy introduced us to the Kärcher brand and the steam cleaner we'll all be getting

And the model of steam cleaner we'll be getting is none other than SC 6.800 CB *EU, their premium model! And yes, it comes with an iron too!
For their latest home line of steam cleaners, Kärcher has gone from their signature yellow to white so that it can fit beautifully into any homes. How thoughtful of them!
Some amazing facts you need to know about their latest model of steam cleaner:
• Replaces the mop (no more carrying of buckets back and forth, and squeezing water out of the mop)
• Removes lint and odours on our clothes (especially good for those who wears blazers and business jackets)
• Comes with an iron to do steam ironing with (they also have a special ironing board to complete the whole experience)
• Steam cleans windows and mirrors with ease (no more stained hands from using water and newspapers)
• Uses only pure water (Good to use for any household with young children cos it's chemical free)
• New and improved floor tool distributes steam equally and efficiently
• Can also be used to steam clean air-conditioners, bathroom floor and shower screens, kitchen stove tops, removal of wallpaper/stickers, and etc. (it's almost limitless)
Do note the difference between a steam cleaner and a regular vacuum cleaner though. A steam cleaner emits steam to clean (and kill germs in the process!), while a vacuum does the reverse, it sucks up dirt (and nope, it does not kill germs in the process).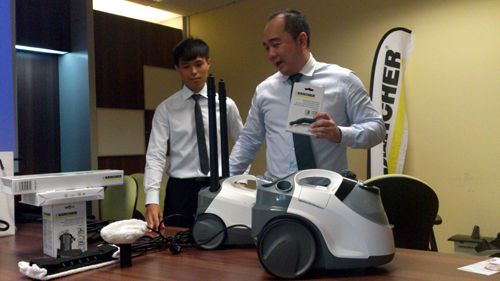 Jeremy showing us all the add-on accessories we'll be getting too!

After learning a lot about the steam cleaner we'll be getting, Kenneth gave us a live demonstration. Hot steam ahead!
Now that I've shared the meeting with Kärcher's Jeremy and Kenneth, it's time to do my own tests around the house!

It's here! Jeremy very kindly delivered the steam cleaner and the add on accessories

The add-ons, from left to right: Steam turbo brush, Multi-purpose accessory kit, Textile care nozzle, Microfibre cloth set (Bath)
Disclaimer: When I entered my second trimester (I was in my 37th week, i.e. 3rd trimester, when I tried out the product, am in my 38th week now), I drastically reduced my household chores to the very bare minimum. So, I did not fully utilize the steam cleaner (for now, that is!).

BUT, I picked the ickiest and most neglected parts of the house to put Kärcher's SC 6.800 CB *EU to the test – the full length mirror in Blake's room, and my bathroom screens.

All following photos shown in the test are completely unedited. They have only been resized for easier upload.
Ok, enough blabber. I'll let the pictures do the talking instead!
Full Length Mirror in Blake's Room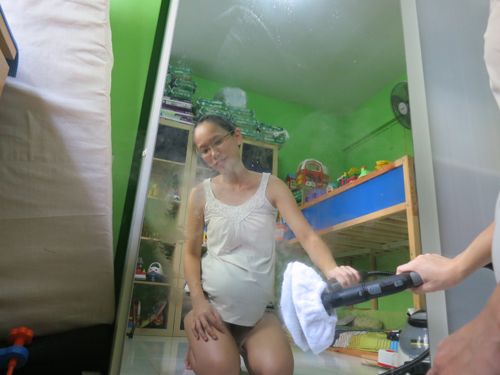 Step One: Steam

Step Two: Wipe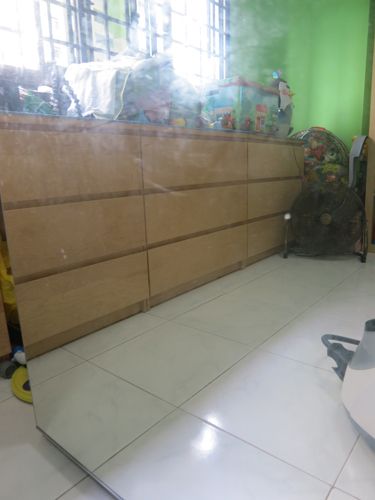 Before

After. Just look at the clarity!
Bathroom Screens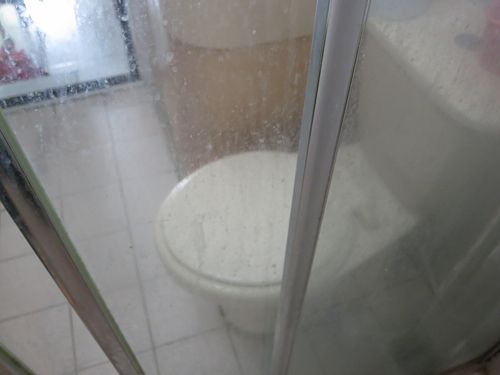 Before

After on the left bathroom screen, Before on the right bathroom screen
The vast difference is just amazing!
The ease of using Kärcher's SC 6.800 CB *EU is beyond words. The water heats up pretty fast and it was ready to use in a couple of minutes. And with the handy window wiper, all I had to do was steam, wipe and repeat till all's clean!
In all honesty, using Kärcher's SC 6.800 CB *EU was a lot less taxing (physically speaking) for my pregnant body. Part of the reason why these parts were so neglected was cos it's so physically draining to scrub them clean. I actually had quite a fun time just steaming the mirror and bathroom screens. I went over them again and again. Hehe. Seeing all the icky things coming off is such an awesome satisfaction, considering I've been living with them for months now (as I've said, neglected spots!). Of course, some tough stains that were there for months took a while to be removed, but all it took was steaming the spot a little longer compared to the other parts. No scrubbing effort required at all!
I'd say, a definite worthwhile investment for an easier time cleaning and sterilizing the house! Yes, you can steam clean all the children's soft toys with this too! Hehe.
Alright! Before I end this post, here's some good news for all of you!
Kärcher is having their Year End Promotions now!
The white steam cleaner, model SC 4.100 C, is similar to the model SC 6.800 CB *EU, and accessories sold for this range of steam cleaners are compatible between the two. The main differences between SC 4.100 C and SC 6.800 CB *EU is that SC 6.800 CB *EU is larger in size, has a higher steam pressure and comes with an iron. So if you're looking for a steam cleaner that is not too big (or hardcore), why not go for the SC 4.100 C? It's on promotion now too! How awesome is that? Hehe. Otherwise, go all the way with SC 6.800 CB *EU!
Know what's the other good news?
For all avid fans of online shopping (like myself), you can shop online for Kärcher products, including items on promotion! Hehe. With just the click of the mouse, you can have your Kärcher purchases sent to you (free delivery for purchases above $100)! Awesome!
Ending this post with a video from KärcherTV for their Steam Cleaner model SC 4.100 C.