It's been a while since I went out at night, baby-free. So when the first opportunity presented itself on 11th January 2013, to head out with my sisters, I took it, and we had an awesome time! The only thing that was missing to make it even better was my brother, who's in UK studying. Definitely going to have a siblings' night out when he's back during the holidays!
Anyway, that night was a simple sisters' night out of ice cream at Ice Cream Chef, and later, snacks at a bistro that my brother-in-law was performing at, and home after. We headed out only after 8.30pm, and we stayed out pretty late. I remember only getting home between 1am-2am that day. We managed to catch up on a lot of things, and we decided to do it again – ice cream then snack/dinner at the bistro. But this time, we will have ice cream at Vivocity's Ben & Jerry's, since the bistro was nearby, and I had Ben & Jerry's vouchers which can only be used at that outlet. So it was set. We would have another sisters' night two weeks after, on 25 January!
In the days leading up to the next sisters' night out, I made arrangements to meet up with Wendy for lunch. Wendy and I became friends through a parenthood facebook page, The New Age Parents. She had loaned me her breast pumps when she knew mine had to be sent for servicing, and I wanted to return them after mine was all fixed. She's a major lifesaver! Thank you, Wendy! 😀
The day before I was supposed to meet up with Wendy, I was chatting online with Ruby. We, too, became friends through The New Age Parents. I was telling Ruby that I'll be meeting Wendy for lunch, and invited her to join us. The more, the merrier! We then re-scheduled our lunch date to Friday, 25 January!
Boy oh boy! Was I excited for 25 January or what? Hehe.
So the day came, and after my parents picked Blake up for school, I got ready to head out. We had planned to meet at United Square to have lunch at Swensen's, but Wendy's daughter, Ashlyn, was not feeling too well that day so we moved the meeting place to AMK Hub, where it's nearer for her. She had said earlier that she would just pick the breast pumps up, and not stay for lunch! But Ruby and I did not let it happen. Hehe. Ruby was talking to Ashlyn, while I was persuading Wendy to stay for lunch, and it worked! Hehe. We're so sneaky 😛
Needless to say, lunch was awesome! And after our meet up, we talked about the things we could do together when all our children are in school! Hehe. I cannot wait! I'm so psyched! Hehe.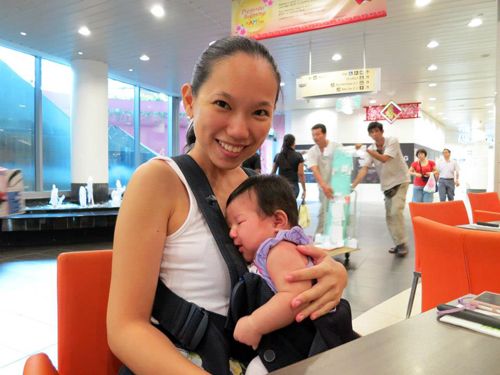 Thanks for the photos, Ruby!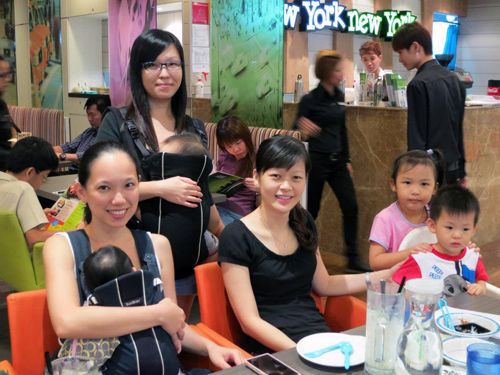 From L to R: Me carrying Nakayla, Wendy carrying Ambrose, Ruby, Ashlyn, and Daryl (Ruby's boy! Same age as Blake. Hehe.)
After lunch and walking around NTUC with Wendy, I headed home to rest and get ready for the night out with my sisters!
The moment Sean reached home, I called my younger sister, Sonia, and we were off to Vivocity! My elder sister, Clara, couldn't join us as she was working late that day. So it was just the two of us enjoying yummilicious ice cream.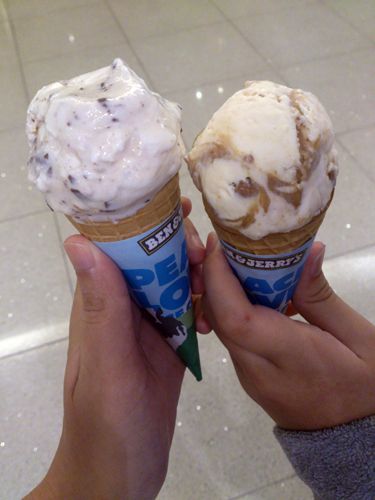 Mine was Toffee-do (can't remember the full name), and Sonia had Clusterfluff (on the right)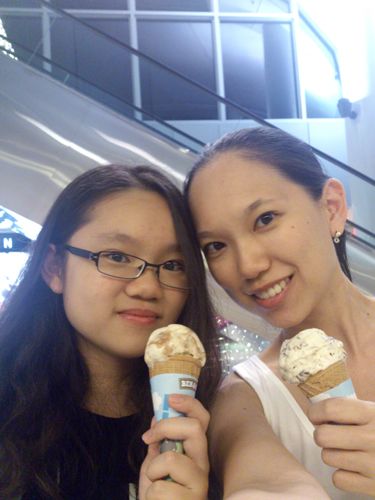 Just when we finished our ice cream and were queuing up to buy some water, my elder sis called to say she was on her way to pick us up. We rushed like mad from one end of Vivocity to the other. Haha. Quite a funny sight actually. Haha. Reached there with seconds to spare before her car pulled up. Phew! My dad always says, "the person can wait for the car, but the car cannot wait for the person!" Hehe.
When we reached the bistro, the first thing all of us wanted (besides drinks) was food! To our dismay, a lot of the bistro's food were out of stock. Each time we placed our order, the waiter will return to tell us it was sold out. Shocking or what? So anyway, somehow my elder sis managed to get us a complimentary plate of Chilli Crab with French loaf! It was not much, but luckily, she was having a mini gathering of her own so she had her friend bring down more food for us later.

My elder sis

My Shirley Temple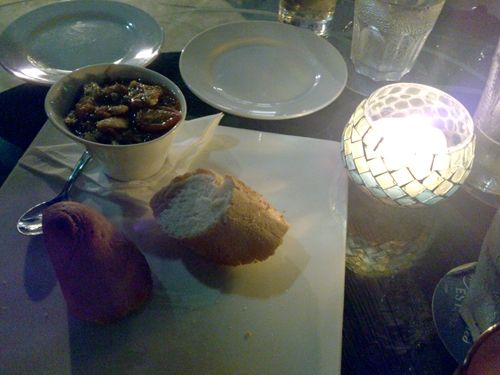 Chilli Crab with French Loaf
It was definitely different from the last sisters' night out cos we had food that night, the bistro was less crowded, and it was just us sisters. But it was still a good night out, and Sonia and I met new people. Haha. And, I think we got home even later that night! Oops. Hehe. So thankful to have such an understanding husband! 😀
Now, if only my brother is back in Singapore, then we can have a siblings' night out! Yay!