I never expected one of my babies to suffer from cradle cap. I had heard about it from other parents, but I never expected it on my baby. It came out of the blue for Nakayla.
We had noticed the flaky dry skin within her hair, but we dismissed it as dandruff. I then started to wash off the 'dandruff' by shampooing her hair directly. Earlier on, Nakayla bathed in very, very diluted soapy water. I thought that was it, and never thought further about it after.
Then on 17 January 2013, I was excited to try out a new hair brush I had just bought for Nakayla (Blake never needed a brush or comb, not even till this day), and I was excited to try it on her, but all the excitement was soon taken over by panicked. Brushing through her hair after bath time, I saw dry patches of skin on her scalp. I quickly took a photo of it to show Sean, and posted the same image on facebook to ask if anyone had any idea what it was. While the photo was being uploaded, I was thinking, "Is this cradle cap? Oh please don't let it be cradle cap!" Then one by one, mommy friends who had experienced cradle cap on their babies confirmed that it was indeed cradle cap.
After speaking to a couple of mommy friends, I made a phone call to Kiddy Palace. I wanted to get the cradle cap shampoo which was recommended. After finding out that it was available, I reserved it, and asked my dad if he could pick it up along the way. He picked it up and passed it to me when he sent Blake home from school. I know, my dad is super sweet 🙂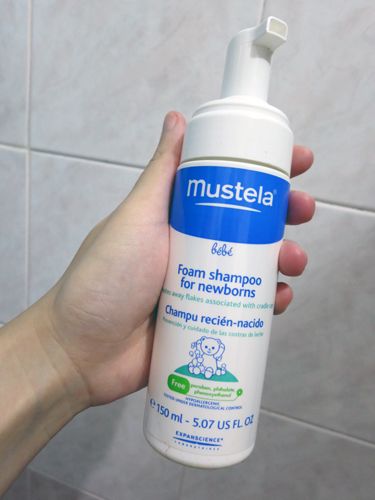 We diligently used the shampoo on her, but I was not so much when it came to brushing off the flaky skin after bath time. I brushed only on days her hair is still damp after she's all dressed (and fed). If she wants her milk after her baths, chances are her hair will be all dried before she's even done drinking. It's shocking how quickly her hair dries despite the amount of it!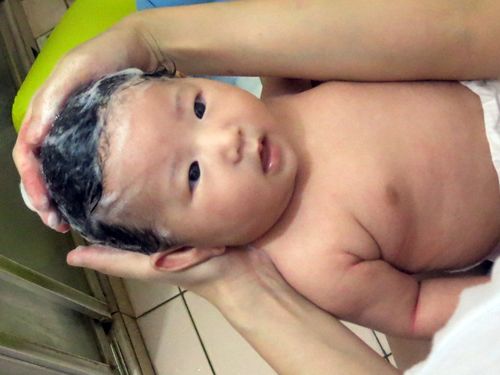 Shampooing her hair and leaving it in for 1-2 minutes before rinsing it off

After using the shampoo for about two weeks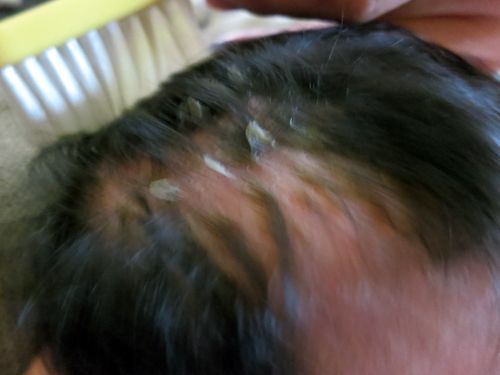 A really blur picture showing the some of the cradle cap coming off
About a month of using the shampoo, Nakayla still had cradle cap. It didn't feel like it was getting better, cos I could still feel how hard the top of her head was, when I bathed for her. Those on her eyebrows and nose had cleared though. It's just the top of her head that still had it.

About a month after using the shampoo
I was rather upset as I was told that most parents who used the shampoo managed to clear the cradle cap on their children within a few washes. I had been washing Nakayla's hair with it for more than a month, and still the situation looks pretty devastating! I kept comforting myself with what I read on medical sites for babies – it will all clear away eventually. But who was I kidding? I was really upset by it.
Just when I was about to give up hope, I came across this other brand of shampoo and wash that helps ease cradle cap conditions for babies on iHerb. I decided to try it. It's not a very big tube, and it was much cheaper compared to the one we were using.
After using it a few times, the flakes started to show signs of peeling off naturally. It isn't working very quickly, that is cradle cap gone within a few washes (sorry, I'm part of the 'instant noodle generation'), but the effects from the use of it was definitely much faster than the previous shampoo. The cradle cap was peeling off in big patches. It also smells really good!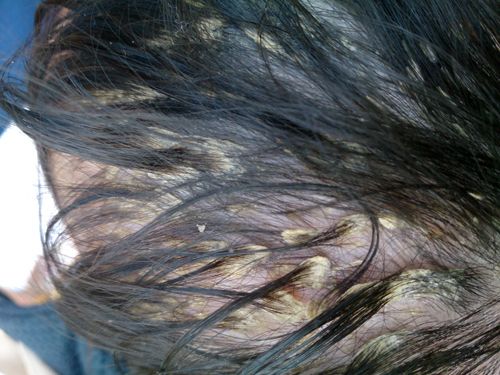 13 April 2013: Sean and I decided to snip away all the scabs of the cradle cap, seeing how they have all absolutely peeled off the top of Nakayla's head. We could even see the hair that was growing out from underneath it! So, erm, please pardon the very bad hair cut, but Nakayla is officially cradle cap free! 😀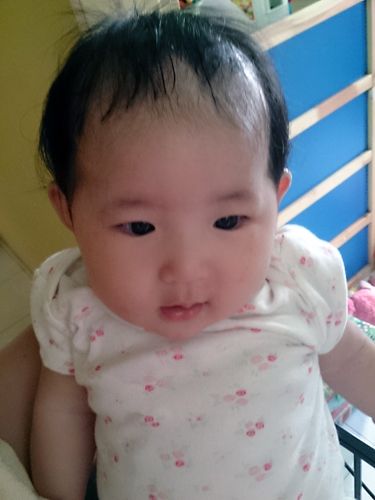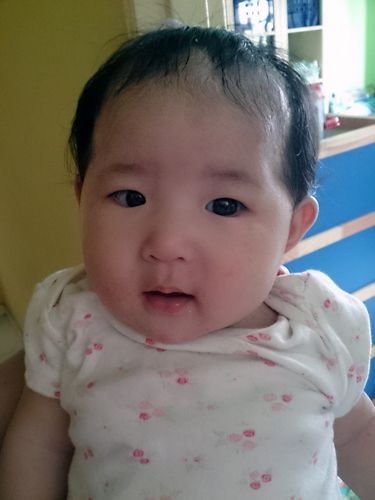 This post was written after Nakayla's cradle had been going on for slightly over a month, which puts it at somewhere towards the end of February, and was updated when her cradle cap was completely gone 🙂
* * *
Should you want to purchase anything from iHerb, and you're a first time customer, do use this referral code GTJ908 when you check out to enjoy USD$5-10 off your purchase!
Also, for more information on cradle cap, do click here 🙂