5th May 2013 was the day we had a big family outing. My elder sister had organized a trip to Gardens by the Bay for Tulipmania, in celebration of Mother's Day. We went a week earlier to beat the actual Mother's Day crowd.
This is also Nakayla's first big outing!
The day started early for me cos I had to run out to buy breakfast and lunch for Sean and Blake before leaving. Reason they were staying home? Blake was down with HFMD (another post for another day).
Meeting time was 9.30am at the Gardens, and the early bird in me (driver for the day) got everyone to get ready by 8.45am to leave. I was also factoring in traffic jam and getting lost (first time there). So by 8.40am, Nakayla and I were en route to meet my mother before picking my grandparents up.
We reached a little after 9am. My elder sis and brother-in-law arrived at about the same time cos when we were talking on the phone earlier, and she heard we were on our way down already, she left home too. Haha! We were early, and had to wait for my aunt and her family to arrive, so we went to have breakfast first.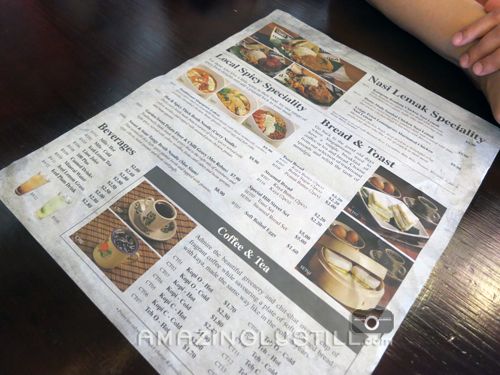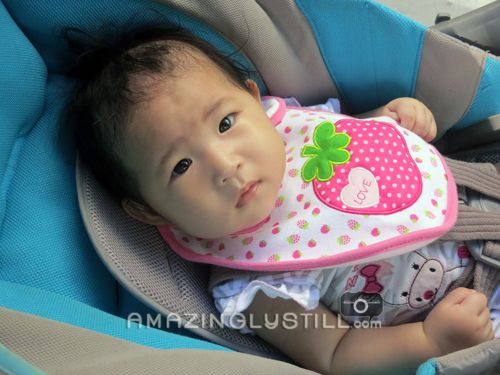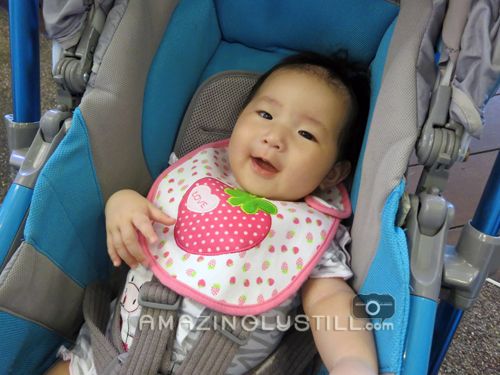 We had taken a group photo then, but it wasn't very well taken. Oh well.
Anyway, when we were done with breakfast, my aunt and her family arrived. Perfect.
First stop – Flower Dome, where Tulipmania was held at! The smell of the air in Flower Dome is beautiful. So sweet and fresh. Very refreshing compared to, well, outside. Haha. Alright! I'll let the photos do the talking 🙂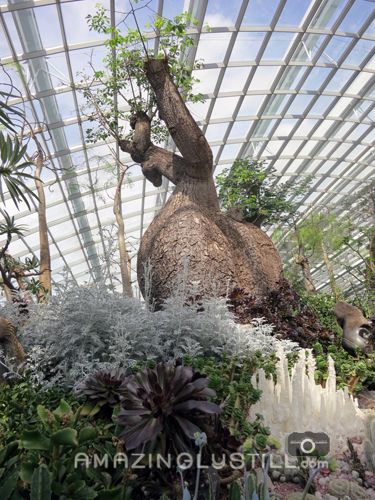 I'm pretty sure Blake would've liked this, "Owls! Hoo Hoo!"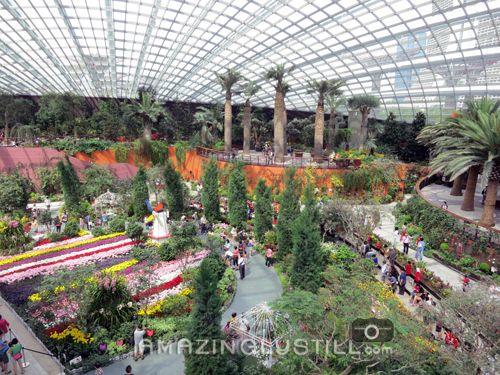 I took a panorama view of this place too, but I find this picture to be much nicer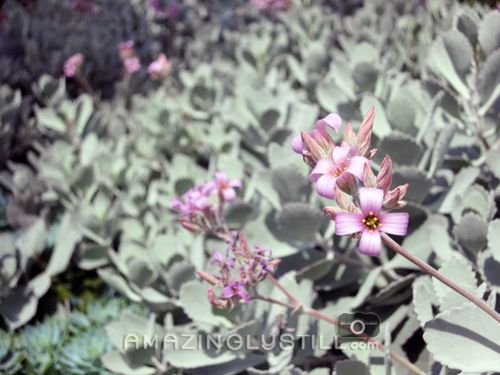 One of my favourites. No idea what it's called though. Haha!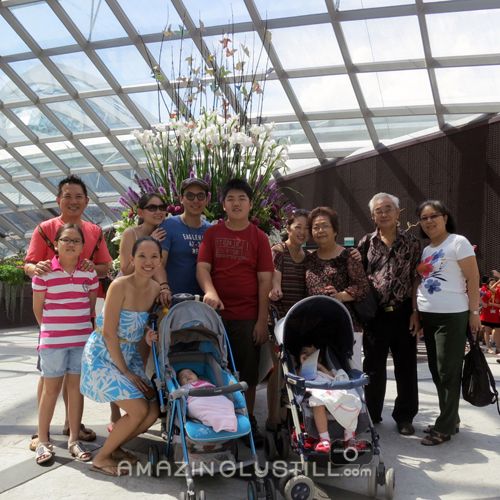 Everyone who went, minus my younger sister cos she only joined us after lunch

Mom and me

With my elder sis

"You two sisters take a photo la!" I think it was my mom who said it. Haha!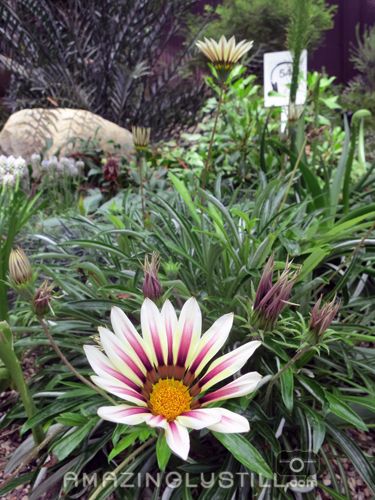 The Pram Man!
Just want to give a shout out to my brother-in-law, Nelson, for being so awesome. Thanks to him, I was able to enjoy myself thoroughly while he pushed Nakayla (and all our things) around! He called himself 'The Pram Man', by the way. Haha.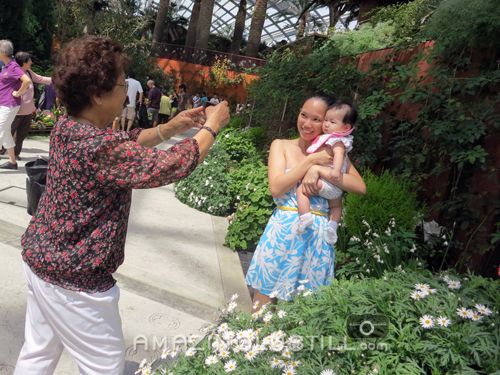 With my grandma
And then my elder sis got very excited, running towards me and saying something along the lines of, "There's a really huge hibiscus! Come quick!"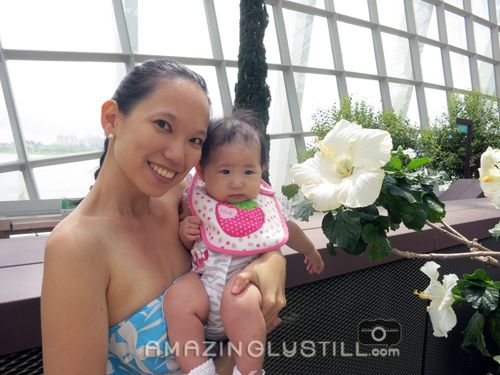 It is really huge. It's bigger than Nakayla's face!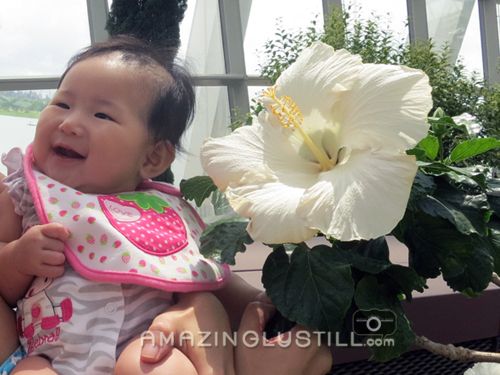 After taking photos with the huge hibiscus, my grandma and I made our way to the nearest toilet cos we all thought Nakayla had laid some "gold". Fortunately for me, my grandma came with. The toilet we found had no baby changing station. So she carried Nakayla, while I did the changing. But alas, there was no solid "gold", just a lot of liquid "gold".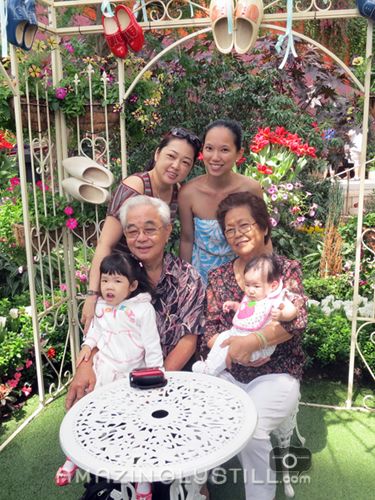 That's four generations in a photo. Right there!

My little Rose with yellow roses! 🙂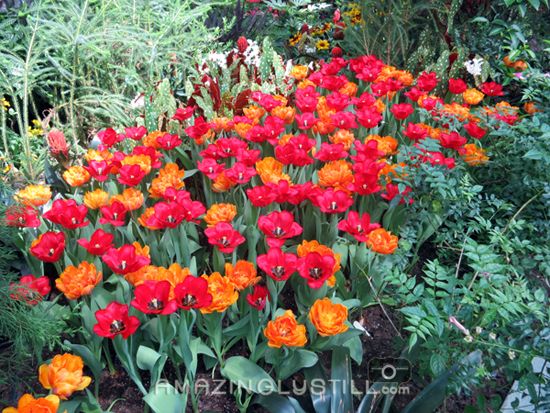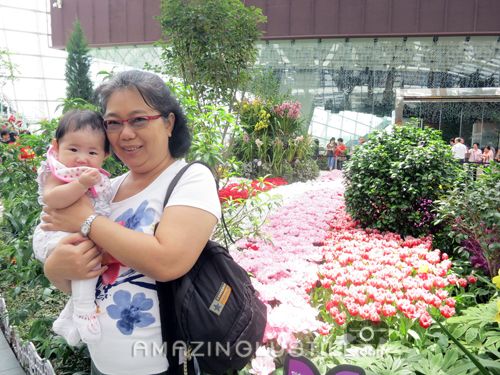 Mom and Nakayla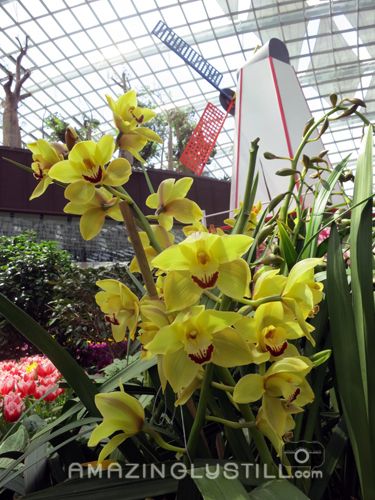 I "copied" this shot from my elder sis when she showed me some of the photos she had taken. Only took this cos the contrast is too amazing!

I was a little upset we couldn't see the tulips up close.

My elder sis, again, got very excited and ran to me, telling me she found the most beautiful red rose (something I said I wanted to take with my little Rose). This is it!

"Mommy, look! Rose!"

"I want!"
Nakayla almost pulled a petal or two off the rose. I panicked for a moment! Haha.
After we exited Flower Dome, we started looking around for places to eat. My uncle went to recce around the area, while Nakayla had her milk, and returned to tell us that it would be easiest to have lunch at the Chinese restaurant just one level down. So in we went for lunch. And we had dim sum! My favourite! No photos of food because I was way too busy eating and filling my happy belly 😛 Oh dimsum, how I love you so!
In the midst of all the yummilicious goodness, my younger sister made her way down to meet us. We waited for her to arrive before we went to Cloud Forest.
Before we even entered, we could already feel the cold from the dome. Walking through the entrance (after the ticket gantry), my elder sister and I were screaming (kind of) at how cold it was. No, we didn't bring a cardigan or sweater. Thankfully for my younger sister, she had one in her bag, and I grabbed it the moment she offered!

My uncle and cousins braved the cold to get real close to the waterfall

It was really misty when we got in, less so when we left.
It really gave the visual of being in the midst of clouds.
But that also meant we hardly saw much on our way in. Haha. It was so foggy!

With my two sisters

My mom said this flower reminded her of Enid Blyton's books on fairies.

After taking this photo, I realized that it looked very much like the Pokemon, Celebi!

My mom did some souvenir shopping and bought this t-shirt for Blake
because he couldn't go. Thanks, mom!

And then it was home sweet home!