Advertorial
Guess who got a spanking new stroller?
If you have been following me on my instagram or have liked/subscribed to my Facebook page, you will know the answer. If you don't, why aren't you following me? Or do you not like me enough? 🙁
Just kidding! 😛
In case you haven't figured it out, it was Nakayla who got a new ride!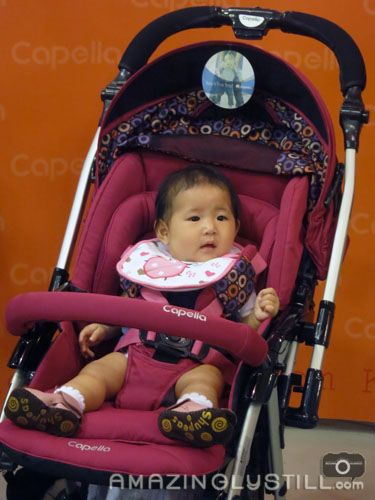 Thanks for helping me take the photo, Evelyn!
We were invited by TaiMe, sole distributor of Capella and brand owner of Singapore's home-grown 'Lucky Baby', to the soft launch of the new Cony S230T for 2013. And lucky us! We were one of the first 10 families in Singapore to view, and be presented with, the brand new Cony S230T! I couldn't be happier as I have been thinking of getting Nakayla her own girly-girl stroller for a while now.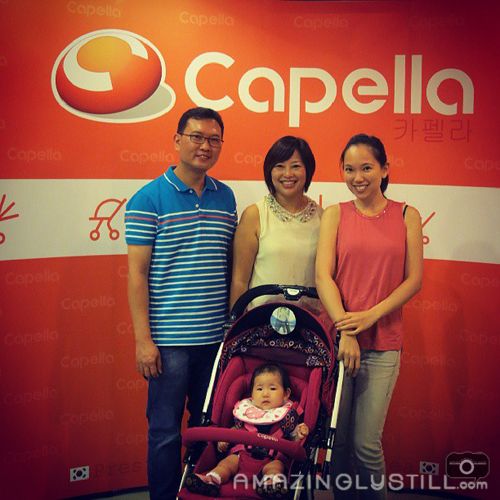 With Andy and Eileen, bosses of TaiMe

Together with all the other nine mommies and our babies!
L to R: Florinda, me!, Estella, Shermeen, Chermaine, June, Irene, Evelyn, Lynn, Cherie
The very next day after the soft launch, Nakayla went out with her new ride, and as you can see, she was very comfortable in it!
The new and improved Cony S230T had incorporated feedbacks from mommies, making this stroller quite the dream stroller for all parents!
I say that because:
1. It works well on not-so-smooth terrains

On the brick path

Sandy ground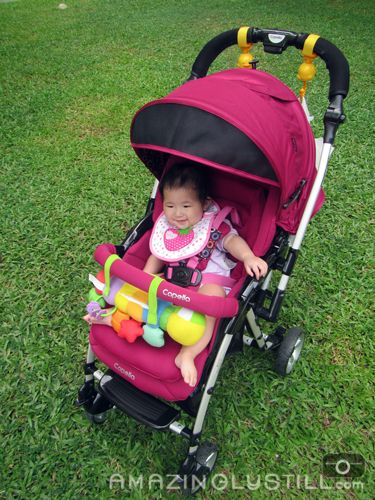 Grass fields
With shock absorber and brain protection features, the Cony S230T is a smooth ride. I noticed that on rougher terrains, Nakayla don't shake as much as she did with our previous stroller!
2. Reversible and Adjustable Handle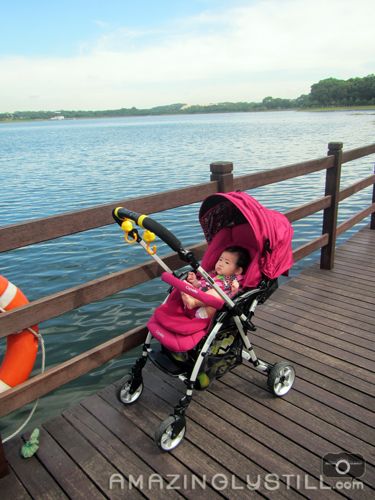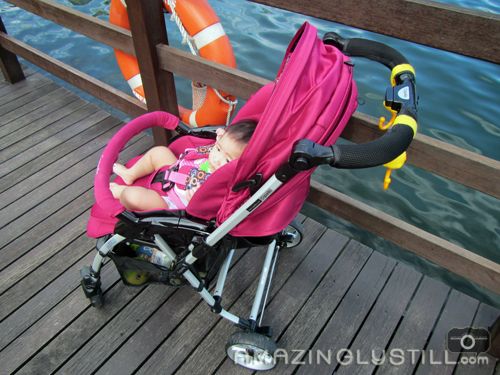 Whether you want your child to face you or out, whether you like the handle flat or upright, you can adjust it accordingly!
Personally, I prefer to have Nakayla facing out (instead of looking at boring ol' me), cos it's easier to manoeuvre the stroller. As for the handle bar, I prefer it flat like in the third image, but I switch between the two depending on how I want to push Nakayla around.
For instance, when I want to walk and text at the same time (I know, it's terrible!):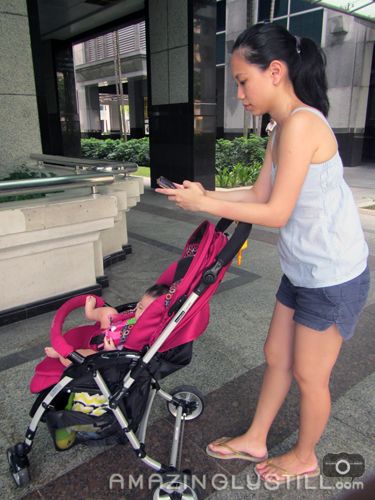 It's so much easier to 'multi-task' with a higher handle!
Psst…
the mesh covers on the handle bar is also removable for washing (as with the seat covers and cushions)! Yay!
3. Ample Storage Space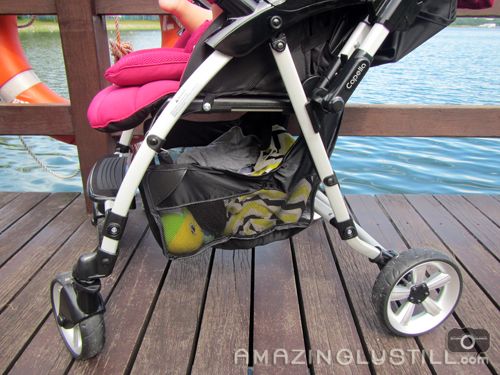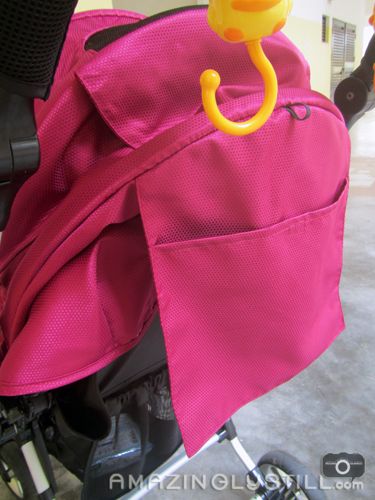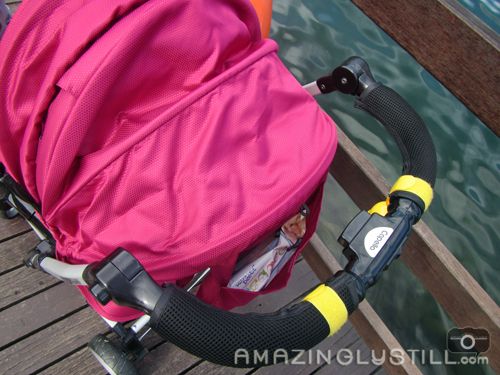 The big basket is great, but I noticed that the items will have to be able to fit through the sides for easy in and out. I'm used to putting all my things into the backpack, then putting the backpack into the basket, but that's impossible for this stroller cos it is too big to enter from the sides, or the back of the stroller. There is an elastic band at the back of the stroller (you can see it in the second image) that prevents things for falling out too. So what I did to ease the use of the basket was to change my backpack to a canvas sling bag (less bulky), and to bring out only the important items – which lightens my load.
Besides having a big basket, there is also a pouch attached to the canopy of the stroller! It is especially convenient for small items like wet wipes, wallet and mobile phone. I love this!
4. Full Canopy with 99% UV Protection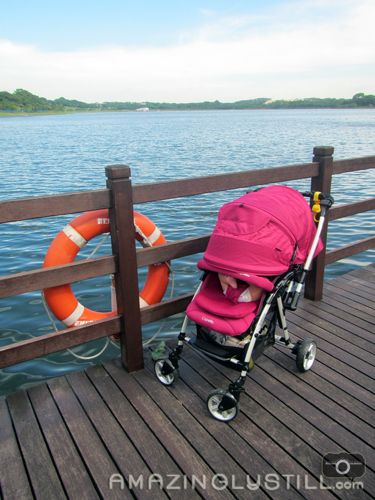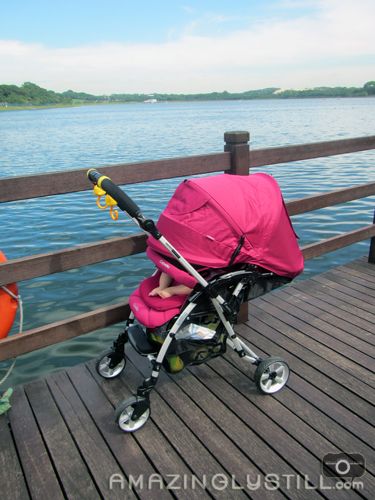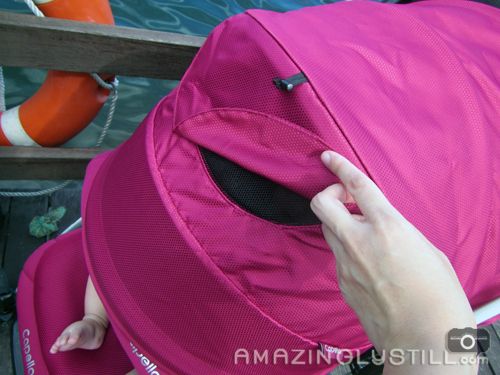 The flap to the window is secured down by magnets!
Need I say more about how awesome the full canopy is?
5. Sturdy and Wide Wheels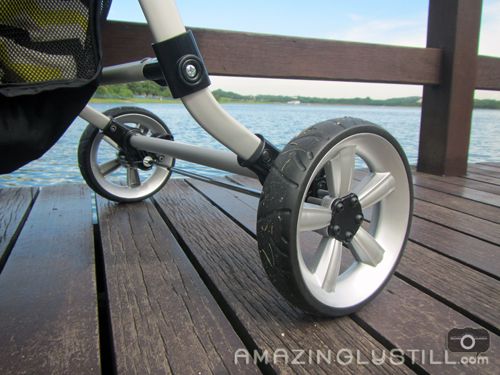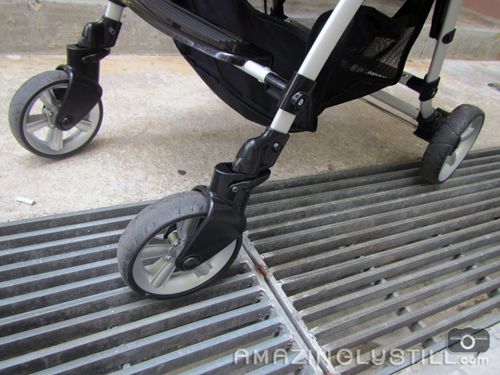 With wheels like these, I no longer worry about getting stuck at drain covers!
I didn't quite fancy the locking system for the wheels though. It is the kind where each wheel has its own lock and you will have to lock them individually. If you're inexperienced or, like me, afraid to hurt your feet, then you might have to get used to getting down to lock the wheels with your hands or, do what I do! Just leave it and hold onto the stroller at all times! Haha! Strange that this kind of wheel-lock system is quite common for most strollers and prams…
Psst… It will be super awesome if they had a one-step lock system for all the wheels! Capella, are you listening? Hehe 😛
6. Easy Multi-Recline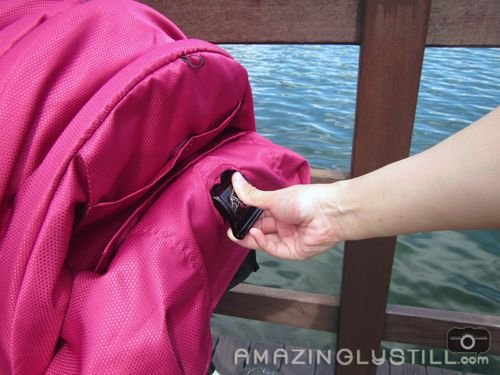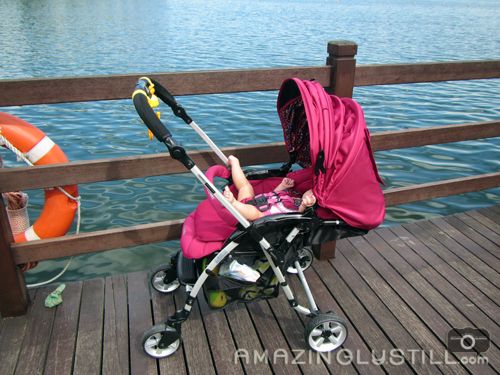 Not only am I able to recline the seat fully, I am able to do it gently while Nakayla's asleep. A simple pull of the tab will allow you to recline the seat very quietly and smoothly – no sudden jerks at all. Now, Nakayla will be able to sleep more soundly than before, while we're out and about!
7. 5-point Safety Harness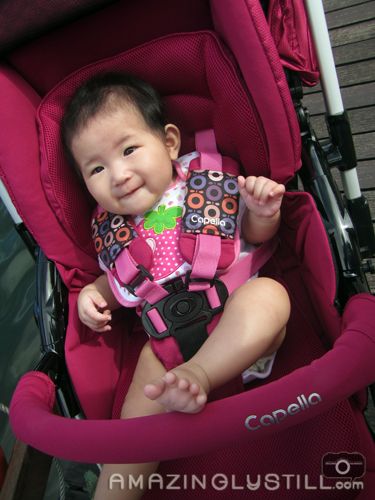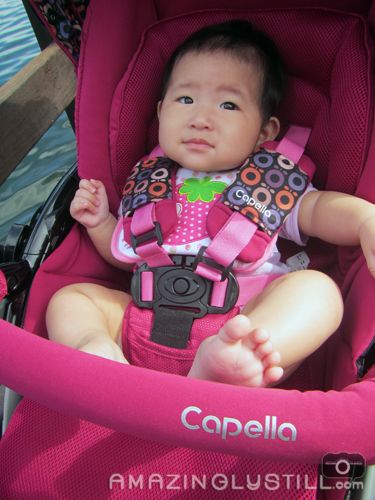 A very important feature for me. Nothing spells S-A-F-E better than a harness that has more points than the number of alphabets in the word 'SAFE'.
It's easy to use, as the structure of the 5-point harness was exactly the same as my previous stroller's. So it comes with ease for me. Even after removing Nakayla from the seat, all the straps stays in place! Super awesome for lazy moms like me. Hehe.
The only issue I had with the harness was the length of it. It was way too long for Nakayla, even when I put it at its tightest. So what I did was to pull the shoulder straps, along with the buckles for lengthening, all the way through the first layer of seat covers.
After doing so, the length was just nice for Nakayla – not too loose, not too tight! I had initially wanted to pull it all the way through the second layer to the back, but since one layer was just nice for Nakayla, I didn't bother to go any further.
8. One-hand Operation
Easy one-hand operation! There is even a special feature within the stroller's system that prevents sudden opening of the stroller should you lift it up while unlocked. The only way to open the stroller is to plant the wheels onto the ground. It takes a little getting used to when you're switching from another stroller cos this feature is rather unique.
Also, noticed in the video how I managed to close the stroller even with the basket filled with things? Love it! That is what the elastic band on the basket is for! To prevent anything in the basket from falling out, even when it's closed! Do not fill the basket to the brim and attempt to close it though. Who knows what will get bent in the process of doing so.
9. Amazing Ergonomics
Even though the nett weight of the stroller is said to be within the mid-range of 7.3kg (able to hold children up to 18kg), it feels lighter than my previous stroller which is approximately about 4kg heavy!
My younger sister who helped me carry the stroller up and down the bus said it felt about the weight of her regular bowling ball which is a little less than 4kg. I have also managed to carry the stroller with one hand, and Nakayla with the other (sans carrier!), up the bus on my own! The ergonomics of the Cony S230T is simply amazing.
All in all, the Capella Cony S230T is the best stroller I have ever used (out of three from different brands and makes). And it is a major plus that it came in such a beautiful wine colour!
* * *
The Capella Cony S230T comes in the following colours and matching travel system (sold separately):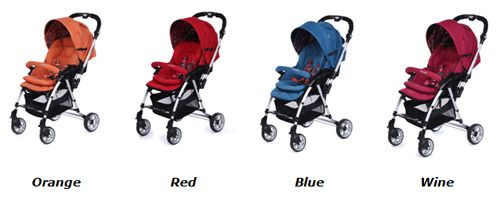 Image provided by TaiMe Pte Ltd

Image provided by TaiMe Pte Ltd
It is available at most major departmental stores (with baby department), Kiddy Palace, Cheri Kids, NTUC Xtra AMK, ToysR'US, other baby speciality stores and selected online baby stores. It is now on a promotional launch price of $399 (U.P. $539).
* * *

Image by SHAPE Singapore
Nakayla and I will be participating in SHAPE Run 2013, along with all the other nine mommies and their babies, under the 2.4km Fun Run category. Do come down and give us your support! And say 'Hi!' if you're taking part in the run too! 😀
Disclaimer: We received the Capella Cony S230T for the purpose of this review, and transport reimbursement to the soft launch.