Media Invite
ColorWash, Singapore's leading professional cleaning service provider, is known for their specialization in cleaning leather bags and shoes. And recently, they launched a new service to clean children's bags and shoes. Thanks to this new service provided, I received an invitation by ColorWash to have Blake's school shoes cleaned. Happiness is me when I have one less cleaning to do! 😀
We were greeted by Evelyn and Gemma (owner of ColorWash), and Blake was promptly presented with a basket full of badges for him choose and bring home!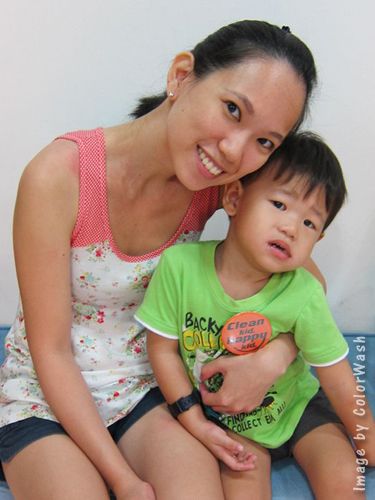 Orange badge reads: Clean Kid, Happy Kid.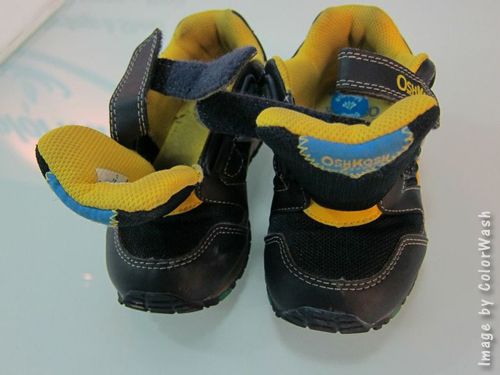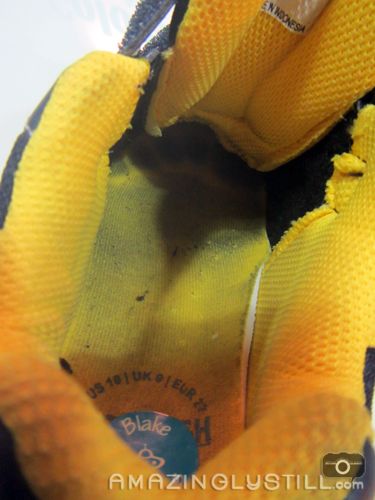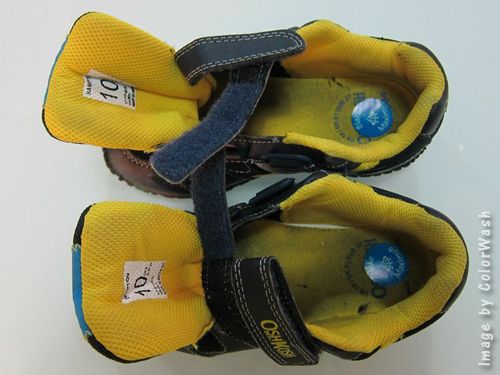 Yup! Blake's shoes are in definite need of cleaning!
While waiting for the shoes to be checked and inspected before it is sent for cleaning, Blake got bored. A two-years-nine-months old toddler is hardly the person to have a talk about hygiene with. Haha.
Noticing that he was getting restless, Evelyn opened up a box of Ladurée and offered Blake a piece. He gladly took the pink one (because pink anything for food is usually the yummiest!) and ate within the store, running back and forth.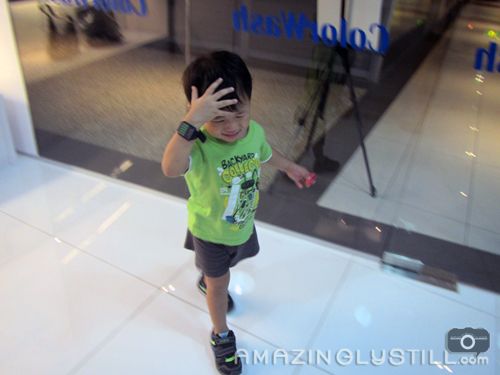 After checking Blake's shoes in, we were told that it takes about a week for the cleaning to be done. Thankfully, Blake has two pairs of shoes! We sent one pair in for cleaning first.
There is an express service available, but that may not guarantee thorough cleaning of your items as they go through a stringent process to clean the items, and some materials require multiple levels of cleaning.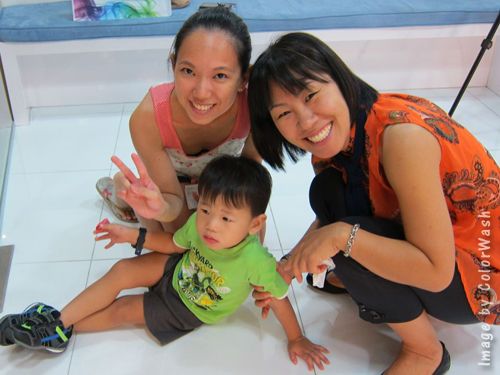 With Gemma, founder of ColorWash
Gemma, owner of ColorWash, is a mother of two boys. She told me that she remembers how difficult it was to maintain hygiene for her children's belongings while having to care for them at the same time. And more often than not, shoes and bags are the ones that are most neglected. I couldn't agree more! She also gamely posed for photos on the floor with Blake cos he refused to get up.

One more shot with Gemma before we left
After a week, I went back to ColorWash to collect Blake's shoes, and I was really amazed!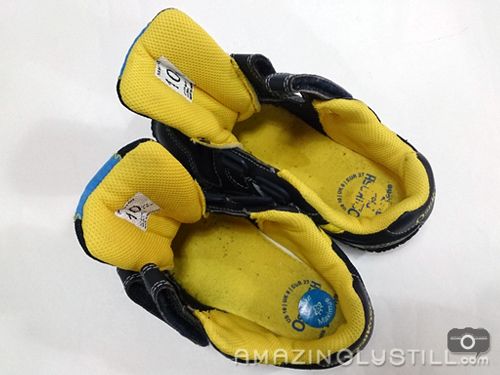 Here's a side by side comparison – Before & After: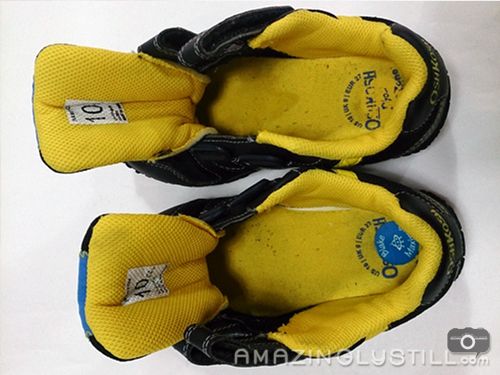 The only thing that I got rather upset with was that one of Blake's shoe labels fell off in the process of cleaning, and I had to asked what happened before it was explained to me. It also felt a little damp when I received the shoes, but the moment I pointed it out, they promptly took it to the back to have it blown dry.
Not only were the staff friendly and pro-active, they were also very patient and tried to play with Blake when he was getting restless, so that I can concentrate when the others were explaining to me about the cleaning process. A very sweet team over at Mandarin Gallery!
Needless to say, the experience I had at ColorWash had been more than just pleasant! 😀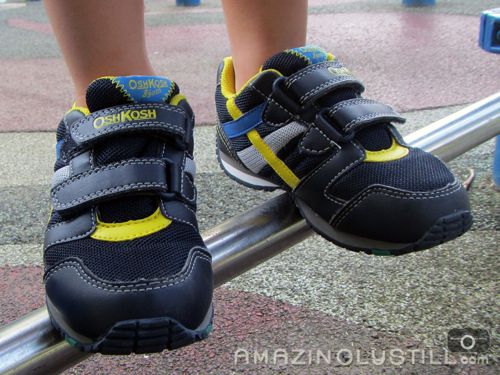 Yay to clean shoes!
* * *
PROMOTION ALERT!
ColorWash is now running a school holiday special on all school bags and children's shoes. Receive 20% off cleaning services for school bags and children's shoes from now till June 30, 2013! For more information, do visit their website.
Disclaimer: I received complimentary cleaning services for two pairs of Blake's shoes and a box of Ladurée macarons for the purpose of this review. No monetary benefits were given. All opinions reflected are 100% my own.