Media Invite
Gu Ma Jia (姑妈家) is an aptly named restaurant because of the Lady Boss. Eldest of six children, she's known affectionately as Gu Ma (姑妈) by her nieces and nephews – and now, her customers too! It's also a known fact that she's the best chef in the whole family.
Besides wanting to share her delicious home-cooked food with her customers, Gu Ma (姑妈) believes in family bonding over meals. Having meals together as a family is really a great way to catch each other up to speed about our otherwise fast-paced life! It definitely brings Gu Ma (姑妈) more joy when she sees her family and many others bond over a meal at her restaurant.
And lucky is me and my little family, when we were invited by the Chan family to have dinner over at their family restaurant!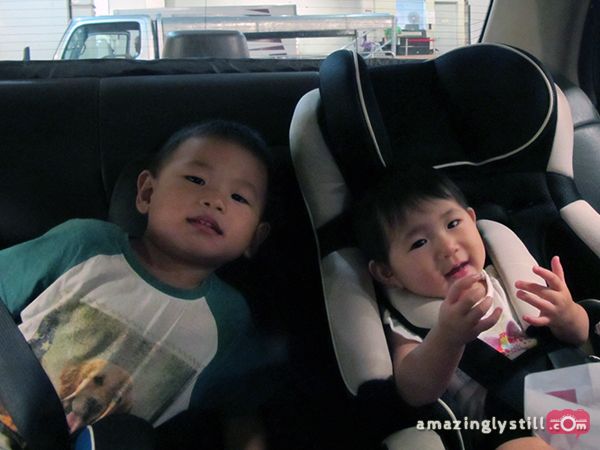 On our way to Gu Ma Jia (姑妈家)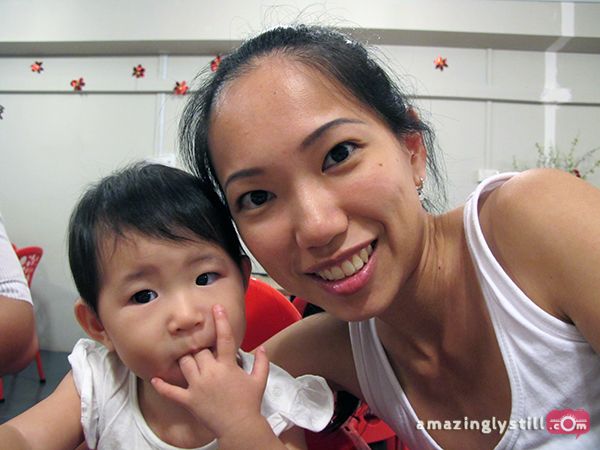 Waiting for the yummies to arrive!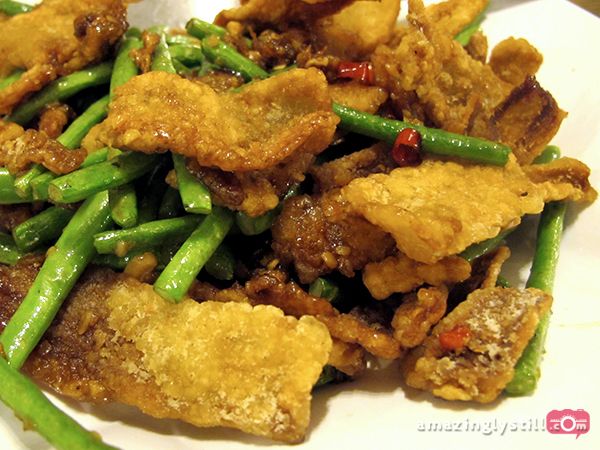 Crispy Bean-Jal 豆茄双脆 ($12/$18)
The Crispy Bean-Jal really surprised me. I was so busy feeding Blake that I didn't even take note of what this dish was until I popped it into my mouth.
People who know me, and my eating habits, knows I'm not the biggest vegetables fan, and for as long as I could remember, I've never had a single brinjal in my life. And so when I say this is brinjal and I love it, I'm not kidding!
It's so crunchy that each bite comes with a crackle. Blake loved it too, and kept asking me to give him more. Hehe.
Do take note that the sauce served along with it carry a little bit of spice, if you're a non-spicy eater like I am.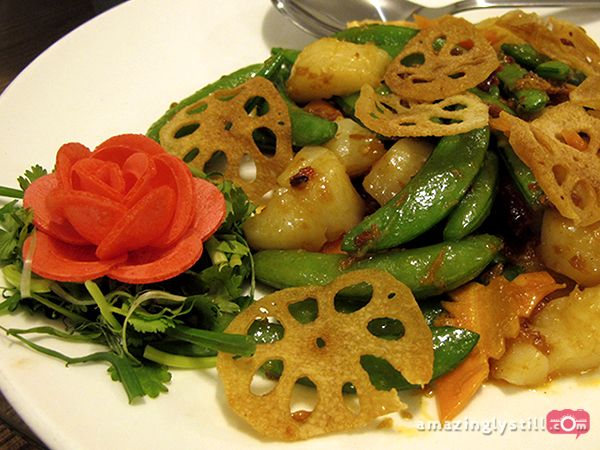 8 Treasures Vegetables 素八宝 ($12/$18/$24)
This dish had me going at the lotus crisp and scallops. And yes, Blake loves the lotus crisps as well!
This plate of delicious goodness is very well put together. And did I mention that I absolutely love the scallops? I could be bias, but I do love scallops! Hehe. I think this is the one dish which will definitely satisfy the young and old for sure!
The flavour is nothing too mind-blowing, but hey, that's the beauty of home-cooked food, right? Hehe.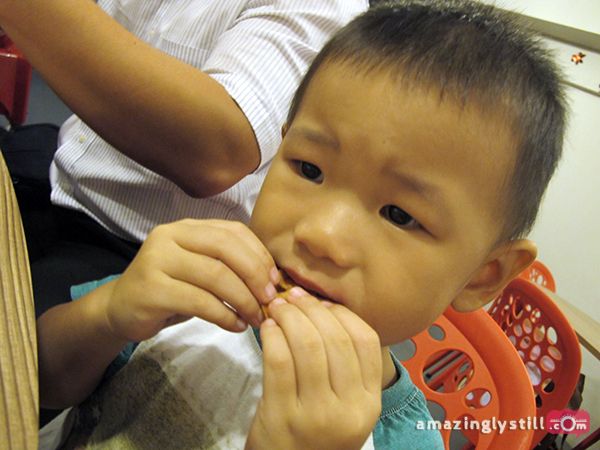 That's my boy enjoying his lotus crisp! Hehe.

Kyoto Pork Ribs 京都排骨 ($20)
Pork ribs has almost always been one of the definite dishes my parents will order whenever we have dinner out, since I was a little girl. So, I'd like to think I'm 'some kind of expert' when it comes to eating pork ribs, having tasted so many types/versions from a good number of places in Singapore.
The Kyoto Pork Ribs was cooked just right, and the sauce carried a sweet and tangy taste. The combination of the two made the meat really tender and succulent to my taste buds! Definitely one of the best pork ribs I've had this year.
I also like how there is a lot more sauce to go around compared to other pork ribs I've had before. That's one sure way to ensure the meat turn out nice and juicy! Needless to say, it was one of my favourites from that evening of food tasting. I could have this on its own with rice!

Hot Plate BBQ Sotong 烧烤铁板苏东 ($18)
I don't take squids, and this dish was a little too spicy for me to take, but thankfully, Sean was around.
For someone who don't really fancy sour food, Sean said that the sourness in the dish wasn't too overwhelming. It was just right. He was also pleasantly surprised by how fresh and well-prepared the squid was as the texture of the squid was good and there was absolutely no fishy taste to it.
The only thing he thought would make this dish better is if the squid was crunchier. Overall, he was pretty pleased with the dish!

Yuan Yang Kai Lan 鸳鸯芥兰 ($10/$15/$20)
Some of you might be thinking that because it is vegetables, I won't eat it. You're half-right, cos I almost didn't! Haha. But, I did take a spoonful of this unique dish!
Gu Ma (姑妈) shared with us that the leaves of the kai lan was blanched first before it was shredded for frying. And yes, a sure way to get me to try and eat anything is to fry it! Haha.
I hardly ever eat leafy green vegetables (try like once in a few good years!), so I can't remember how kai lan is supposed to taste like, but this sure left quite a good impression on me. It was crispy, almost flake-like, and didn't taste like vegetables at all, though there was a slight bitter after-taste, which is how kai lan is supposed to taste like (as I was told).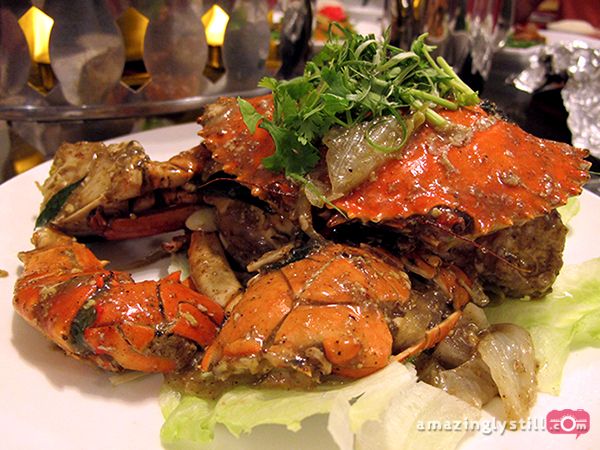 White Pepper Crab 白胡椒螃蟹 (Seasonal Price)
This particular crab dish is pretty exquisite.
For one, the main ingredient (white pepper) is specially flown in from Sarawak. It is the single key ingredient that makes this dish stand out from all the other white pepper crabs out there.
It's also really spicy, but doesn't carry the sneeze factor along with it, if you know what I mean. The fineness of the white pepper means that it is better dissolved in the sauce, making the sauce less grainy!
Personal Tip: If the sauce is too spicy for the kids, dip the crab meat in a cup of warm Chinese tea before consuming. That's what I normally do!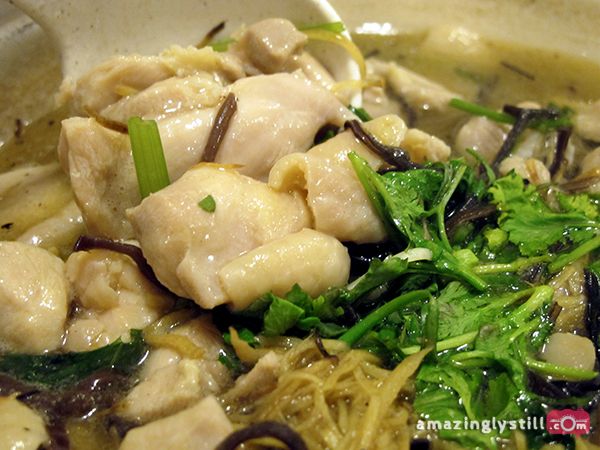 Claypot Chicken with Ginger and Sesame Oil 姜丝麻油鸡 ($15/$22/$28)
This is Sean's favourite dish of the night, and one of my favourites for sure!
Clay pot dishes has always been one of our favorites kinds of food to order when we eat out because of its really amazing power of retaining flavors from previously cooked food. The food cooked in it just gets better and better with time!
Add on to the fact that little moisture is lost in the slow-cooking process, the end result of this dish is nothing short of juicy, tender chicken meat rich in flavours.
The blend of ginger and sesame oil might be pretty common in a lot of Chinese dishes (especially confinement food), but to get it well-balanced out takes experience.
Personally, I don't fancy food that is too heavily cooked with ginger (makes the food weirdly spicy), so I was really happy when I was able to taste both ginger and sesame oil without the former being too overpowering!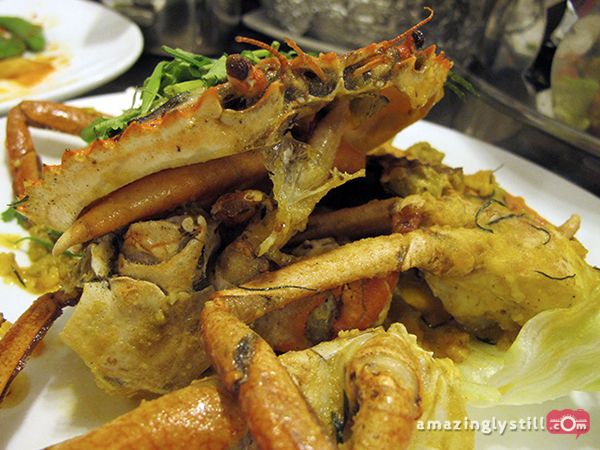 Buttered Salted Egg Yolk Crab 奶油咸蛋黄螃蟹 (Seasonal Price)
And saving the best dish for last… My top favourite dish of the night!
The taste of sweet freshness from the crab dipped in salted buttery goodness is just out of this world – a huge party in my mouth with fireworks! Ok, the fireworks part might be a bit exaggerating, but it's really not too far from the truth, for me at least. I don't even know how to put into words to describe to you how delicious it was. I just know that at first bite, I was really surprised and happy! Eye-popping kind of happy! That's how much I love it!
Salted egg + butter + crabs = Winning combination!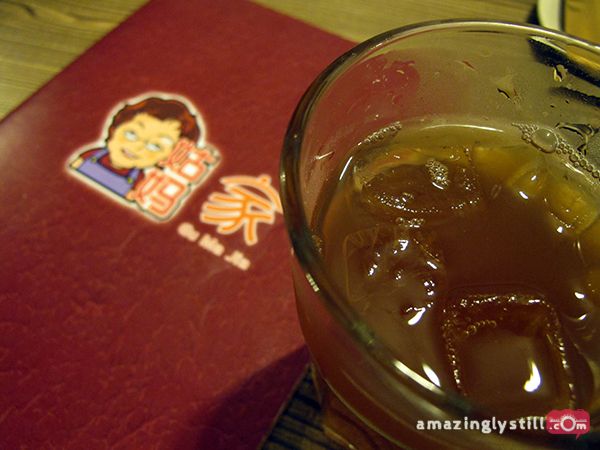 Ice Lemon Honey Tea (SGD $2.50)
Probably the best way to end such a hearty meal – a refreshing glass of Ice Lemon Honey Tea. I have never been so pleased with just a cup of drink before! I tried to re-create this at home, thinking "must be really easy", but I failed miserably…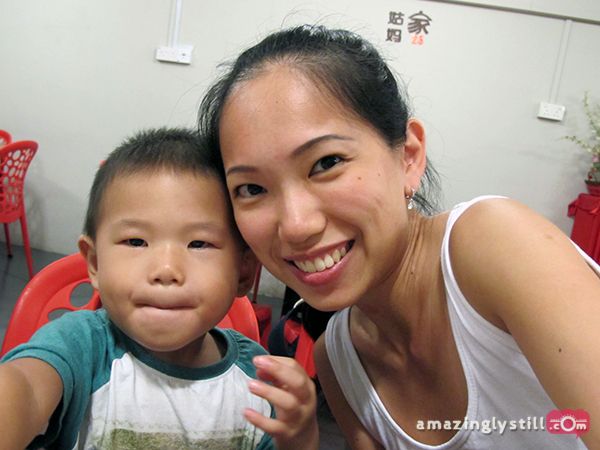 Yums in our tums!
And in case you're wondering what Nakayla ate while we all had such a feast…

Gu Ma (姑妈) cooked a pot of fish porridge specially for her and Lynn's daughter, Faith!
So sweet of her, right?
Having heard so much about Gu Ma (姑妈), you must be curious as to how she looks like.

Ta-dah! Us with Gu Ma (姑妈).
Sean opt out in the photo-op, standing behind cameras to get the children to look.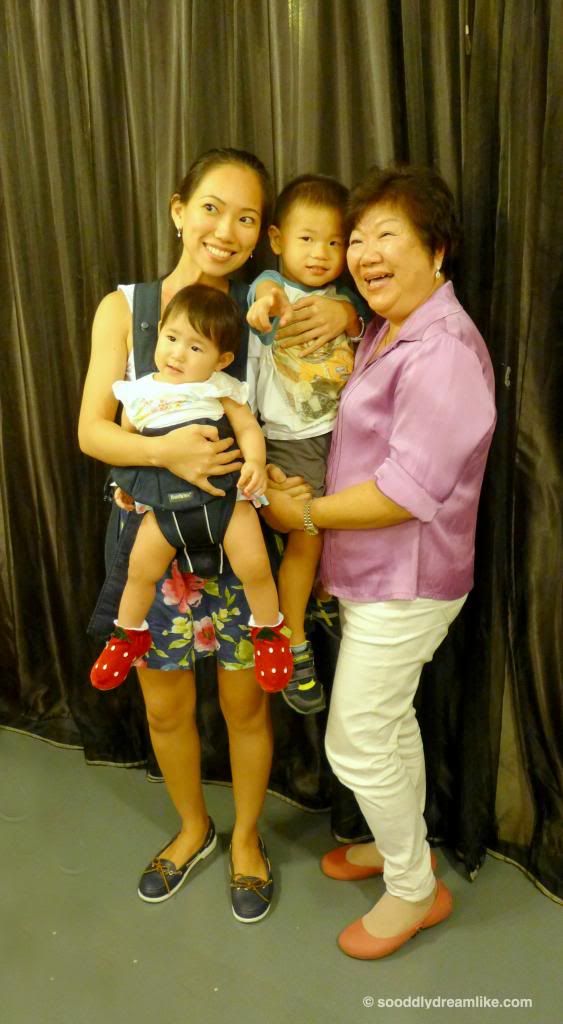 Love this photo which Estella took!

All of us who went (L to R):
Agnes, Cherie's husband, Cherie, Gu Ma (姑妈)'s daughter, Gu Ma (姑妈), Blake, Me and Nakayla, Lynn's husband, Lynn and Faith, Estella and Estella's husband
Gu Ma Jia (姑妈家)
45 Tai Thong Crescent
Sennett Estate
Singapore 347866
Opens Daily: 11am to 10pm
Break time: 3.30pm – 5.30pm (Only weekdays, excluding public holiday)
Call 6285 2023 to make reservations
Disclaimer: My family of four was invited to Gu Ma Jia (姑妈家) for a food tasting/review session. Additional photos used in this post credited to Lynn and Estella.