It's almost one month since Nakayla's first birthday celebration, and I've finally got down to sorting through the hundreds of photos I have from that day, and the days after.
So while my brain is currently in revival mode from all the editing and watermarking (tedious and eye-popping process), I shall start with something simple to kick-off a series of blog posts related to Nakayla's first birthday – The preparations!
Nakayla's party was quite a mad rush, compared to Blake's. The party venue was booked just a little later than we normally do and it was all booked! So we picked the next best possible day to hold the party, and it was a Sunday evening – the day we check in.
Having only 3 hours maximum to prep the place up for the party, I thought renting a helium tank will make things much easier. And I was right! I was done with "decorating" in less than 2 hours! I basically just pumped the balloons, tight a string to it and let it float all over. Haha!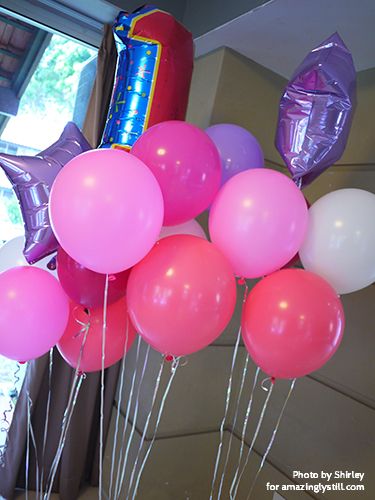 Balloon bouquets
Problem was, it was my first time using the helium tank to fill the balloons, and I had no idea how full the balloons should get.
I have no idea why, but I took the giant cupcake foil balloon I got to "headline" the party to get it pumped first. And it popped in the process.
I was so sad, and just stared at the burst balloon blankly. Instead of cries from the girl, who was very nearby, she burst out laughing. She also kept making the pop sound thereafter, as though asking me to burst more balloons.
So, a gentle note to anyone who's using helium tank the first time, never ever, ever use your main balloon for the first pump!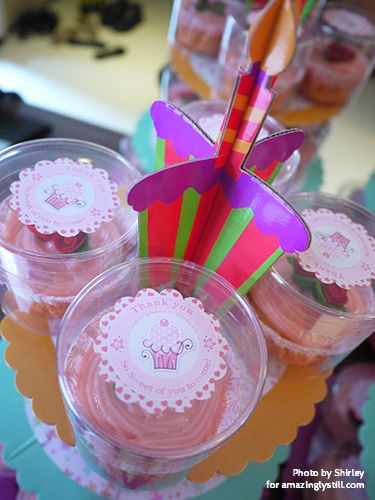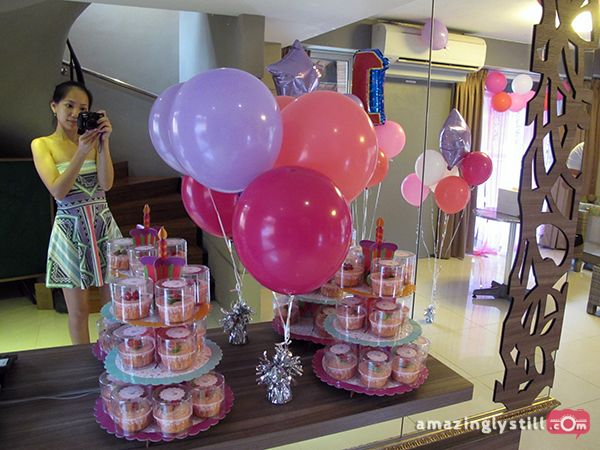 If you haven't guessed it by now, Nakayla's first birthday party's theme was Cupcake. I had originally wanted to have a rainbow themed party, complete with a rainbow cake, themed party favors and all (which explains why the number 1 balloon wasn't all pinkish), but after seeing so many others having it, I decided to change everything about 3-4 months before her birthday.
So with a new theme, I baked cupcakes for everyone to take home for party favors, complete with a matching 'Thank You' tag! Hehe.
I also tried out a new marshmallow frosting for the cupcakes, and that recipe is the keeper! I will share the recipe in much later posts (but it will be up. I promise!)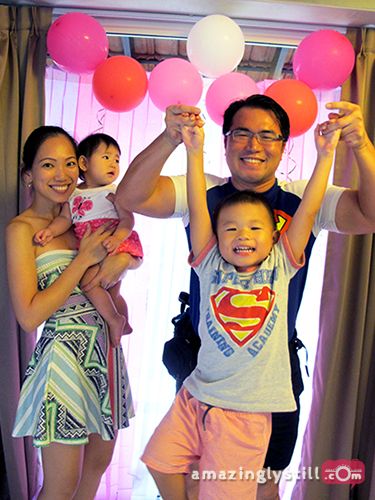 And lastly, this. The "photobooth". The one corner of the place that was really done up with the purpose of having people stand there to have their photos taken. The backdrop for the cake-cutting.
Thought I'd take a shortcut to speed up the process, but it made the backdrop look kind of empty at the top where the balloons are. Sigh. Note to self: use more balloons and fill them with helium for the backdrop!