Sponsored
After a hard day of physical work (that'll be a thorough spring cleaning of the house for me that lasted more days than I planned for), it's nice to kick back and relax with the husband and a glass of wine, after the children have gone to bed. Yup, you heard right. The me who don't drink alcohol actually found sweet tasting wine to drink!
And it's all thanks to Nuevo Vino!
The founders of Nuevo Vino aim to make shopping for wines an easy task for people like yours truly, who is a mountain tortoise when it comes to wine. In fact, I am so high up on that mountain that I didn't dare pick out a wine for myself! I had to ask the founders of Nuevo Vino to help me with it! And all I told them was that I like it sweet like my favourite soft drink, Sprite. Haha!
My life was made even easier when they deliver the wines right to my doorstep! No need to struggle carrying home heavy bags of wine bottles (and fearing that they'll drop and break!), with a baby strapped onto me at the same time! Woohoo! My love for online shopping will never die!
But then again, it's not like I will be able to buy any of these wines and beer off the shelves on my own. All these wines and beer are exclusive to Nuevo Vino. You won't be able to get them anywhere else in Singapore!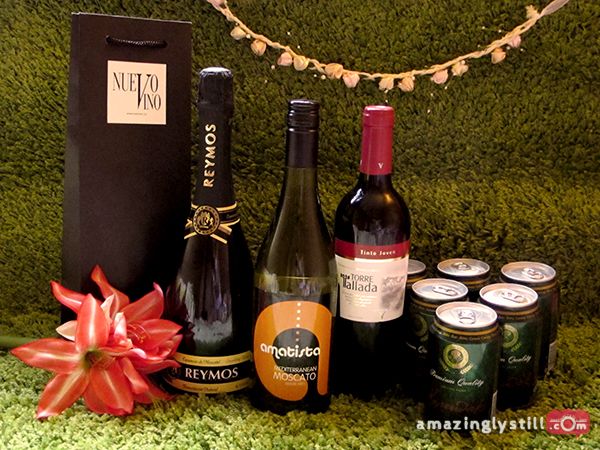 Hand picked and specially delivered (from L to R):
Reymos Seleccione, Amatista Moscato, Torre Tallada Tinto Joven,
and Koperwiek Premium Beer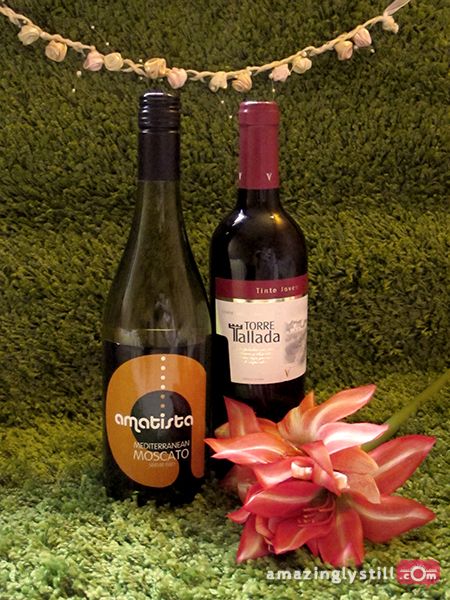 Amatista Moscato (for me!) and Torre Tallada Tinto Joven (for Sean)
When Sean tasted his first glass of Torre Tallada Tinto Joven, the first thing he mentioned was 'beef'.
And these were his exact words, when I asked him to give me a review for the red wine: The wine has a flavourful palette with a piquant after taste, reminiscent of blooming summer. Elegant and refined, perfect to match red meat, especially beef.
I took a sip of this, and it was made very clear after that one sip that I'm not a red wine kind of girl. Haha.
After Sean was done with his red wine, we moved on to my glass of Amatista Moscato!
Pardon my less than exotic answer like Sean's. I'm not that well acquainted with wines. Hehe.
And I have to say, the founders of Nuevo Vino really hit the jackpot for me in the alcohol department!
The Amatista Moscato is very light and fruity to taste. The very first sip I took had a really strong alcoholic taste, but I continued with a couple more sips and I realize that the sweet comes in later and carries through sip after sip! After just 3 sips, I could hardly taste the alcohol. It's all sweet from then on! The sparkles definitely added much delight to my taste buds. The Amatista Moscato is like the soft drinks of wines! Love it!
So if you're as clueless as I am about wines, or have yet to find the wine that you'll fall in love with, don't hesitate ask the team behind Nuevo Vino! They'll be more than happy to help!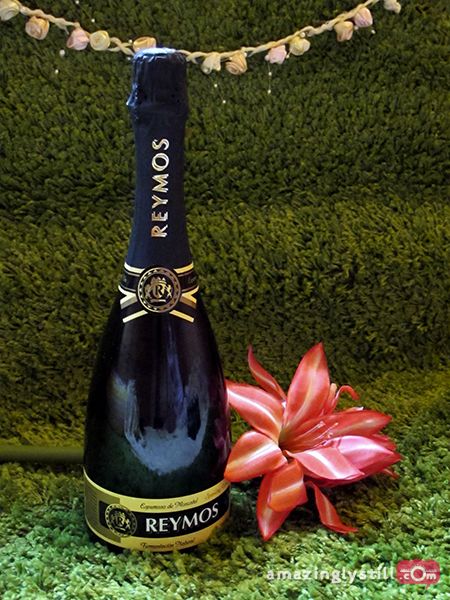 Reymos Seleccione
Before Sean opened this bottle of sparkling wine, he mentioned that it's a 'pop' kind of wine. That is, when you open up the cork, it makes a loud 'pop' sound. The only thing that went through my mind, the mountain tortoise's mind, is the over-flowing of bubbles that will follow. So when I saw Sean shaking the bottle, I let out an almost scream, "Why you shake the bottle?!"
According to Sean, in order to pop the cork, a little shaking is required. And no, there wasn't any over-flowing of bubbles. Haha!
But please don't try this at home unless you know how to shake it right, or if you want a bath in sparkling wine. A twist and turn of the cork should have it pop right out just fine.
And now, the taste test…
According to Sean, Reymos Seleccione is light and refreshing to taste. It is a well-balanced mix of zesty citrus and fruit flavours.
For me, Reymos Seleccione and Amatista Moscato are pretty similar, but the sweetness of the sparkling wine is not quite like the Amatista Moscato (that's officially my favourite wine, for now :P). It is, however, really bubbly and has a much stronger taste.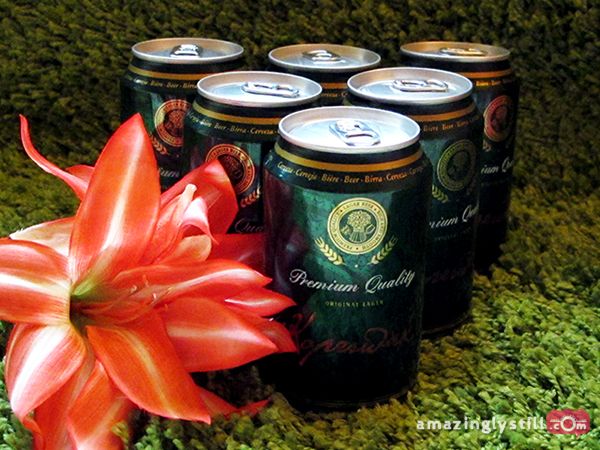 Koperwiek Premium Beer
This Spanish beer has such a German-sounding name that one would've thought it has some kind of identity issue. It was also the very first item that Sean opened up to drink while I was busy taking photos of the bottles of wine. Haha!
According to the critic (that would be Sean): The Koperwiek is smooth and light, leaving a pleasant after taste. It also forms a nice head that doesn't become too tall.
And before you think that's the end of the post, it's not! I have good news for all my readers!
EXCLUSIVELY FOR AMAZINGLY STILL READERS!
From now till 26 January 2014, Amazingly Still readers will receive a complimentary Koperwiek Premium Beer 330ml (6 Pack) with any Lucky Doubles set purchased from www.nuevovino.co!
To redeem a 6-pack Koperwiek Premium Beer (330ml), simply place your orders online (remember to check out and make payment!), reply to the Order Confirmation email and quote "Amazingly Still"!
All wines and beer seen on Nuevo Vino are exclusive to them, and them only, you won't be able to get any of these elsewhere in Singapore! So hurry! Place your orders now and stock up for Chinese New Year before they are out of stock!
P.S. Now we have our own 'happy hour' in the comfort of our own home, after the kids sleep, and in our PJs! Hehe.
Disclaimer: We received all the beverages featured in this post for the purpose of this review. While all opinions are 100% ours, please note that taste buds vary from person to person.