Advertorial
Guess who's the lucky baby who scored a new ride from Taime?

Yup, Nakayla's one lucky baby!
The Lucky Baby Avenue 2 Buggy is the latest product launched by Taime, under their signature brand, Lucky Baby.
And all the lucky babies, who got a new ride each, got even luckier. The product launch was at an ice cream cafe, I Scream!

L to R: Andy, myself, Cherie, Agnes, Irene, Edlyn, and Ting
And all five of our babies sitting in their new buggy!
The Lucky Baby Avenue 2 Buggy comes in two beautiful colours, Blue-Brown and Beige-Black. I had such a hard time choosing that I left it to Sean to decide. Hehe.
After using Lucky Baby Avenue 2 Buggy for about a month, I've come to love five things about it:
1. I can see Nakayla!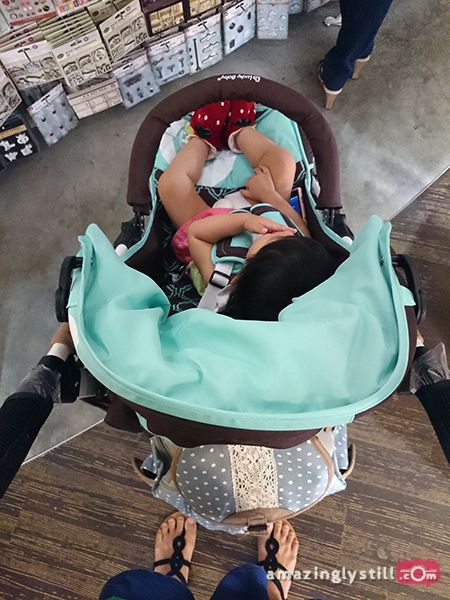 I don't know if I'm short or what, but I have never been able to see so much of Nakayla when she's seated in a stroller/buggy. So I'm really, really pleased that while she's seated in the buggy, I can see everything she's up to!
2. It folds easily

Video by Irene
Compared to other buggies I've used, the Lucky Baby Avenue 2 Buggy folds easily. And it can be done with just one hand too! Perfect for bus hopping mommies like myself. And as you can see in the video Irene made, there's even a handle for easy carrying, after the buggy has been folded!
Please note that it takes practice to be able to fold with such ease. It took me a couple of days to operate as smoothly as Irene had! Hehe.
3. It's a real breeze to sit in it
Despite the hot weather we've been experiencing lately, Nakayla managed to stay cool while in the buggy! And nope, I didn't use any of those clip-on fans. I was truly surprised. I had half expected to pick up a soaking wet girl before boarding the bus, but she was dry!
4. Holds everything and anything
Sorry for the really lousy image quality.
This is the only photo with the neatest shopping bags on the buggy at this moment.
For the first time in a long while, I didn't have to buy extra hooks to put my shopping bags on the stroller. What makes it even sweeter is that my backpack fits easily between the two handles!

Image from Taime Pte Ltd
And, besides the standard basket at the bottom, there's not one, but two additional pockets on the back of the full canopy to hold all the frequently used items (e.g. mobile phones, wallets, wet wipes). Awesome!
5. It is slim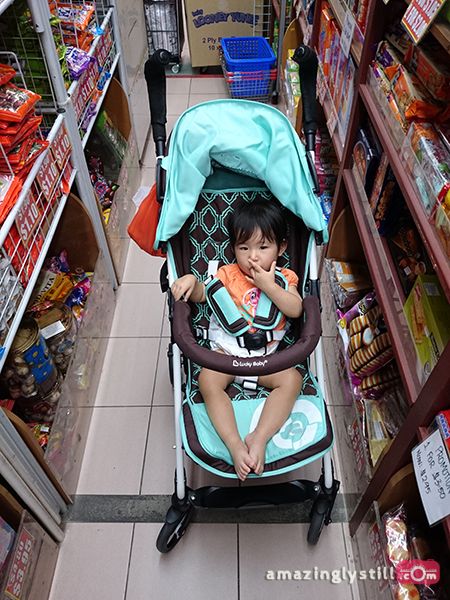 Weighing in at about 7.6kg, I'm impressed by how slim the Lucky Baby Avenue 2 Buggy actually is! I can easily push her along the narrow aisle of neighbourhood shops, with room for others to pass!
The ease of using Lucky Baby Avenue 2 Buggy is so great that I've taken her on location recce for my cousin's upcoming wedding banquet. Yup. I'm the crazy mother boarding public transport with a buggy. But don't worry. I always fold before I board!

We went to Raffles Hotel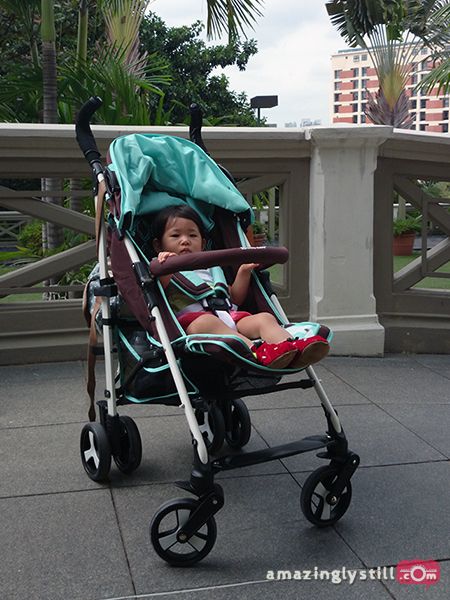 Climbed up Hotel Fort Canning

Nothing glam about this one. It was just a market run. Haha!
But can you see how comfy Nakayla is in the buggy?
Additional features and facts about Lucky Baby Avenue 2 Buggy:
1. Adjustable leg rest and recline backseat
2. Removable front bumper
3. One-step back wheel lock feature
4. Great for babies as young as 6 months old
5. Holds toddlers up to 15 kg
If you're thinking of getting one set for yourself and your little one, it is available for sale at OG and Metro at a promotional price of SGD$149 (U.P. SGD$199)!
For more information, visit Lucky Baby International Facebook Page or Taime Pte Ltd.
I shall end this post with a photo of us after going on an errand run!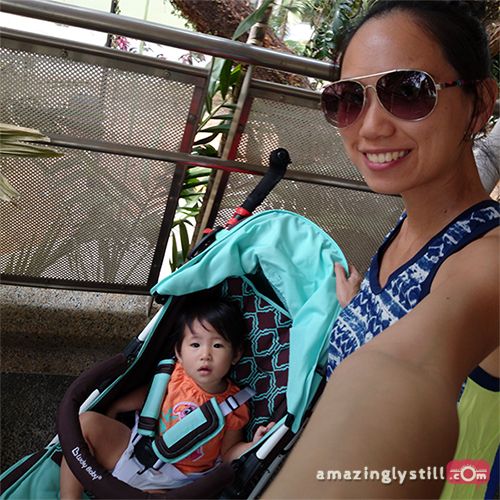 Disclaimer: We were gifted a set of Lucky Baby Avenue 2 Buggy by Taime Pte Ltd, the brand owner of Lucky Baby, for the purpose of this review.