Media Invite
If it hasn't been obvious enough, here's me declaring it – I'm a HUGE dessert fan. I don't need appetizers or mains for meals. But I really need desserts. I happily had ice cream buffet twice for lunch in a week once, but didn't manage to continue cos no one will go with me. Hehe.
So when I got an invitation to visit Menchie's Singapore for a delightful evening with my family and friends, the answer is an absolute 'Yes!'

With my baby girl, Nakayla, and the huge selection of flavors behind us. Over 90 flavors on rotation!

I love how it's self-serve (but you can ask for help!) cos I've always liked filling up my own ice cream cup

And I can determine how much rainbow sprinkles I want! Hehe!

Just throwing in some of my favourites – Longan and Nata de Coco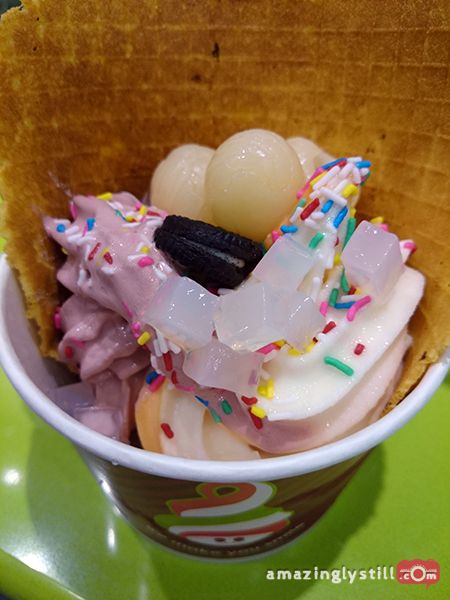 My yums – Tutti Frutti Sorbet mixed with Peach Sorbet and Red Velvet Cake topped with Rainbow Sprinkles, Longan, Nata de Coco and Mini Oreos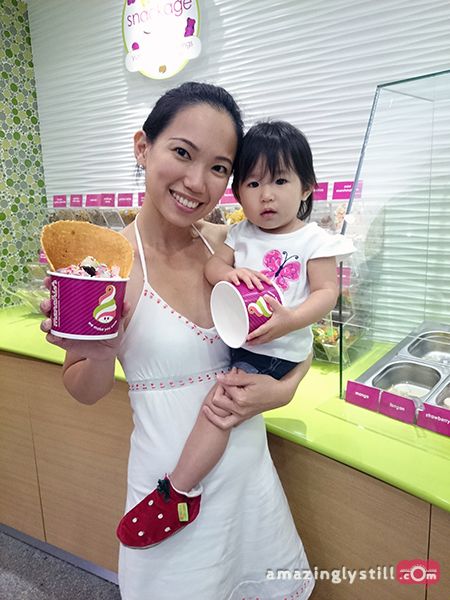 I absolutely LOVE Tutti Frutti Sorbet! I can still remember the refreshing tropical taste! Yums! Based on what I remember, it's a blend of a few fruit flavors, of which I only remember pineapple and coconut. Haha. It's crazy delicious!
Besides Sean and the children, I had also brought my younger sister, Sonia, along cos she's a huge fan of frozen yogurt. She fell instantly in love with the flavor, Peanut Butter, and filled her entire cup with just that. I have shots of her rapturous face at first taste of Peanut Butter, but I'll be nice and, you know, not put it up. Haha! But honestly, her expression was so epic that the staff were just so amused! Menchie's, your frozen yogurt is just too orgasmic! Hehe.
Speaking of the staff… They are a great bunch of cheerful people! They constantly have a smile on their face, and are always more than ready to assist. Super friendly! Thumbs up!
Sean and Blake joined us a little later, and I could tell that the boy was really excited to be in Menchie's. The bright and colourful shop, filled with Menchie's own cartoon characters, makes everything look super happy and fun. Very enticing for any child, that's for sure!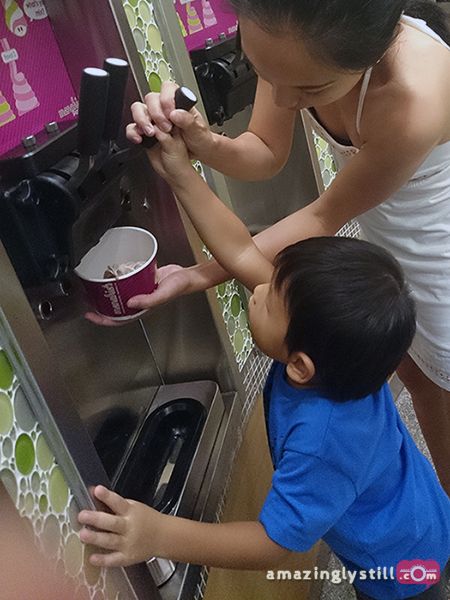 Blake found it funny when the ice cream came out of the machine. Hehe!

And he had a lot of fun watching it swirl into his cup!

"Only rainbow, mommy! Only rainbow!"

That's a big cup for a small boy!
Blake had Cookie & Cream (I like this too!) and Caramel, topped with rainbow sprinkles. He was so spoiled for choice that he didn't know what to choose, so the husband and I picked out the flavors for him instead, and he loves them! Hehe. My baby has a sweet tooth, just like mommy! 😀
Remember when I said earlier that it was a delightful evening with family and friends? Well, Irene and her family were with us too! We had the entire party room to ourselves! Hehe.

With Irene

There were also props for us to take photos with!
I had such a great time that evening that we stayed till almost closing before leaving. It's a really great place to go and just relax with friends. I must return for more Tutti Frutti Sorbet soon!

Thanks for having us, Menchie's!
Oh yes… You can catch Menchie's mascot every Friday, Saturday and Sunday!
And now, for the best part!
GIVEAWAY ALERT
The very awesome people over at Menchie's Singapore is giving away $30 worth of Menchie's Frozen Yogurt each to 3 lucky families! Yay!
To enter this giveaway and win yourself $30 worth of Menchie's Frozen Yogurt, simply follow the steps below! Good luck!
Update: Congratulations to our winners!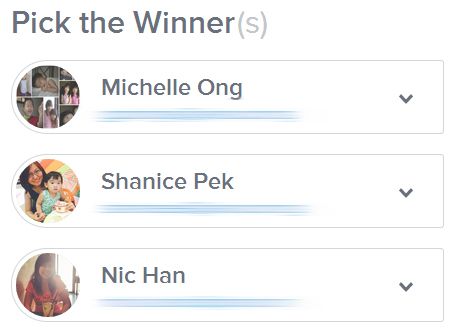 Sorry, I have no idea how to display the winners in the newly upgraded Rafflecopter widget, so I screen shot the winners instead 😛
* * *

Menchie's Frozen Yogurt
Vivo City
1 Harbourfront Walk
#01-113/114
Singapore 098585
Tel: +65 6376 9323
Mon – Sun: 10am – 10pm
Giveaway Terms and Conditions:
1. Open to all living in Singapore
2. Giveaway ends at 2359 hours (that's 11:59PM) of 13 April 2014 (Singapore time)
3. Incomplete entries will automatically be disqualified without notice
4. Three (3) winners will be randomly picked and announced on my Facebook Page by 14 April 2014, Monday
5. This giveaway is in no way sponsored, endorsed or administered by, or associated with, Facebook
6. Confirmation emails will be sent to the winners
7. Winners to present confirmation email at Menchie's Frozen Yogurt to enjoy the giveaway
8. The giveaway is valid for $30 worth of frozen yogurt. Any additional cost incurred will be borne by the guest
9. Winners can enjoy the giveaway from 1st May 2014 – 30th June 2014
Disclaimer: We were invited to a frozen yogurt tasting session at Menchie's Singapore for the purpose of this review.