Sponsored
One of the few household chores that I do, despite having hand eczema, is the laundry. I don't know why, but I just enjoy it.
I always have to take extra care though, so that my hands do not come into direct contact with our laundry detergent. In the event that I do, I run off to rinse it off immediately.
Besides caring for it during the use of it, I realize that sometimes, if I use too much laundry detergent to wash our clothes, it'll flare up my sensitive skin even after the clothes have dried and I'm folding them! How odd, isn't it?
I was about to resign my fate to having on-off hand eczema flares when Ecover was sent to my doorstep. And using them over the past few months have been nothing short of amazing!

Ecover Zero Fabric Conditioner ($7.50) and Laundry Liquid ($23.95)
For starters, the Ecover Zero range has been dermatologically tested to be safe for those with sensitive skin. Using gentler ingredients derived from plants and minerals, the Ecover Zero range of products can help minimize allergic symptoms with its 0% fragrance, 0% colouring and phosphate-free formulation!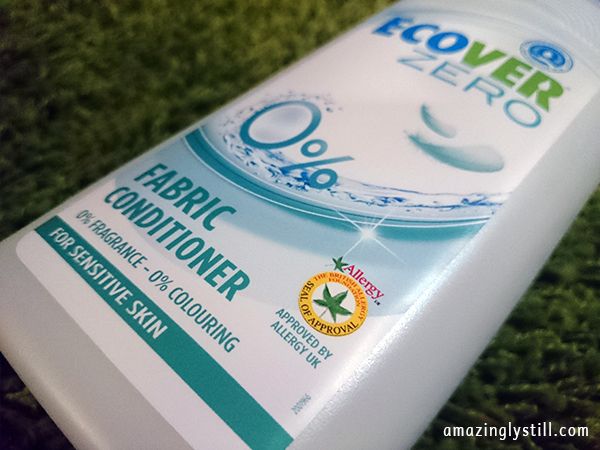 Anything that is fragrance free and colouring free is a total bliss for my hands!
The absence of fragrance from the newly wash laundry was a welcoming change. In spite of the lack of fragrance, each batch of laundry washed turns out smelling fresh and clean!
And so far, the skin's not complaining. Once, I spilled some of the laundry liquid on my hands, and I left it there for a while just to test it out. I was honestly a little scared of what may happened after, but thank goodness, nothing did! The skin survived! 😛
As you can tell by now, I'm pretty pleased with my new laundry liquid and fabric conditioner.
If you're keen on trying out the Ecover Zero range of products, here's a piece of good news!
DISCOUNT CODE FOR AMAZINGLY STILL READERS!
The amazing people at Corlison Singapore is giving all my readers a 20% discount for purchases made on their Ecover Zero range (excluding promotional items)! Just head on over to their website, www.ecover.com.sg, and key in 'ECV20AS' upon checkout! Valid till 31 August 2014.
Home-Fix Singapore also carries the Ecover Zero range, if you prefer to purchase the products in-stores 🙂
Disclaimer: We received the products from Ecover Zero range for the purpose of this review. Please note that while these products did not cause any adverse reaction to my skin, it might react differently with yours. Kindly conduct your own skin patch test.