Sponsored
Over the weekend, we managed to spring a surprise on the fathers from my dad's side of the family, all thanks to Emicakes!
Under the guise of a potluck gathering for the rice dumpling festival, the fathers all thought I brought along a normal cake, like I usually do for most potlucks I attend. Unknown to them, the gathering was also an early Father's day celebration!

There is a surprise that awaits in the box…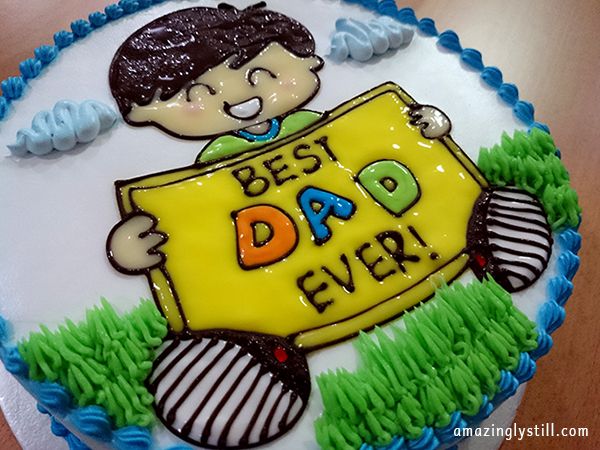 TA-DAH!
Cake design: Best Dad Ever, Boy version
FYI, I chose the boy version for the 'Best Dad Ever' cake design because I came to the conclusion that all toddlers will look the same with short hair, until the ribbons on the hair are seen 😛
But mostly because dads are boys. Boys will be boys, eh?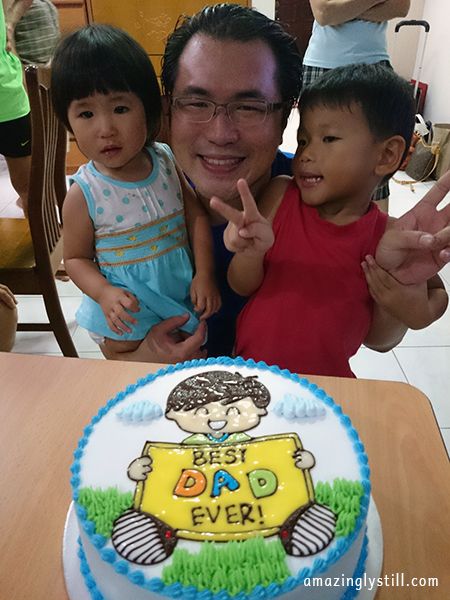 Sean's the best dad (and husband!) ever 😀

And my dad, the awesome grandpa to my children!
After all the song-singing and cake cutting, we got right down to business. We ate away! And my oh my, after my very first bite of the Chocolate Truffle Cake, I felt like my taste buds were in heaven!
Between the layers of chocolate chiffon cake are thick layers of rich and creamy chocolate mousse. And mixed into the chocolate mousse are chocolate bits, which added texture to this already lovely combination to spice things up! It was a pleasant surprise for me, and I love it! Hehe.

Pardon the messiness. I'm seriously a noob at slicing and distributing cakes!
And say hello to the ever delicious Chocolate Truffle Cake!
The Chocolate Truffle Cake was also an instant hit with Blake and Nakayla. They both finished a slice each that very night! And the very next day saw Blake opening the fridge door, spotting the leftovers and saying out loud to me, "Look, mommy! It's Blake's cake! Blake wants to eat his cake, ok?" Hehe. I couldn't help but giggle when he said that.
Just talking about the cake makes me want to have some now! But before I go get myself another slice (the cake is huge by my family's standard), here's one other thing you need to know before I forget…
A sweet giveaway for all my lovely readers!
The very awesome people at Emicakes is giving away TWO (2) cakes to TWO (2) very lucky winners!
Simply follow the instructions on the widget at the end of this post to score a chance or more in this yummilicious giveaway…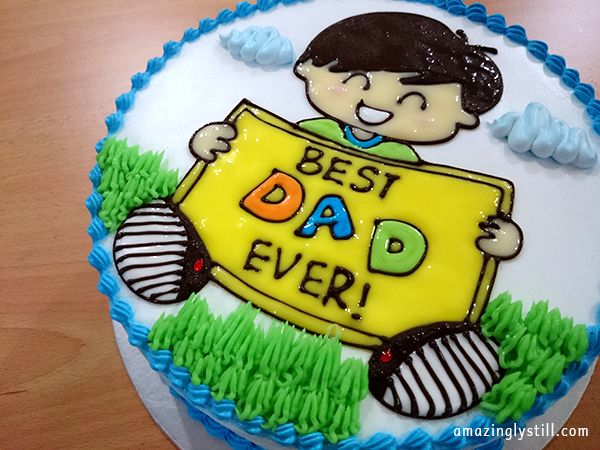 … and you might just win yourself an Emicakes home!
Should you be too excited and unable to wait, go purchase one now and get an early bird discount of 15%! Valid for orders placed by June 11, 2014.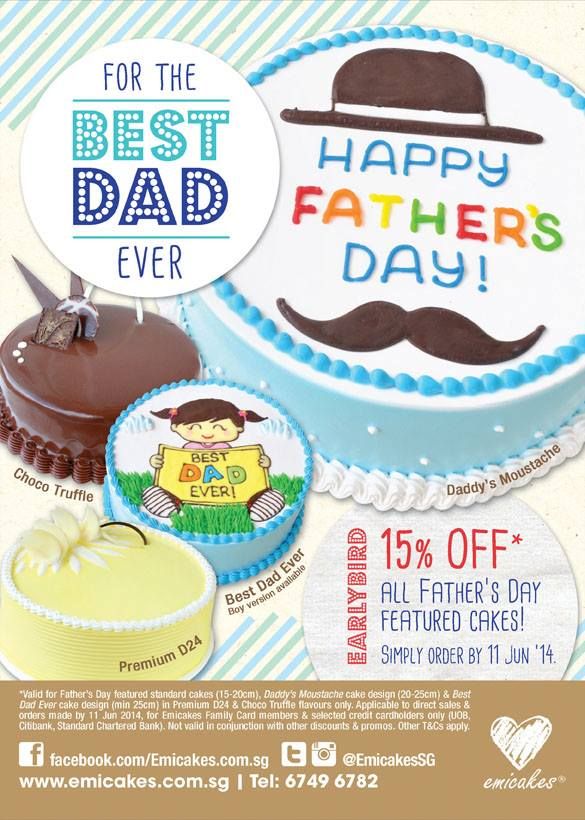 Enter to win here!
Giveaway Terms and Conditions:
1. Open to all living in Singapore
2. Giveaway ends at 2359hours, 9 June 2014, Monday
3. Incomplete entries will automatically be disqualified without notice
4. Two (2) winners will be randomly picked and announced on my Facebook Page on June 10, 2014
5. This giveaway is in no way sponsored, endorsed or administered by, or associated with, Facebook
6. Confirmation calls/emails will be sent to the winners
Disclaimer: We received a cake specially for Father's Day by Emicakes for the purpose of this review.