Advertorial
I used to tell my friends who had just entered parenthood that as newborns grow, the best time is between 6-12 months old. At that age, they do nothing but eat, sleep, poop and be merry – at least for both my children that was the case. And before they know it, the children will be up running about, and somehow, able to make their own decisions.
Yet after Nakayla turned one, I began to enjoy the toddler stage even more than before. Perhaps it's because I know I'm never going to have another chance to relish in the toddler stage again, and I have some kind 'graduation goggles' on me…
Now at 18 months old, Nakayla is more vocal about what she likes, picking out her clothes, shoes and sometimes, even her own diaper.
In case you're wondering what's there to pick out for diaper, allow me to give a little background.
Blake started using Drypers Drypantz almost a year ago, with Nakayla following suit with Drypers Wee Wee Dry. And we buy all their diapers in bulk, lasting about 6 months each time.
With the recent launch of the new and improved Drypers Wee Wee Dry, I was gifted a few packets to test out.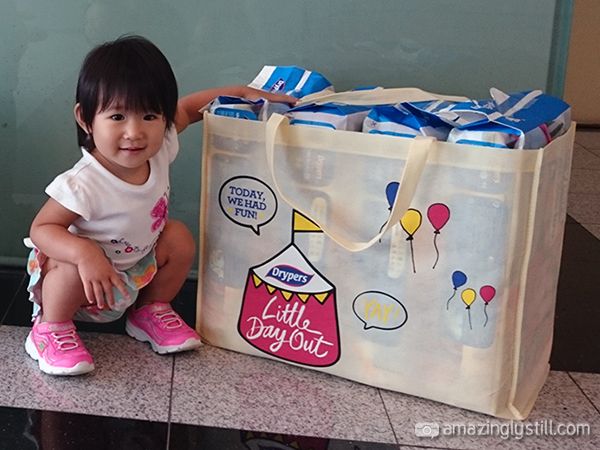 Thanks, Drypers!
I was curious about it, so I opened a packet before finishing the batch I bought in bulk. And, Nakayla has taken a liking to using the newer ones over the not-that-old batch.
Note to self: Always finish up the old version before opening the new and improved version for everything.
I guess I can see why though.
Made with 100% breathable softer cloth-like cover, the softness of the new and improved Drypers Wee Wee Dry provides such great comfort for Nakayla that she's not afraid to be herself.

She's so comfortable with being herself!
Whenever she hears a dance pop kind of music come up, it's almost certain that she will bust out her moves. It often leaves me and Sean in laughing stitches. I have no idea where she got her grooves from (I don't dance like that!), but it's hilarious!
It also helps that the diapers are really well fitted which gives Nakayla the freedom of movement – no discomfort or red marks on her hips – and the specially designed Flexi-tape™ definitely made changing diaper for a little active toddler like mine a breeze. The less time I spend struggling to change the diaper, the more time we have to play together!
But as much as I want fun times like these to last, it's inevitable to experience some of the not-so-good moments – namely, the tantrums.
Every parent would have a couple of tricks up their sleeves on how to diffuse tantrums.
Personally, toys or pointing at random objects are my usual with the children, especially when we're out. But sometimes, it fails.
There is, however, one fail-proof item that will diffuse all tantrums from Nakayla… And that is food! Haha!
Food brings a smile to her face, and instantly cheers her up! It doesn't matter what food it is, it doesn't matter what it taste like, but I have never seen her cry because of food.
Case in point… Mutton Curry.
And what goes in, must come out, right?
Given the amount of food she eats (and she's a real foodie!), this little girl's output is pretty substantial. But I never have to worry much about that, not even when she likes to jiggle her bottom and move with the music (everybody dance now!), and it's all thanks to the Active Absorb Layer™, which made the diapers ultra absorbent, locking in loose stools and pee. And I couldn't be more thankful for this!
Except I can, because on top of the Active Absorb Layer™, Drypers also included four natural plant extracts (Vitamin E, Chamomile, Olive Extract, Aloe Vera) that are known to protect skin from diaper rash. And that's of utmost importance to me!
Many a time would I be caught in a situation with Nakayla where we're out and not able to find a diaper changing room for immediate clean-up. And sometimes, when we do, we have to wait a really long time because there is a queue. At times like these, I'll be super worried because I keep thinking about how awful her soft and gentle baby skin must be feeling. Those worries are definitely no more, because I know my girl is being kept all dry and clean (clothes included), and that there is no risk of her ever developing diaper rash. Hurray!
With one less thing to worry about, I am thoroughly enjoying my 'best time' of eat, sleep, poop and be merry with Nakayla! And I'm not the only one who's enjoying this 'best time'. Blake is in on it too! He's really just the best big brother a little girl can ever have!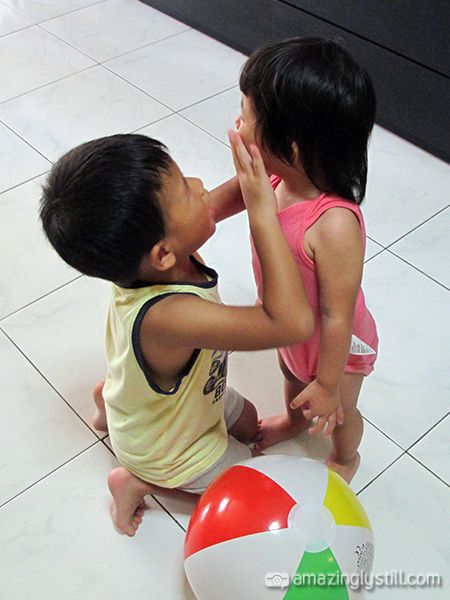 She cried cos she couldn't catch the ball he threw to her.
He comforted her, and later tried to teach her how to throw and catch!
* * *
Free Voucher Alert!
Drypers Singapore is giving away $10 FairPrice voucher to my readers, with every purchase of two (2) packs of Drypers Wee Wee Dry (Nakayla is using this) or Drypers Drypantz (Blake is using this) in the month of June 2014!
All you will need are:
– Proof of purchase (scan or take a clear picture of the receipt)
– Personal details (name, contact number, address, child's name and date of birth)
– An e-mail with the subject title as 'AmazinglyStill'
Simply email all of the above to SCA Hygiene at sg.contest@sca.com to redeem your free voucher!
Please note that this promotion not applicable to Drypers Drypantz M-4pcs, L-3pcs, XL-3pcs, XXL-3pcs.
Disclaimer: This post is part of a series sponsored by Drypers Singapore. If you must know, after trying Drypers out for the first time, we did an overhaul in our diaper department, and have been using Drypers ever since 🙂