NATIONAL DAY BLOG TRAIN HOSTED BY GINGERBREAD MUM
In this edition of Flashback Friday, I thought it'd be most apt to bring you to a location that's fun for free (yes! free!) in Singapore. Somewhere Nakayla and I visited back in… I can't remember when!
All I remember was that we had an awesome afternoon with Lynn and her daughter, Faith!
Located on the second floor of Vivocity is a huge playground. From dry play areas to wet play areas, there's just so much for the children to do!

Amazing how spouts of water like these can provide a whole afternoon of entertainment!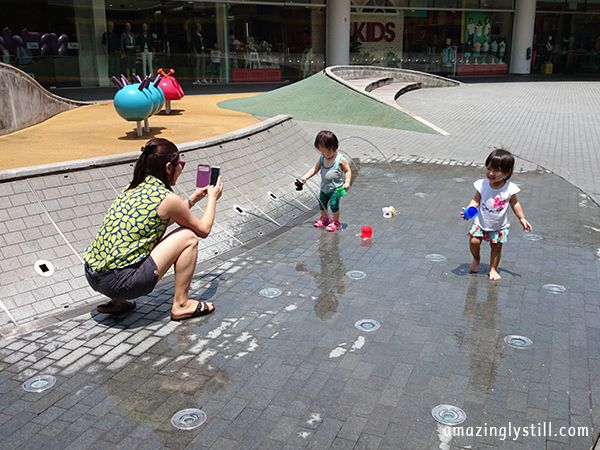 On hot afternoons like these, it's best for the children to stick to areas where the ground is wet. Nakayla stepped out a couple of times and cried out in pain as her little bare feet touched the blistering hot ground.
Soon, she knew that she had to stick to the wet areas, as long as her shoes are off. Makes for great 'barricade', if you ask me! Hehe!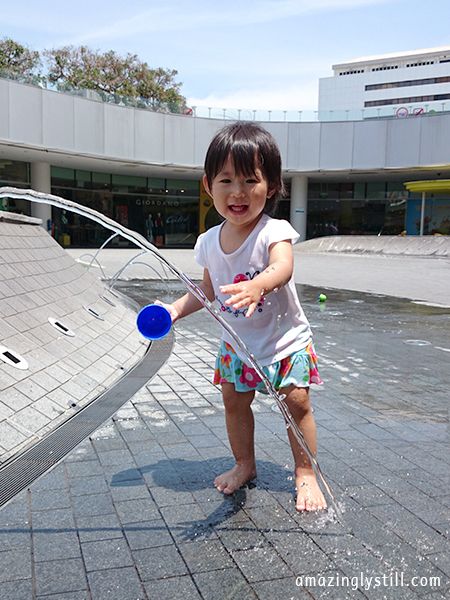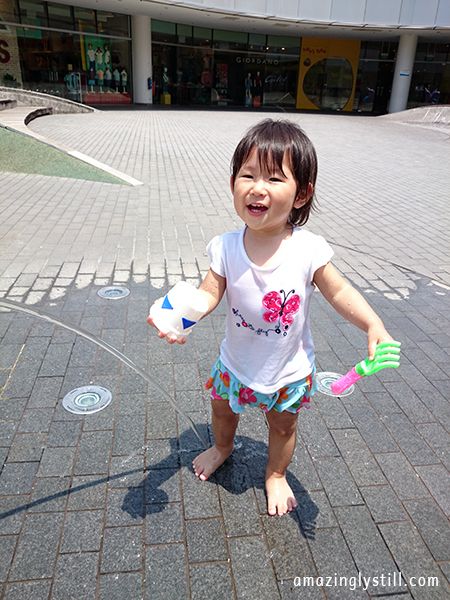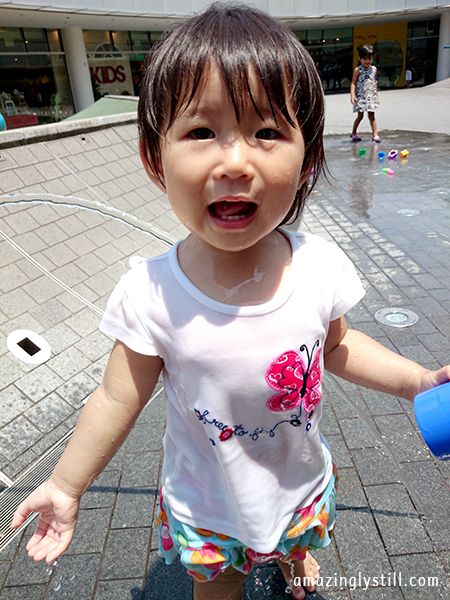 One of the best things about this play area is the baby changing room nearby.
It's air-conditioned (remember to wrap your child(ren) up before heading in to change!), has a hot water dispenser (awesome!), plenty of changing station with sinks, and private cubicles for breastfeeding moms. There is even a couch for parents to sit and rest for a moment!
For more information on how to get to Vivocity, do visit their website here 😀
* * *

Next up on Fun for Free SG is Diana of Chubby Anecdotes!
Diana Ruth from Chubby Anecdotes will bring you down the North-East Line and into the sun, sand and fun at Punggol Promenade and Punggol Waterway.
Diana is mummy to her 3 chubbies (with one more on the way!). She works part-time and runs a small face-painting business to free out more time for her children. Diana finds joy in the little things in life and blogs them down on her little piece of paradise at chubbyanecdotes.net.
* * *
Can't get enough of FUN FOR FREE SG venues? Here's the whole list – 31 days of free fun in Singapore! This list will be updated regularly; you will be able to click on the location to be brought directly to the blog post when it goes "live":
1 Aug: Tiong Bahru Park by Gingerbreadmum
2 Aug: Queenstown Heritage Trail by Princess Dana Diaries
3 Aug: Jurong Regional Library by Finally Mama
4 Aug: Singapore Maritime Gallery by Peipei Haohao
5 Aug: Singapore Philatelic Museum by Kids R Simple
6 Aug: Sculptures of Singapore by Gingerbreadmum
7 Aug: Fire Station by The Js Arena
8 Aug: Esplanade + Merlion by Prayerfull Mum
9 Aug: Bukit Batok Nature Park by Meeningfully
10 Aug: Lower Pierce Reservoir Park by The Kam Family
11 Aug: I12 Katong – water playground by Universal Scribbles
12 Aug: IMM by Mad Psych Mum
13 Aug: Tampines 1 Water Playground by Amazingly Still
14 Aug: Sengkang Riverside Park by Itchy Finger Snap
15 Aug: East Coast Park by Toddly Mummy
16 Aug: Sembawang Shopping Centre Playground by Joey Craftworkz
17 Aug: Animal resort by Raising Faith
18 Aug: Botanic Gardens by Mum's The Word
19 Aug: Police Heritage Centre by Mummy Ed
20 Aug: Venus Loop, MacRitchie by Scrap Mum Loft
21 Aug: Road Safety Park by Miracule
22 Aug: Marina Barrage by J Babies
23 Aug: Gardens By The Bay, Children's Garden by Finally Mama
24 Aug: Changi Airport T3 by Mother Kao
25 Aug: Pockets of Nature by Mum in the Making
26 Aug: Changi Airport T1 by Growing with the Tans
27 Aug: Pasir Ris Park by Ingspirations
28 Aug: Gardens by the Bay Supertree Grove by My Lil Bookworm
29 Aug: Vivocity Play Area by Amazingly Still
30 Aug: Punggol Promenade + Punggol Waterway by Chubby Anecdotes
31 Aug: Westgate Wonderland by Xavvylicious

* * *
Have an old post that has yet to be published, and still in the draft folder?
Don't know how a super backdated event you wish to write about can fit into your current up-to-date life?
Fret not! Simply join the Flashback Friday linky and share your Flashback posts with us by grabbing the code below and adding your blog post's URL at the bottom!