National Day Blog Train Hosted By Gingerbread Mum
Located conveniently next to the MRT station and bus interchange, the rooftop wet playground at Tampines 1 is one of our favourite places to go to have some free wet and wild fun!
Many a time, I'll bring them there to have some fun after school while waiting for Sean to join us for dinner. The cool evening is just perfect for some play before dinner, if you ask me!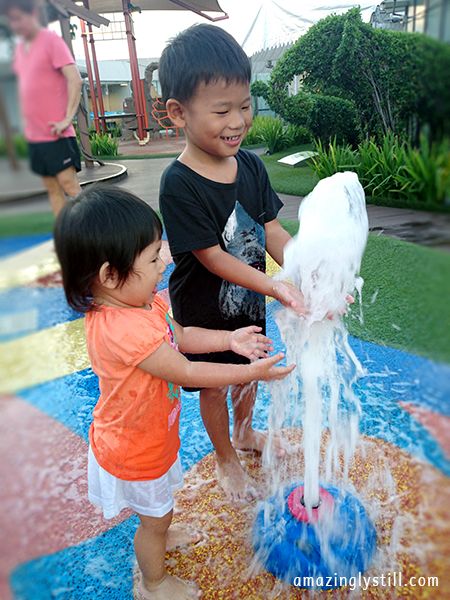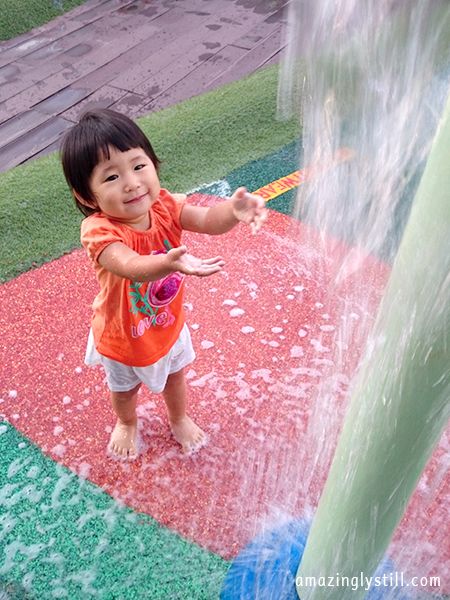 There are also areas that are suitable for dry play. More often than not, these areas will be wet too. So don't be surprised by any of it, ok? The children will all just basically run all over the place to have fun! Haha!
Even when they do start out with playing only at the dry areas, you can be sure that in no time, they'll be all soaked.

Tired and cold, but still want to play
Psst… They weren't dripping wet anymore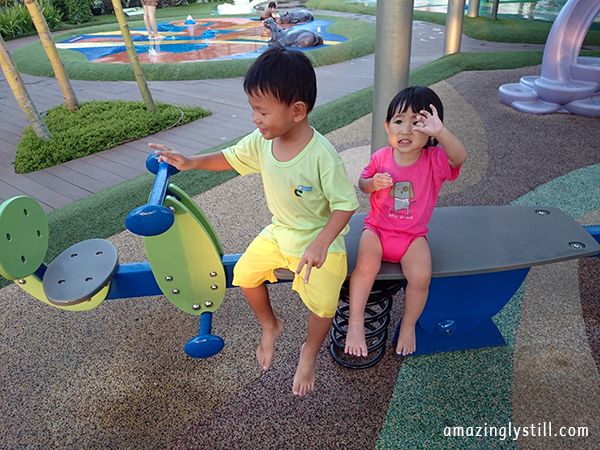 Some additional information:
– The area is closed for washing on Monday mornings (opened only in the afternoon)
– There is one handicap toilet with a changing table for toilet needs
– There are changing rooms with showers, but please note that the water is cold. There's no heater!
– Seats are available all around, some with accompanying table
– Drink vending machines are available at the lift lobby
Details:
The water playground at Tampines 1 is located conveniently next to Tampines MRT station (East-West line aka the green line), and a short walking distance from the Tampines Bus Interchange. There are plenty of parking spaces available in the area but sometimes, the overwhelming weekend crowd could mean a long wait.
Tampines 1 Water Playground
10 Tampines Central 1
#05-35 (Roof Top), Tampines 1
Singapore 529536

Opening hours: Monday 4pm to 9.30pm, Tuesday – Sunday 10am to 9.30pm

For more information on how to get to Tampines 1, please visit their website here.

* * *

Next up on the Fun for Free SG is Nadia of Itchy Finger Snap!
Nadia will be sharing with you the wonders of nature that is Sengkang Riverside Park! Keep a look out for it 😀
* * *
Can't get enough of FUN FOR FREE SG venues? Here's the whole list – 31 days of free fun in Singapore! This list will be updated regularly; you will be able to click on the location to be brought directly to the blog post when it goes "live":
1 Aug: Tiong Bahru Park by Gingerbreadmum
2 Aug: Queenstown Heritage Trail by Princess Dana Diaries
3 Aug: Jurong Regional Library by Finally Mama
4 Aug: Singapore Maritime Gallery by Peipei Haohao
5 Aug: Singapore Philatelic Museum by Kids R Simple
6 Aug: Sculptures of Singapore by Gingerbreadmum
7 Aug: Fire Station by The Js Arena
8 Aug: Esplanade + Merlion by Prayerfull Mum
9 Aug: Bukit Batok Nature Park by Meeningfully
10 Aug: Lower Pierce Reservoir Park by The Kam Family
11 Aug: I12 Katong – water playground by Universal Scribbles
12 Aug: IMM by Mad Psych Mum
13 Aug: Tampines 1 Water Playground by Amazingly Still
14 Aug: Sengkang Riverside Park by Itchy Finger Snap
15 Aug: East Coast Park by Toddly Mummy
16 Aug: Sembawang Shopping Centre Playground by Joey Craftworkz
17 Aug: Animal resort by Raising Faith
18 Aug: Botanic Gardens by Mum's The Word
19 Aug: A surprise! by Mummy Ed
20 Aug: A city trail by Scrap Mum Loft
21 Aug: Road Safety Park by Miracule
22 Aug: Marina Barrage by J Babies
23 Aug: Gardens By The Bay, Children's Garden by Finally Mama
24 Aug: Changi Airport T3 by Mother Kao
25 Aug: Pockets of Nature by Mum in the Making
26 Aug: Changi Airport T1 Growing with the Tans
27 Aug: Pasir Ris Park Ingspirations
28 Aug: Gardens by the Bay Supertree Grove by My Lil Bookworm
29 Aug: Vivocity Play Area by Amazingly Still
30 Aug: Punggol Promenade + Punggol Waterway by Chubby Anecdotes
31 Aug: Westgate Wonderland by Xavvylicious