Blake's party this year was held near our place, with the main reason being – we're too lazy to venture further from our nest (haha!) and also because it's much easier when it comes to transporting anything for the party! And boy did I really need that this year… Let me show you why!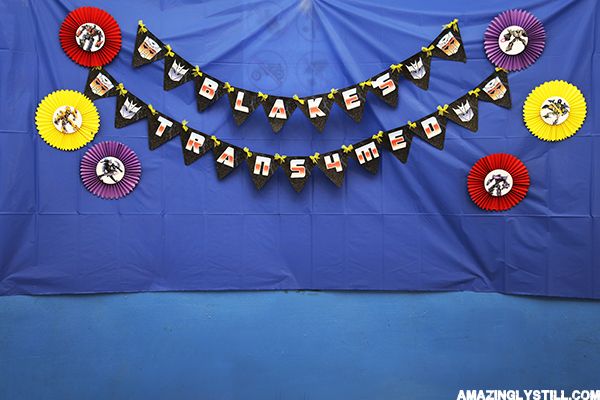 The banner I made, accompanied by hand-me-down paper fans from Elizabeth – Thank you!

That very morning, I made these Transformers paper toys to add to the decorations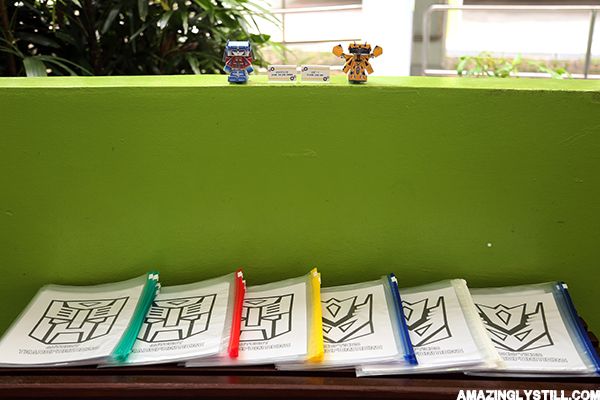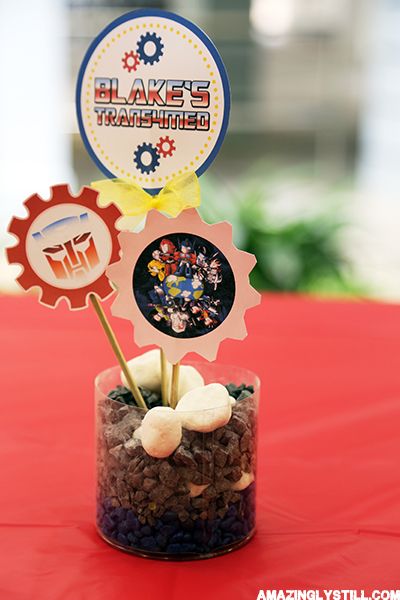 The 'Autobots' table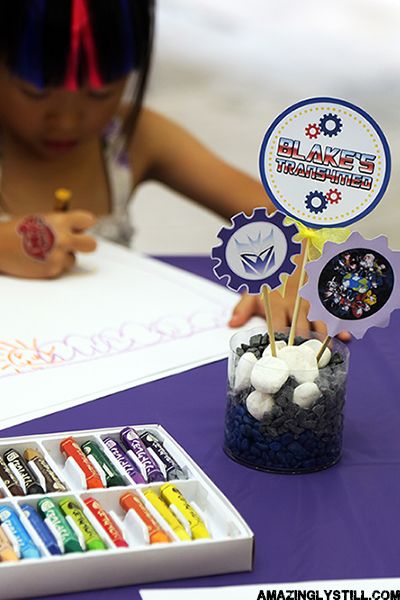 The 'Decepticons' table which was occupied by all the creative children drawing away

Yay!
Can you see why I'm so glad the party venue is just within walking distance from my place? I cannot imagine transporting all the above without ruining any of it! Much less transport it and more with two little ones! Haha.
With the party and decorations all up, it was time to set up our mini dessert table!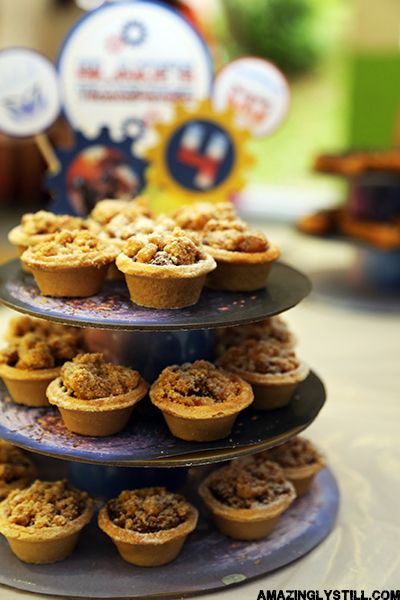 Apple Crumble Tartlets sponsored by Sweet Affairs by Geri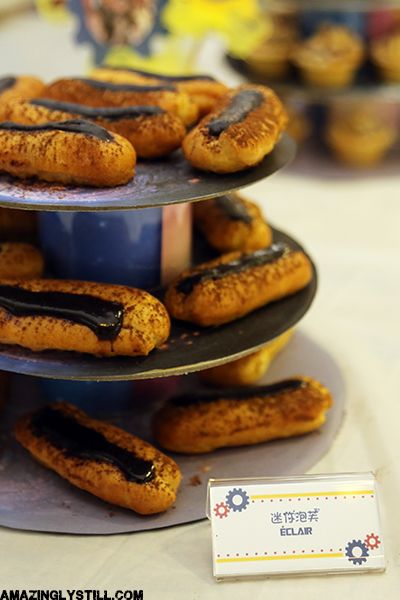 Mini Éclairs sponsored by Sweet Affairs by Geri
These little delights are simply divine! The apple crumble tartlet is a fantastic mix of crispy crust and sweet apple filling – I crave for them up till this day!
And the éclair… The delectable (and generous) cream filling the soft pastry, topped with chocolate sauce is just irresistible! Blake, who is pretty fond of the apple crumble tartlets, took an even greater liking to it! He calls it "hotdog" though. I'm guessing cos it looks like one to him. Hehe!
May I now direct you to look at the stands used for the mini desserts in the above pictures? I made those with Sean's help the very night before! Haha! It's not as perfect as I envisioned it to be, but it was the best we managed to pull together, using whatever resources we have left at home. Not too bad, if I say so myself! 😛
Before things were ready completely, guests started streaming in. To all of whom I'd like to say… So sorry for the tortoise-speed I was going at, and leaving all of you to yourself in the first hour! I couldn't be more grateful than to have all of you attend!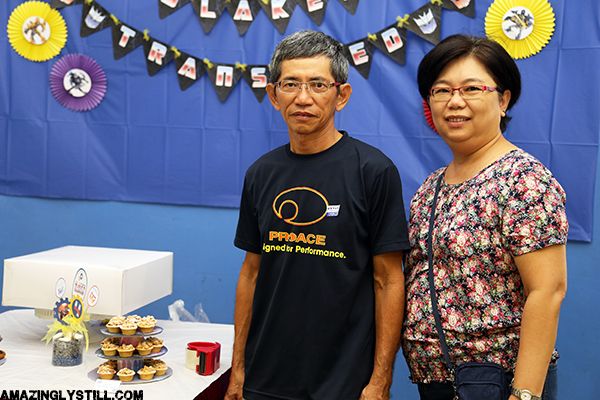 My parents 😀

With fellow parent bloggers, Samantha, Natasha…

… Chrystal…
These are just some of my guests, the ones I think who are okay with having their photos up on the internet. Hehe.
To everyone else who attended but do not see your photos up here – You still matter to me, and I'm most grateful to have you at Blake's birthday celebration! I just happen to know that some of you are shy and prefer to keep photos of yourself offline.
And with all the party decorations up and guests present, it was time to eat some cake!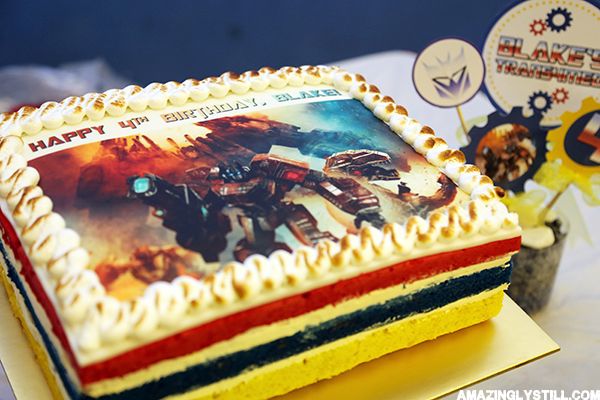 Yes, it's another 'naked' cake by Lynn!
A short digression for a moment… I tried to trace back the original artist of the above image, but was unable to do so. Blake really liked the Transformer Metroplex (the big one over-shadowing Optimus Prime), so I decided to just go ahead with the use of this image (I hope I won't end up regretting!). It seems like it might have been a screenshot from one of the Transformers game, but I can't be sure. If you're the person behind the making of this image, or know the person who is, do let me know and I'll definitely credit accordingly!
And now, back to the singing and cake cutting!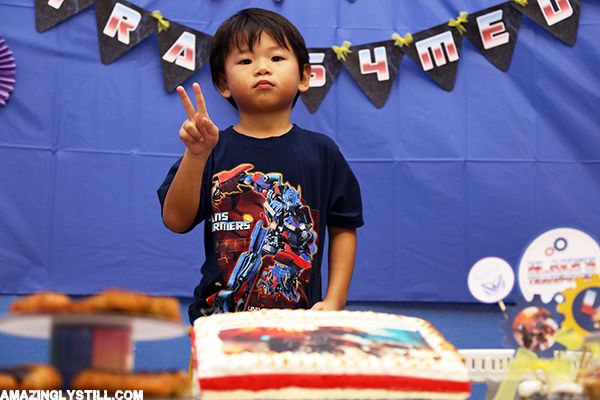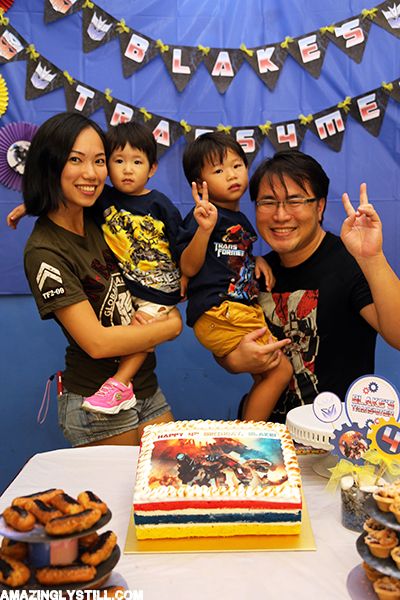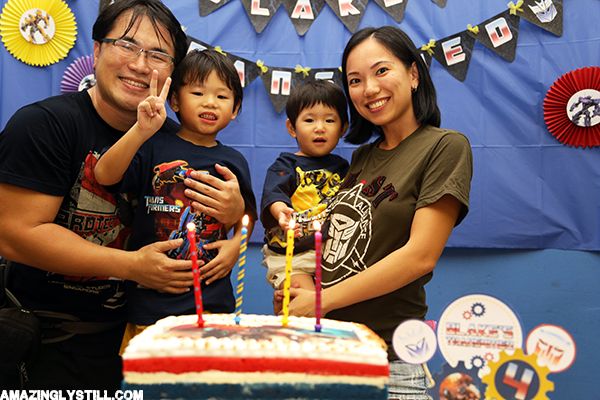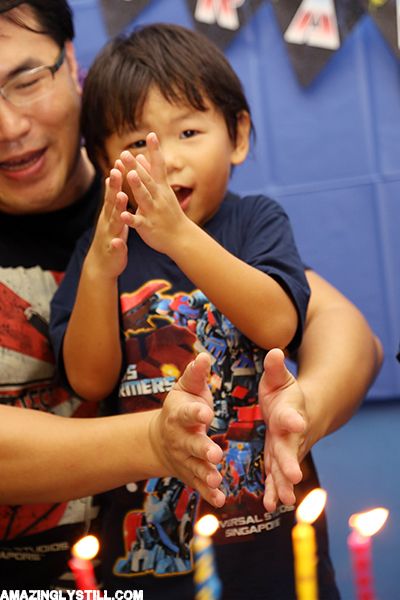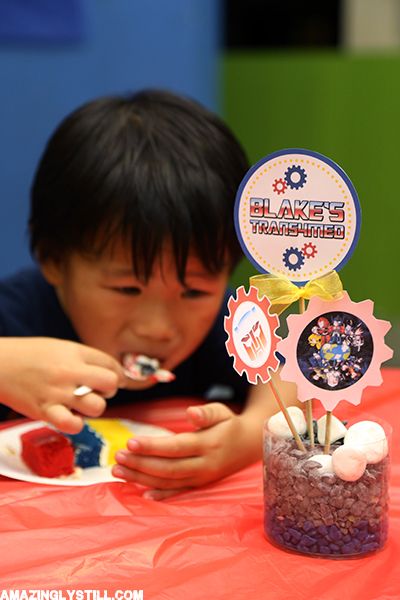 Another year has gone past, and another birthday celebrated for my boy. I still cannot believe how quickly time has been passing for us! But with that said, I cannot wait for Nakayla's birthday in November, and the many more birthdays of my children to follow! It's so much fun planning and materializing the ideas I have!
Till the next party…
"Thank you, everyone!"
Disclaimer: Only the mini desserts, Apple Crumble Tartlets and Éclairs, are sponsored. All opinions are 100% my own. I'd like to give a shout out to our photographer of the evening, Nadia, for capturing these precious moments. Thank you!