Bunch of Random things that happened in one day
It's been a while since I've updated about the children and our weekend walk-around. I've been busy with work and prepping for Nakayla's birthday that I hardly took any photos of the children the past two weeks! 🙁
But that said, the weekend before all the craziness started, Sean and I brought the children out to pick up some Transformers goodies we've just purchased (Yes, we bought more. Haha!).
We reached the place early, and the children started to get a little restless from the wait. Blake kept saying he wanted to go to the playground, but I didn't recall seeing any. He then pointed in one direction, and walked towards it. And true enough, just ahead of us, there was a playground. My boy has a good radar for playgrounds!
When the children discovered that this playground had a nice little nook that sheltered them from the sun, they decided sitting within the playground structure was fun in itself. Haha!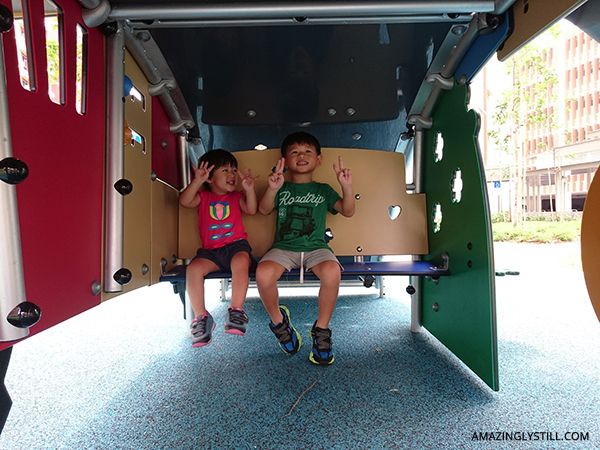 Sean joined us after receiving our purchases and proceeded to the exercise equipment right next to the playground. And it led to this…

The one-man carnival never fails to disappoint the children!
On our way out to the bus stop, the children were starting to be a little cranky (it was way too hot!). As luck would have it, we were provided with a whole field of distraction. Plenty of mimosa plants and bugs for the children to explore and learn about!
They were just as fascinated with the mimosa plant as I was in my younger years, and it's amusing to see how a tiny mimosa plant can incite laughter from my cranky little ones, putting them in a good mood again!
Oh my darling mimosa plant, how I love you so!