Media Invite
Last month, the children got their hands on some guns.

The Doh Vinci Styler gun, that is!
The fact that these Doh Vinci kits are recommended for older children didn't stop Blake and Nakayla from attempting to design their very own Christmas tree.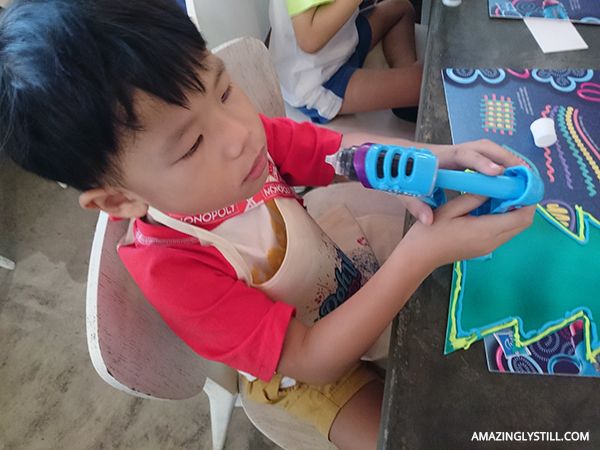 Blake enjoyed picking the colours and loading his styler, before asking me to assist him with the squeezing while he moved my hands as he wishes to design – simple lines with no further embellishments.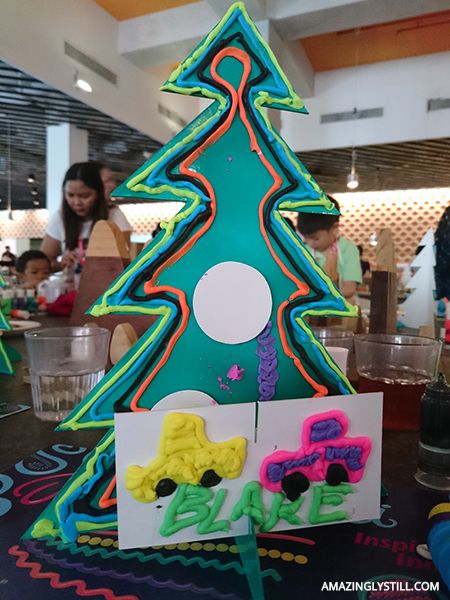 Nakayla, on the other hand, let me doodle whatever I want on her Christmas tree, and she bling-ed it out with all the little embellishment made available to her.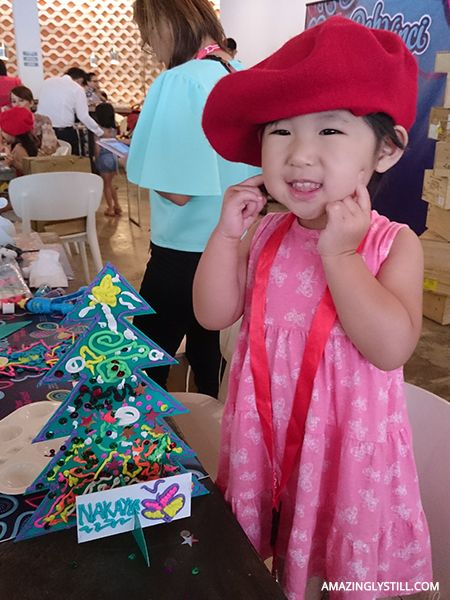 Both their art works are definitely true to their own personality, if I say so myself. Haha!
The best thing about Doh Vinci, in mommy's eyes?
It's mess-free and doesn't get in the way of creativity!
With everything contained, released bit by bit through the styler, the children are able to better concentrate their aim in the shapes they wish to 'draw'. The doh is also soft, and cleans off easily (in case of misaimed) with wet wipes!
Goes without saying, we all truly enjoyed ourselves that day, and the Doh Vinci filled days that followed after!
* * *
M.I.C.E CHRISTMAS GIVEAWAY
In this season of giving, the team from Hasbro Singapore is giving away Christmas Doh Vinci Hampers (worth over $50 each!) to two of my readers!
Here's a peek at the Christmas Doh Vinci Hamper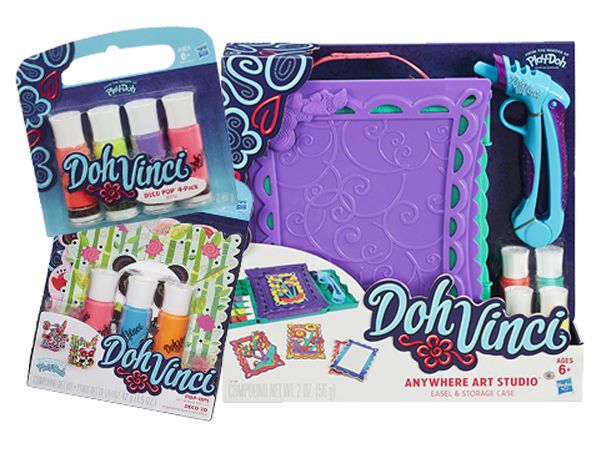 The hamper will include one each of the following:
A7198 DOHVINCI ANYWHERE ART STUDIO Kit
A7195 DOHVINCI POP-UPS Art Boards Assortment
A8322 DOHVINCI DECO POP 4-Pack Assortment
Note: Colours and board designs may vary
If you'd like to win yourself a Christmas Doh Vinci Hamper as seen above, just follow the widget below! Remember to follow the instructions carefully. Good luck 😀
UPDATE: Winners have been selected and contact details have been handed over to Hasbro Singapore. Hasbro Singapore will be contacting the winners directly tomorrow. Congratulations to those who have won and thank you everyone for taking part!
Please note: In order to protect the privacy of our winners, we will no longer be announcing our winners on any social media platform. All giveaway winners will either receive a congratulatory email from me or be contacted directly by the company sponsoring the giveaway. We seek your kind understanding in this. Should you wish to share your joy though, don't hesitate to tag me on Facebook or Instagram! I'd love to see your happy faces with your prizes! Thank you! 😀
* * *

More M.I.C.E Christmas Giveaway coming up this December!
In the days leading up to Christmas, don't forget to pop by Irene's, Cherie's and Estella's blogs (and return to mine too!) to see what they have up for grabs as well!
* * *
Christmas Doh Vinci Hamper Giveaway Terms and Conditions:
– Giveaway ends 7 December 2014, Sunday 2359 hours (Singapore time)
– Limited to one winner per household
– Winners will be randomly selected via the widget on 8 December 2014 (I'll just click and let it roll!)
– Incomplete or invalid entries will be automatically disqualified without notice
– This giveaway is in no way sponsored, endorsed or administered by, or associated with, Facebook
– Winners will be contacted by Hasbro Singapore on 9 December 2014, Tuesday (So please make sure you fill up the correct details in the contest!)
– Winners must be able to self-collect the prizes. Collection details will be provided by Hasbro Singapore.
– All personal details provided in this contest will be kept confidential. Only details of the winners will be shared with Hasbro Singapore to facilitate the collection of prize.
– We reserve the right to amend the terms and conditions without prior notice
Disclaimer: My family and I were invited by SPRG on behalf of Hasbro Singapore to Doh Vinci Artistry Play Session. We also received goodie bags filled with Doh Vinci and other Hasbro products for attending the event. No further compensation were received. All opinions expressed are 100% my own.