Sponsored
It's a little early in the month to be celebrating Christmas. But it was the only day we could gather everyone in the family together! And I do mean everyone! All it took was a few years, some plane flights back to Singapore, and good timing, for the family is finally whole again! 😀
A special touch of Christmas was added to the festive cheer with logcakes from the Yuletide of Colours collection by Emicakes!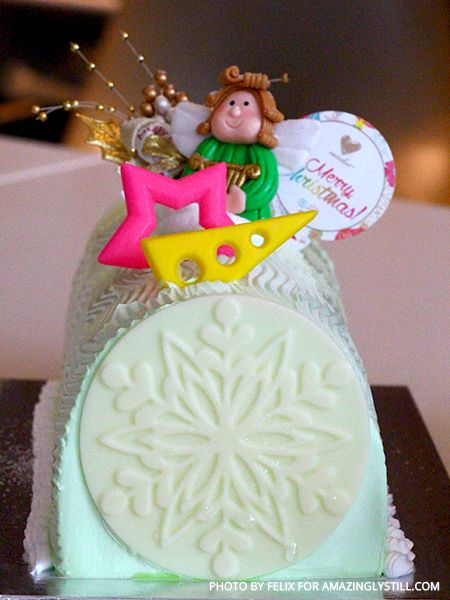 Yuletide Brilliance (Limited Edition, Mao Shan Wang!)
The moment I saw the flavours for the logcakes, I knew immediately that Yuletide Brilliance will be the best choice for the family!
Firstly, it's not just any durian. It's MAO SHAN WANG! This is by far my favourite of favourites durian type! I don't know how and why, but it's absolutely delicious! If you're a serious durian lover, go for this! You won't be disappointed, just like it didn't disappoint my family!
The layers of cake with the center all filled with the goodness of Mao Shan Wang is flavourful and well ratio-ed.
Even my dad, who usually just buys durians and not eat them, ate it and raved about it. One by one all were commenting on how delicious the Yuletide Brilliance cake was. It truly is a brilliant delight to my taste buds! 😛
To some, it might be so overpowering (in the good sense!) that everything else eaten after pales in comparison. I guess that is why there's the saying… Save the best for last! Hehe!
But as much as a majority of us love durian, there are a few who prefer otherwise. And I'm glad for the difference in taste buds, because means I get to have another one of my favourite cake flavors from Emicakes! 😀
Making it's debut in Emicakes' log cake collection… It's none other then…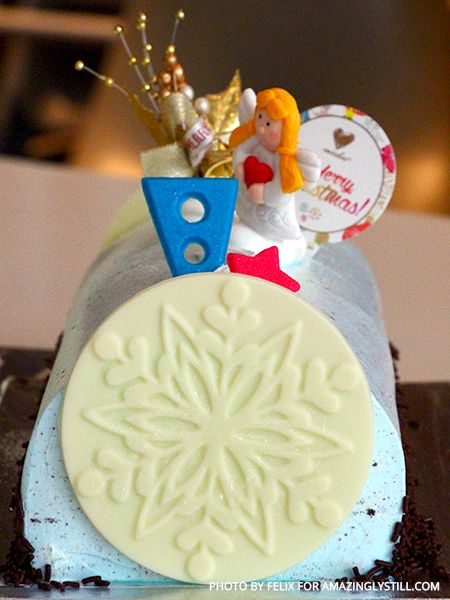 Blue Winter Oreo (Oreomisu)!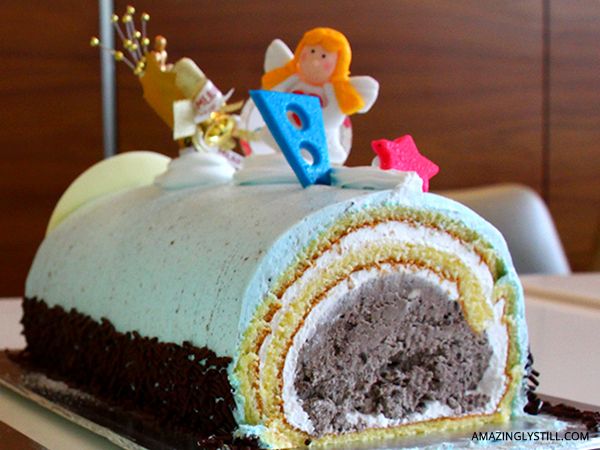 This lovely combination received mixed reactions from the adults and children.
The adults thought a little more cake would make the ratio between cake and Oreomisu better, while the children just wanted more Oreomisu! Haha!
Personally, I love it just the way it is! It's like having Oreo cheesecake with more cake. The blend of cream cheese and crushed oreos is simply divine!
Both cakes were finished in no time (obviously), and I couldn't be happier than to see the whole family together again!

Thank you for making our big family reunion such a special one, Emicakes! 😀
* * *
Psst… We got to try the other two flavors, which came in the form of their Mini Log Cakes. Two of these make a good size for my family of four!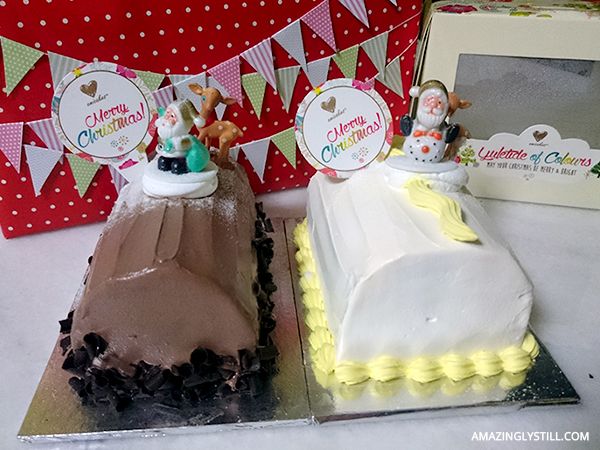 Mini Truffle Sparkle and Mini D24 Cheer
The children love the Mini Truffle Sparkle and managed to finish about half between themselves (after dinner, of course)!
The little chocolate bits within the chocolate mousse adds a nice touch of difference in texture. What makes this perfect for all chocolate lovers is the bittersweet taste of the chocolate mousse.
Blake is a chocolate lover, by the way. He loves dark chocolates in particular! I gave him quite a large serving for this, and he disappeared into his cake, only looking up after he was done eating! Haha!
Nakayla, on the other hand, came to me with her plate and asked for more. I had given her a small slice, not sure how she would take to it. It was apparently far too little for her liking because she kept asking for more as I was slicing her another serving. "Mommy, more! More!" Haha!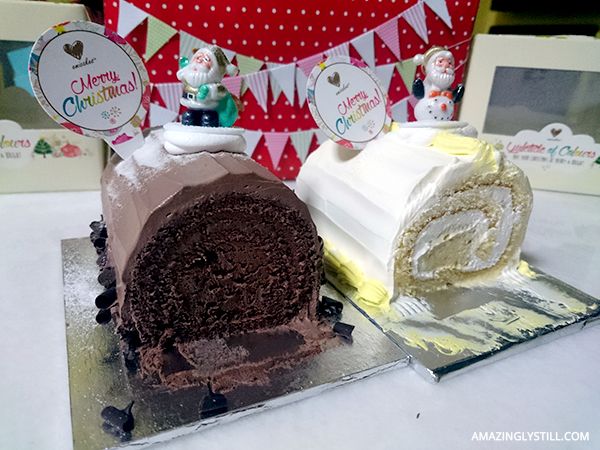 So while the children were busy devouring the Mini Truffle Sparkle, Sean and I had a splendid time having the Mini D24 Cheer all to ourselves.
For durian lovers who want a lighter taste (as compared to Yuletide Brilliance), this would be just right. It's not too overpowering, but at the same time, will satisfy any possible durian cravings you might be having. If you have a bigger craving than you thought, go straight for Yuletide Brilliance. Haha!
I've never loved Christmas so much before this! Haha! Oh log cakes, how I love you so!
M.I.C.E CHRISTMAS GIVEAWAY
What's a Christmas feast without a logcake? The team from Emicakes understands that it wouldn't be complete, so they are going to add colours to your Christmas feast by giving away one Yuletide of Colours logcake each to two of my readers!
If you'd like to win yourself a logcake from Emicakes' Yuletide of Colours collection, just follow the widget below! Remember to follow the instructions carefully. Good luck 😀
UPDATE: Winners have been selected and contact details have been handed over to Emicakes. Emicakes will be contacting the winners directly tomorrow. Congratulations to those who have won and thank you everyone for taking part!
Please note: In order to protect the privacy of our winners, we will no longer be announcing our winners on any social media platform. All giveaway winners will either receive a congratulatory email from me or be contacted directly by the company sponsoring the giveaway. We seek your kind understanding in this. Should you wish to share your joy though, don't hesitate to tag me on Facebook or Instagram! I'd love to see your happy faces with your prizes! Thank you! 😀
* * *

More M.I.C.E Christmas Giveaway coming up this December!
In the days leading up to Christmas, don't forget to pop by Irene's, Cherie's and Estella's blogs (and return to mine too!) to see what they have up for grabs as well!
* * *
Emicakes Logcake Giveaway Terms and Conditions:
– Giveaway ends 15 December 2014, Monday 2359 hours (Singapore time)
– Limited to one winner per household
– Winners will be selected on 16 December 2014
– Incomplete or invalid entries will be automatically disqualified without notice
– This giveaway is in no way sponsored, endorsed or administered by, or associated with, Facebook
– Winners will be contacted by Emicakes (So please make sure you fill up the correct details in the contest!)
– Winners must be able to self-collect the prizes. Collection details will be provided by Emicakes.
– All personal details provided in this contest will be kept confidential. Only details of the winners will be shared with Emicakes to facilitate the collection of prize.
– We reserve the right to amend the terms and conditions without prior notice
Disclaimer: We received two small regular size log cakes and two mini log cakes for the purpose of this review.