Media Invite
The last time I went to a spa, it was a little more than a month back. And even though it's been a while, I can still remember all the pampering I received from the spanking new Molly Coddle Spa by Dr Cindy!
Upon my arrival, I was guided into a little cozy corner of the spa for some light refreshments. The interior decor of the place is mesmerizing, and with a huge mirror right in front of me, it is only right that I let the vain side of me show. Hehe!
Prior to having my facial done, I met with Dr Cindy for a quick consultation. During which, I found out that she has sensitive skin just like me!
She could relate to most of the issues I face and assured me that all the products used at Molly Coddle Spa have all been personally tested on herself. Only when the products prove to be good on her own sensitive skin will she introduce it in the spa! You have no idea how relief I was to hear that!
After knowing how sensitive my skin is, Dr Cindy recommended the Soothing Plus treatment for me.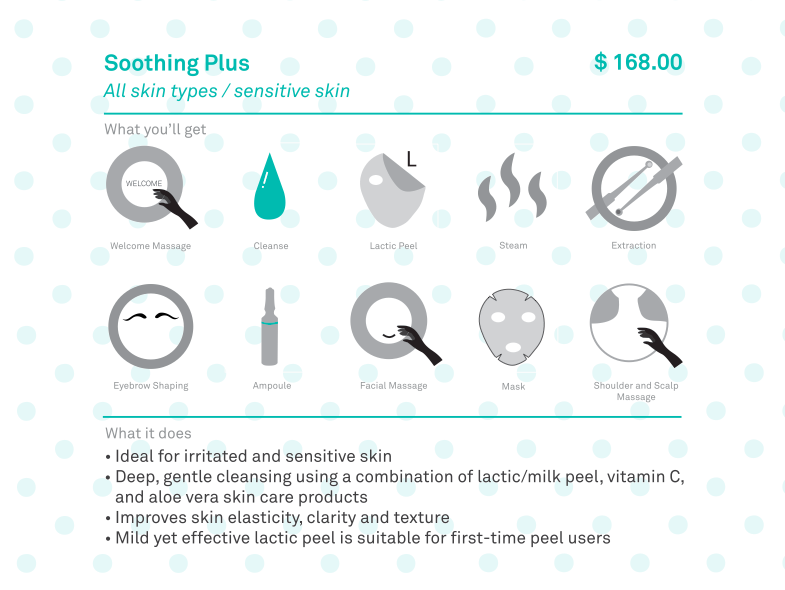 Image provided by Molly Coddle
Every single step of the facial treatment had been a bliss, and I enjoyed every single second of it! The part I love most, massages aside, is the extraction.
Before the therapist started on the extraction, she warned me that it might be painful, but I told her not to worry as I enjoy this particular process most whenever I go for facial. She was pretty shocked by that revelation and said that it's the first time she's heard someone actually enjoying it. Haha!
That love I have for extraction stems from Sean, way back before having children. He used to give me facial massages and do extractions on my face and back, all of which will have me sleeping soundly by the end of it 😛
What followed after my facial treatment was a back massage, which loosened up every stiff muscle in my body after lying down for about an hour and a half on my back (I'm a side sleeper). It was amazing!
That night, as I did my basic facial wash at home, I could feel how smooth my face was. Sean even mentioned that my face looked like it was glowing a little too! It's always a delight when the husband notices something different about me 😀

Thank you for such a pampering treat, Dr Cindy!

* * *
Conceptualised to provide an indulging sanctuary amid the busy urban spaces, Molly Coddle Spa is the creation of Dr Cindy Yang, who is also the founder of Dr Cindy Medical Aesthetic Clinic. With her keen understanding of her clients' beauty needs and extensive experience in clinical aesthetic practice, Dr Cindy passionately curates the treatments and services offered at the Spa.
The result is a spa serious about helping you embrace a holistic beauty care regime, with its key approaches being no overstated promises, free first consultation with no obligation to start a treatment, and providing recommendations informed by research and knowledge in beauty care.
After all, other than the highly blessed few, beauty for most of us is attained through conscientious care.
* * *
MOLLY CODDLE SPA BY DR CINDY GIVEAWAY!
The lovely team over at Molly Coddle Spa would like to pamper two of my readers with the same facial treatment I had!
If you'd like to win yourself a Soothing Plus Facial Treatment, just follow the widget below. Remember to follow the instructions carefully. Good luck 😀
UPDATE: Winners have been selected and contact details have been handed over to Molly Coddle Spa. Molly Coddle Spa will be contacting the winners directly. Congratulations to those who have won and thank you everyone for taking part!
Please note: In order to protect the privacy of our winners, we will no longer be announcing our winners on any social media platform. All giveaway winners will either receive a congratulatory email from me or be contacted directly by the company sponsoring the giveaway. We seek your kind understanding in this. Should you wish to share your joy though, don't hesitate to tag me on Facebook (AmazinglyStil) or Instagram (@msmabes)! I'd love to see your happy faces with your prizes! Thank you! 😀
* * *
Molly Coddle Spa by Dr Cindy Giveaway Terms and Conditions:
– Giveaway ends 11 January 2015, Sunday 2359 hours (Singapore time)
– Limited to one winner per household
– Open to anyone and everyone living in Singapore
– Winners will be selected by me on 12 January 2015
– Incomplete or invalid entries will be automatically disqualified without notice
– This giveaway is in no way sponsored, endorsed or administered by, or associated with, Facebook
– Winners will be contacted by Molly Coddle Spa (So please make sure you fill up the correct details in the contest!)
– Details on how to redeem your prize will be provided by Molly Coddle Spa
– Unless otherwise stated, or agreed upon, the prize is non-transferable
– All personal details provided in this contest will be kept confidential. Only details of the winners will be shared with Molly Coddle Spa to facilitate the redeeming of prize.
– We reserve the right to amend the terms and conditions without prior notice
* * *

Image via Molly Coddle Facebook
Molly Coddle Spa by Dr Cindy
One Raffles Place #05-19A
Singapore 048616
Operating Hours
Mon – Fri: 10am to 9pm
Sat – Sun: 10.30am to 8pm
To book a consultation, call 62234433
Note: I was invited for a facial treatment by Maven Potter on behalf of Molly Coddle Spa by Dr Cindy for the purpose of this review.