Sponsored
Onto the second week of SG50 giveaways! We have Scholastic's Sam and Sally series!
One of the many things that I like about the Sam and Sally series is that it teaches children vocabulary through one of Blake and Nakayla's favourite activity – COLOURING!
Blake was really excited to play with his new book, and I must say, it was a refreshing change from our usual digital gaming. Haha!
And I say play, because you're kind of playing hide-and-seek with the words/pictures that are hidden in the two-page puzzle. Each puzzle consists of about 16 new words for the children to learn too!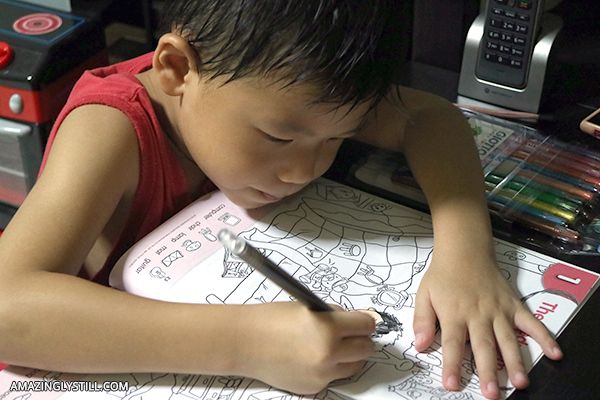 Blake insisted on colouring the other parts of the picture
before looking for the hidden ones!
And even though this series is more suitable for children in Blake's age group, 4-6 years old, Nakayla wanted in on some action too!
While she's still learning how to hold a pencil/crayon, and colour within lines, she shocked me by being able to identify about half of the words she saw in the puzzles! Call me bias, but I'm mighty impressed!
Besides keeping the children seated and focused on solving their puzzles, I like how the series has a theme to each book, and within each book, it contains picture puzzles of a place that is in line with the theme (duh!) and words that are commonly associated with it.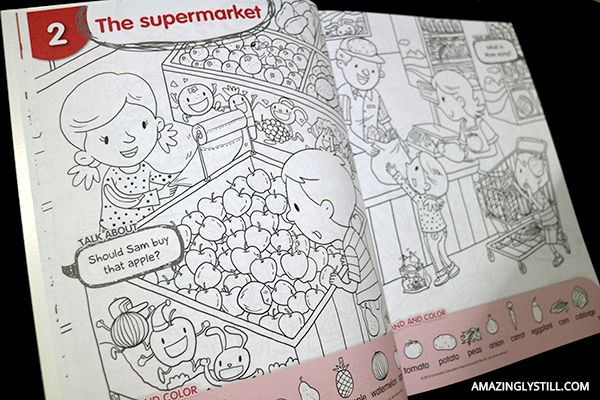 This is definitely one great way to introduce new words to Blake and Nakayla and for them to learn their vocabulary in context!
And now, two lucky readers and their child(ren) can experience this too!
Scholastic's Sam and Sally Giveaway!
Scholastic wants to spread the love for knowledge with my readers and is looking for two new owners to a set of Sam and Sally series each!
To win yourself a set of Scholastic's Sam and Sally series, simply follow the widget below to participate. Good luck!
* * *

Winners have been selected and emails have been sent!

Thanks to everyone who participated 😀

* * *
Scholastic's Sam and Sally Giveaway Terms and Conditions:
– Giveaway ends 11 August, Tuesday 2359 hours (Singapore time)
– Limited to one winner per household
– Winners must be in Singapore to self-collect the books
– Winners will be selected by 13 August 2015
– Incomplete or invalid entries will be automatically disqualified without notice
– This giveaway is in no way sponsored, endorsed or administered by, or associated with, Facebook
– Winners will be contacted by Scholastic Singapore (So please make sure you fill up the correct details in the contest!)
– All personal details provided in this contest will be kept confidential. Only details of the winners will be shared with Scholastic Singapore to facilitate the collection of prize.
– We may or may not announce the winner(s) on our social media platforms. Permission will be seek from the winner(s) first.
– We reserve the right to amend the terms and conditions without prior notice
Disclaimer: We received the above set of books from Scholastic for the purpose of this review + giveaway.