Media Invite
One Beauty Spa launched a new facial treatment, Tribo-Effleurage, and invited me to give it a go!
The Tribo-Effleurage facial treatment is somewhat East meets West, combining techniques used in Guasha (刮痧), Meridian Acupressure massage and manual lymphatic drainage massage with facial steam and masks. It is said to help lessen dark eye circles, puffiness, wrinkles and fine lines. Some of the instant results includes face lifting effects, facial contouring and evening out the skin tone!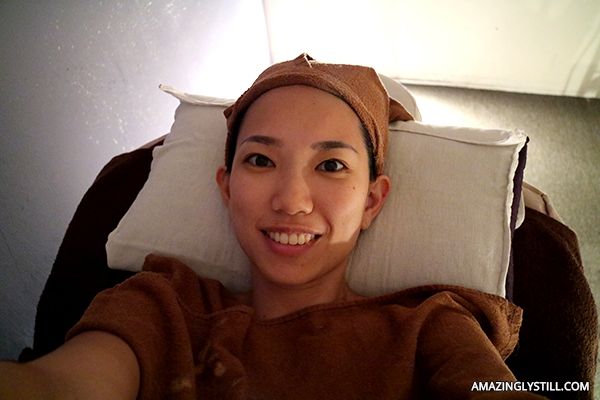 I'm all set for a pampering session!
Irene, my facial therapist, first cleansed my skin before proceeding to do a skin analysis for me. She told me that due to the nature of Guasha (刮痧), those with more sensitive skin might not be suitable for it.
Honestly, halfway through her explanation of the Guasha (刮痧) technique, it got me all jittery. What if my skin gets scraped off!? I guess Irene sensed my sudden discomfort because she later reassured me that for the facial treatment, they are gentler and it's quite soothing.
She then proceeded to give my face a nice good scrub and steam followed right after.

Facial extractions lull me to sleep all the time!
Before starting on the facial treatment, Irene did some minor extractions for me. I don't think this is part of the facial treatment, but upon hearing how much I love facial extractions, and how disappointed I was when the last few facial treatments I had elsewhere didn't have this step, Irene decided to give me a treat! And yes, yet another therapist who couldn't believe I actually love facial extractions! Hehe.
Once that was done, Irene begin the Tribo-Effleurage treatment on my eyes, face and neck. It relaxed my body even more and I was en route to lala land! I kept trying to keep myself awake so that I don't miss out on anything that follows after I've doze off.
The Guasha (刮痧) was just like Irene mentioned, it was gentle and soothing! It felt so good that I was drifting in and out of sleep! I absolutely love each stroke to my face and wished that it didn't stop! In my more conscious state, I was thinking, "Pull skin, pull! Make it tight!" Hehe.
Irene mentioned that it must be tough for me to want to sleep, but I have to stay awake so that I know what's going (in order to write this review after) and to take photos as it was happening. So she told me to relax and enjoy the session, and that she will wake me before starting the next step. And so I did. Fell straight into dreamland the moment I got the shot (above). Haha!
I woke up when it was time to apply the facial mask. And oh my! It was cold and I love it! It shocked my senses and after Irene gave me another quick massage (or at least I think she did), she left me to have some quietness to myself. This only meant one thing – GOOD NIGHT!
After my facial treatment was over, I was completely refreshed! And I could see the visible instant results upclose – laugh lines reduced and skin tone evened out – but I completely forgot to take super close-ups for before and after! Sigh. Bimbo moment.
However, I do have this photo of myself at their little powder room where we can do our make-up and hair before leaving the spa. Hehe.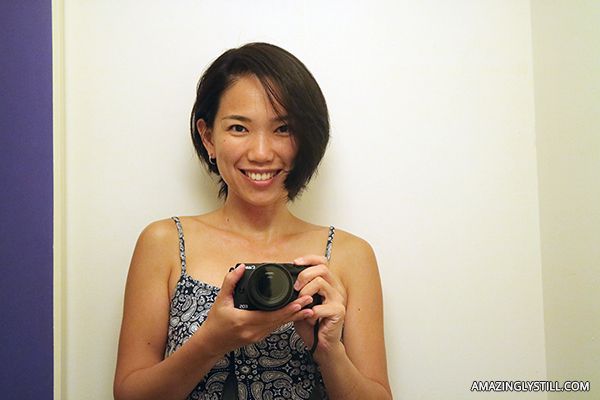 I'm a happy, happy girl!
Irene mentioned that I might experience a little downtime as a result of the Guasha (刮痧), but thankfully for me, only one pimple appeared the day after and that's it!
* * *
Great news for my readers!
You can enjoy an extended Tribo-Effleurage facial treatment (from 60 minutes to 75 minutes) at only $28 (Original $228), if you mention that you're a reader of our blog! Offer is valid till 31 December 2015.
* * *

Bugis Branch
(Opposite Bugis Junction)

14 Liang Seah Street
Singapore 189035

Contact: 6338 4979

Opening Hours:
Monday to Fri – 11am to 9pm
Saturday – 10am to 8pm
Sunday – 10am to 7pm

Closed on alternate Sunday and on Public Holidays

Eunos Branch
(Opposite Eunos MRT, next to Kampong Ubi CC)

Block 848, Sims Avenue, Singapore 400848

Contact: 6841 4140

Opening Hours:
Monday to Friday – 11am to 9pm
Saturday – 10am to 8pm
Sunday – 10am to 7pm

Closed on Public Holidays
Disclaimer: I was invited by One Beauty Spa for this facial treatment trial for the purpose of this review.