Blake absolutely loves Jurong Bird Park and since our annual pass is still valid, we decided to bring him back as a treat for his 5th birthday!
We reached pretty late for a full day of exploration, a little after two in the afternoon, but we made the most out of it!

The moment we walked in, this pelican caught our attention!
We have visited Jurong Bird Park several times before, but we only managed to catch the High Flyers Show on this visit! It's one of the best animal shows I've ever seen!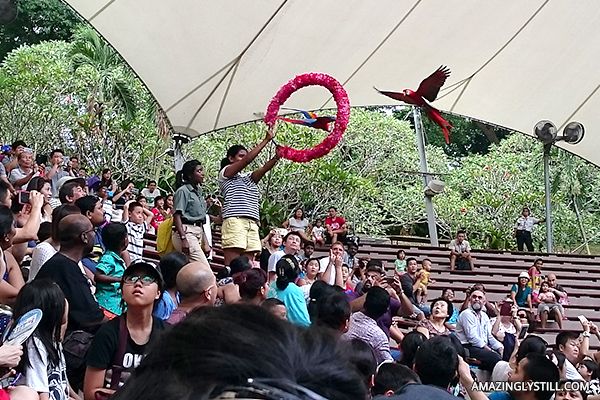 Best shot from the entire show!

Photo-op with the flamingoes after the show. It's free!
The children were mesmerized by the birds in the show and were giddy with delight when they got up close with the flamingoes. After the photo-op, one of the park rangers asked if we wanted to make a donation towards conservation efforts and Blake said yes immediately with Nakayla chiming in after. Haha! And in case you're wondering, we gave them cash to donate.

Exploring the exhibit, Royal Ramble for the first time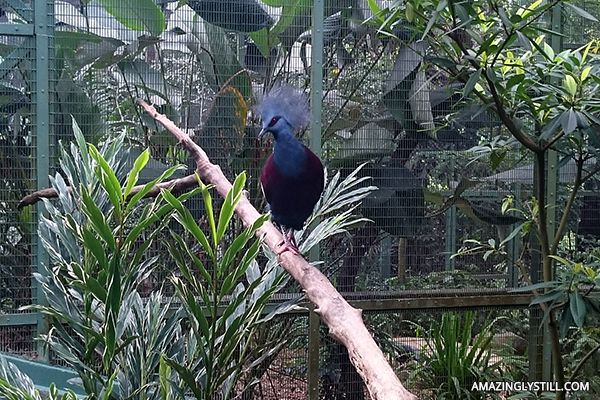 These pigeons look so pretty and are super friendly!
We went at a pretty relaxing pace, so the children can spend as much time as they wanted at each exhibit we pass, but I wanted to rush to one particular exhibit before the place closed. And that's Lory Loft! Blake's favourite stop!
It was a little more crowded than our previous visit, cos we were the only ones there then, and I was thinking we might not be able to feed any birds cos everyone else standing in the middle of the aviary had trouble attracting the birds to the feed in their hands. Sean said to just try our luck and he led us to a spot where no one else were and guess what?

The birds came one after another and another!

At one point, we had a total of five birds surrounding us!
But the fun of feeding was over when a little red bird came along. Our last visit left Sean with a bite from a similar red bird, and this one appeared a little aggressive at first, so for safety reasons, we decided to just hand over the feed to the bird completely.
Turns out, this little red bird was friendlier and super smart!

Look at how the bird holds the cup up!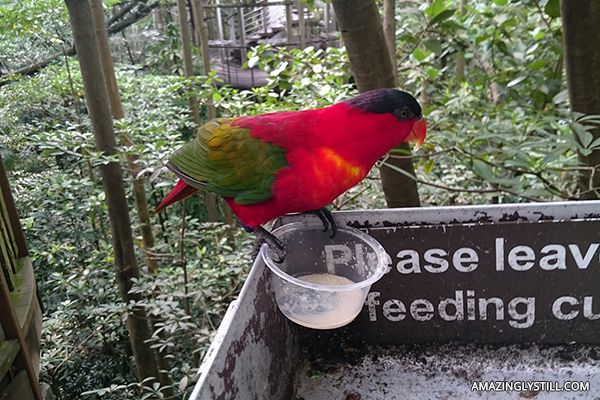 Dropped the cup once and now holding onto it with both feet!
We may not have spent a large amount of time there this time round, but the good thing about having the annual pass is that we can always return again and again until it expires, to visit exhibits we missed. Don't have to feel rushed too! Thinking of returning at least one more time before our pass expires. And maybe, renew it for another year? Hehe.