We celebrated Blake's birthday exactly one month ago. And this year, we decided to add a little more things to the mix!
For starters, we bought our own backdrop stand.
I made plans to decorate the stand with mesh nets, white blinds and other decorative ornaments (apparently it could hold up to 6kg weight!), but one thing led to another and a mere two weeks before Blake's birthday, the backdrop I fell in love with the month before arrived at our doorstep!

DIY bunting, which turned out a little smaller than expected. Haha!
It took me quite a while to conceptualize this year's party favor.
I didn't want to go with the usual sweets and snacks (although, seriously, I love them!), partly because I wanted to challenge myself, and also, the idea of giving our guests something they can keep and play with their family seems pretty cool. Haha!
And so, for the first time, I made…

Pokémon Memory Card Game!
From the box to the cards inside, it's all 100% designed by me. It took many trial and error to get the size of the box right, but I'm so thankful that we managed to make it in time! Part of the beauty starting birthday planning at the beginning of the year! Hehe.
We went pretty much old school with our dessert table this year.
Besides the childhood snacks in containers, we also had chocolate tarts and cream puffs made by a really old bakery near our place. Blake was super keen on having the chocolate tarts included after tasting it about a week or two before. Sean and I gladly agreed to his request. I added the cream puffs while placing orders when I saw how delicious they looked – and they are! Haha!

Push-pop containers filled with ice gems and milk cookies on the dessert table
One of the most last minute addition to the party were the bottles of water. I only managed to get the bottles two days before the party, because they were out of stock in a few places! I was quite worried I won't be able to finish the re-labeling in time! Phew!
Once all the party preps were ready and all set to go, it was party time!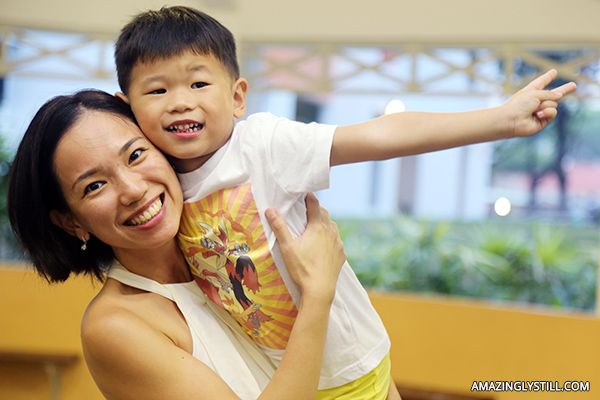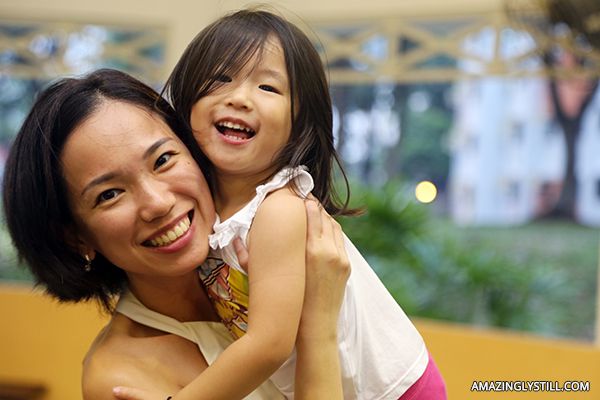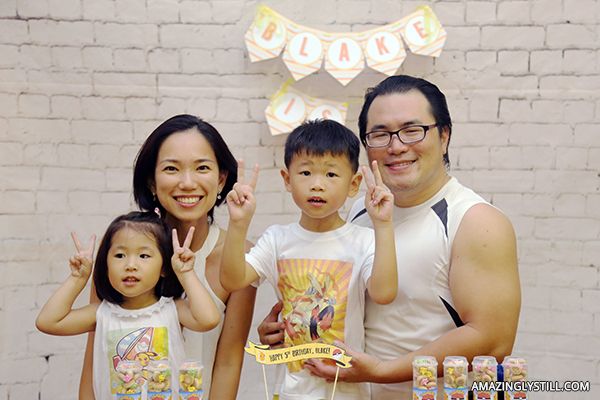 Printed and iron-on the pictures to their tops too!

My baby boy is five!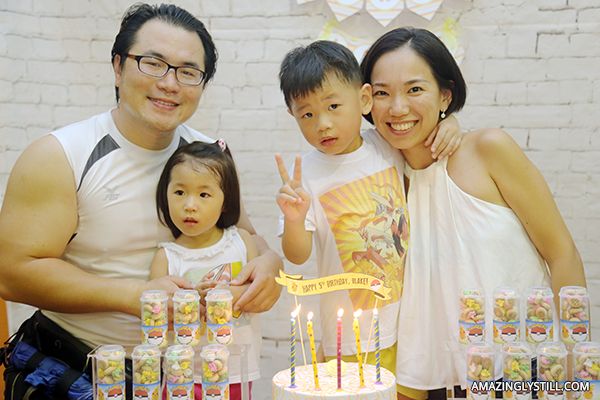 Blake's birthday party was smack in the middle of the General Elections, so, it was really quite impossible to avoid GE talk altogether. So at the end of singing 'Happy Birthday', I got Blake to raise his hands and I said out loud…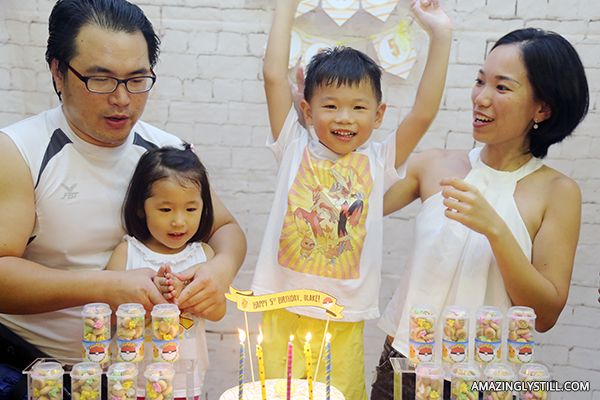 VOTE FOR ME! Haha!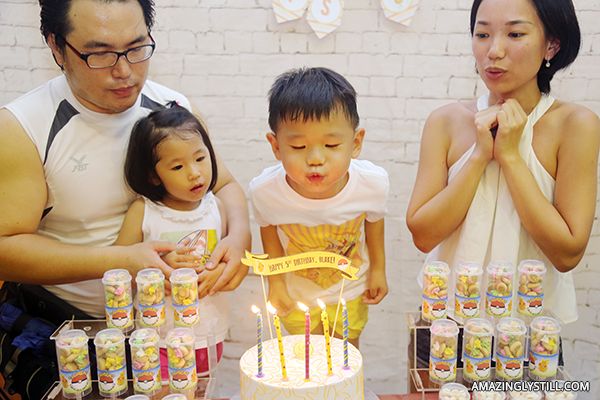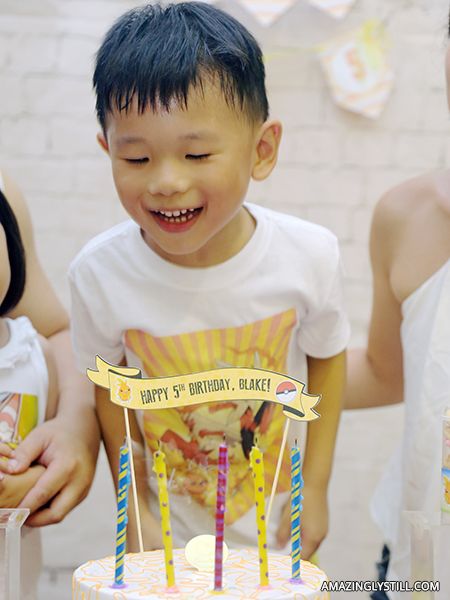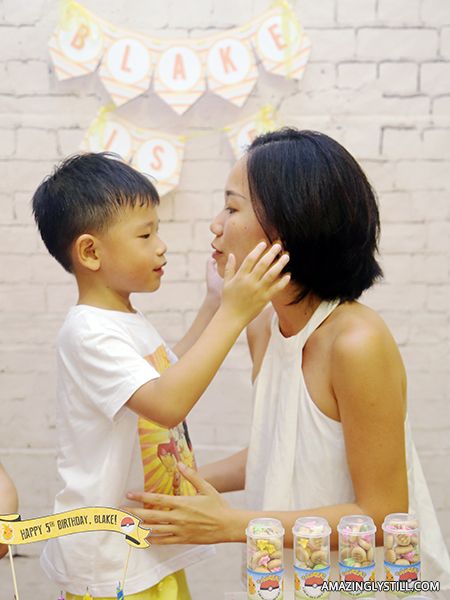 Quite possibly his favourite part while with the cake. Haha!
Let me back track a little.
Before the cake arrived, my friends, Nadia (also my photographer!) and Natasha, were curious about the cake after I said it's pretty special. I can't remember who said what, but one of them asked if it was spilling chocolate and another mentioned rainbows. My answer to them both was, "It's not far from the truth." Haha! And I really was telling the truth!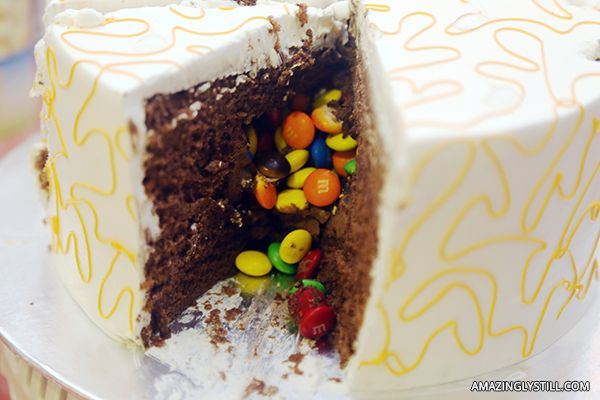 Chocolate cake with a rainbow of chocolate candy spilling out of the cake!
I had been scouring Prima Deli's website almost every other day in the lead up to Blake's birthday party, wondering which cake I should be getting. Blake chimed in on what he wanted and his choices kept changing too! That is, until he saw Chocolate Surprise! Haha!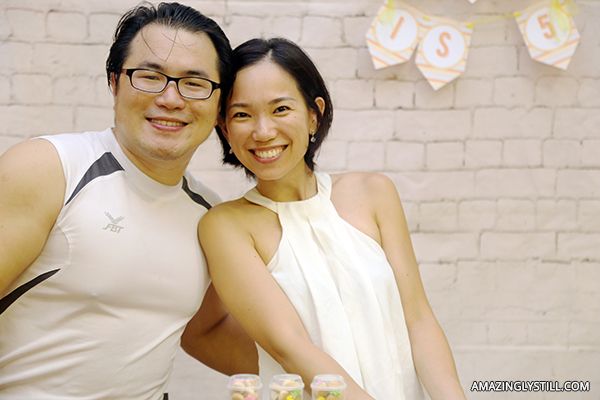 Mandatory couple shot with the husband!
Before I end this post, I'd like to give a special shout out and many, many thanks to Liza and Winston.
This dynamic duo with their super sweet and cute children were the first to arrive and one of the last to leave! They also entertained every little one at the party!

From bubbles…

… to teaching the others how to skate scoot!
Thank you!
And last, but not least, Blake would like to say to everyone who took the time to come down…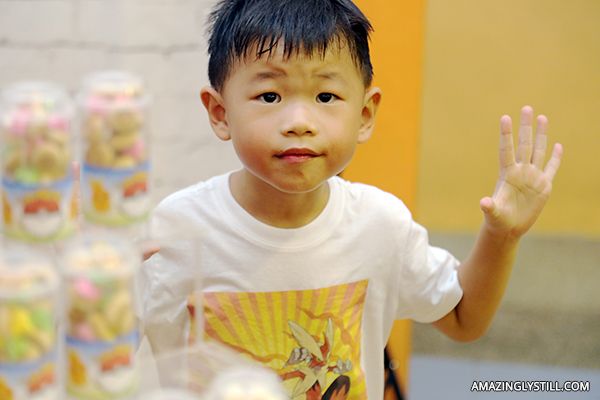 Thanks for coming to my party!
* * *
And just in case you don't follow us on Instagram and Facebook, we also celebrated Blake's birthday on his actual birthday and in school!