Media Invite
Ever since I started cooking dinner almost everyday from late last year, I grabbed as many opportunities as possible to eat out with the family, especially on weekends. So last Saturday, upon their invitation, we went to Timbre @ Gillman for their Saturday Social BBQ!
Here's a rough timeline of our evening…
1630 hours: When we reached Timbre, the children were pretty cranky as we woke them up from their naps, but the moment they saw the open space with two large inflatables, they lit up immediately! Before they headed out though, we applied the mosquito repellent spray and patches provided. How thoughtful of Timbre!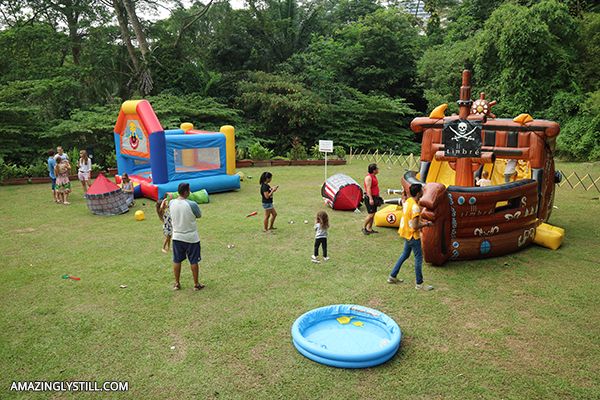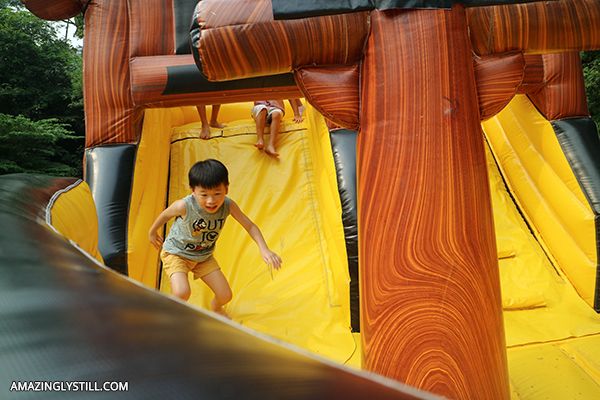 Free bubbles and aeroplanes for everyone!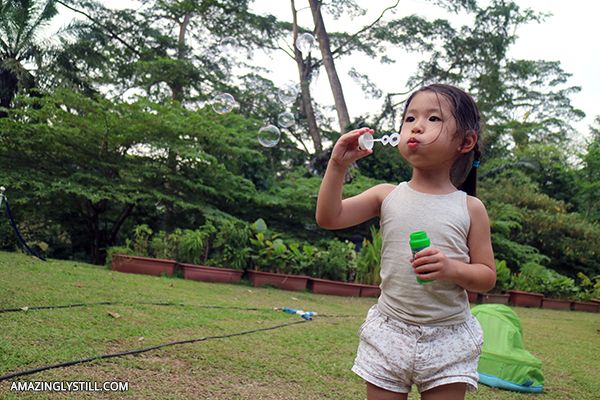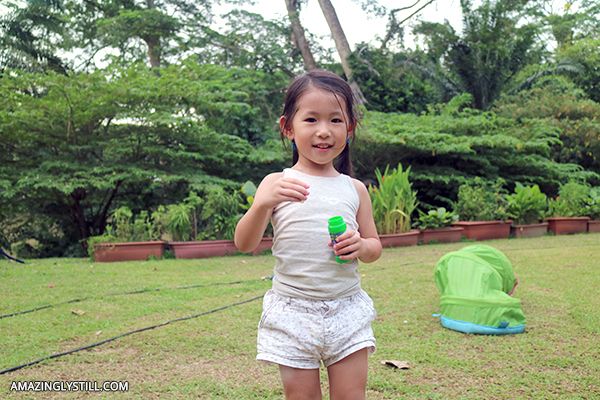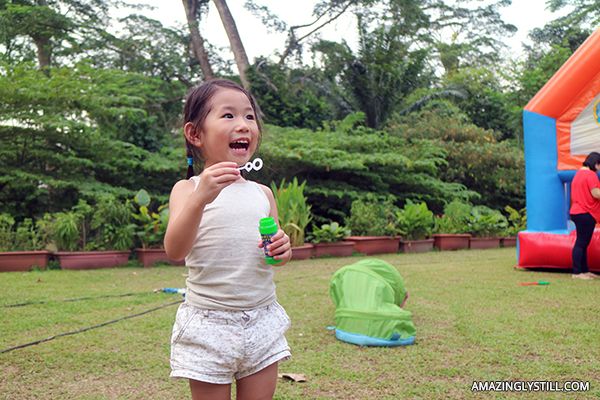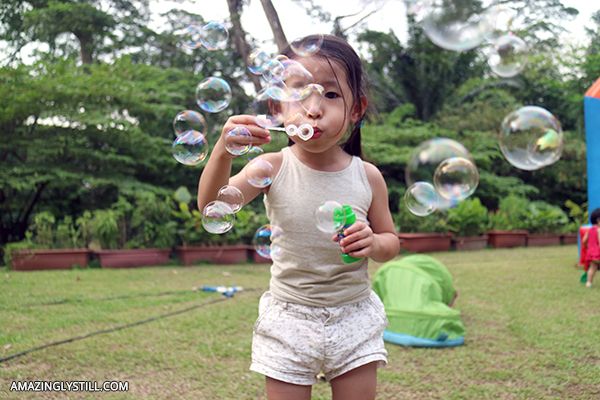 Sorry, couldn't resist posting all these shots of Nakayla. Hehe.
How I managed to water it down to just 4, I don't know!
1710 hours: After about 30 minutes of play, we managed to get the children back to our table to hydrate, and while the boys continued to rest, I took Nakayla to the Kids' Corner for some fun activities!

Most children went for face painting, but Nakayla opted for a fairy on her arm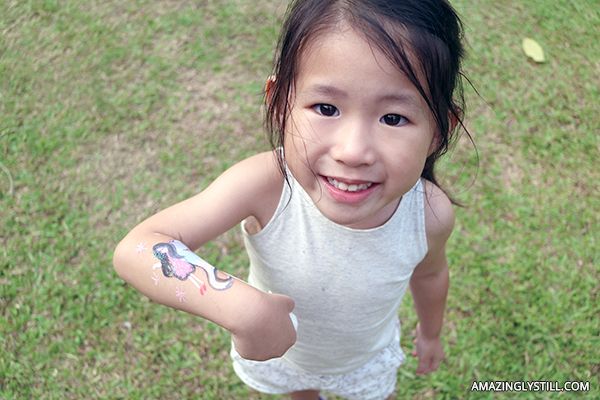 She loves it!
1745 hours: The children ran back out to the field after Nakayla got her fairy on.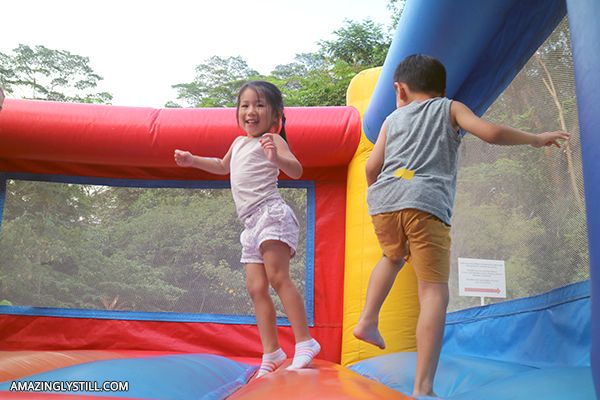 Bounce! BOUNCE!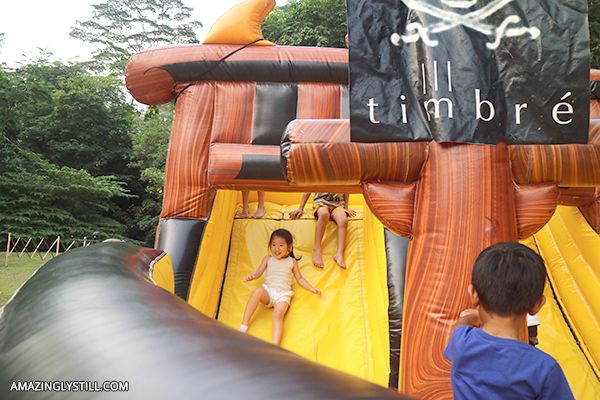 1810 hours: We were starting to get hungry, so we headed back to our table and begin to order some food. As the table was small, we made our orders in small batches.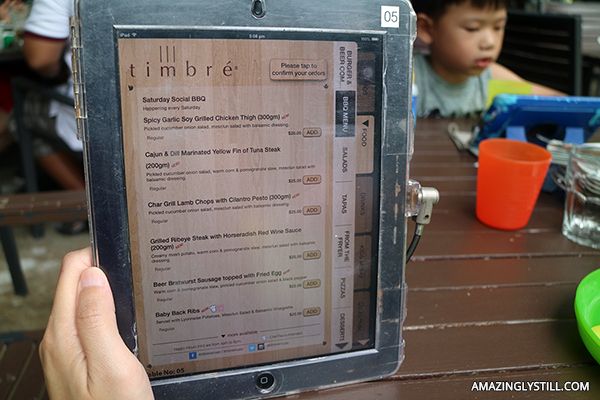 The use of technology is awesome.
Tons of time saved between calling for staff and placing orders!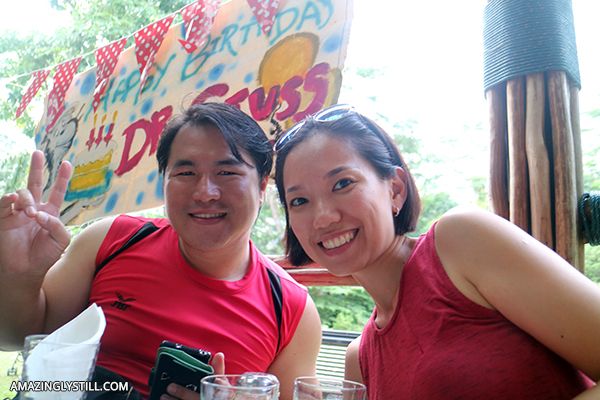 Nakayla insisted on taking a photo of us while waiting for our food!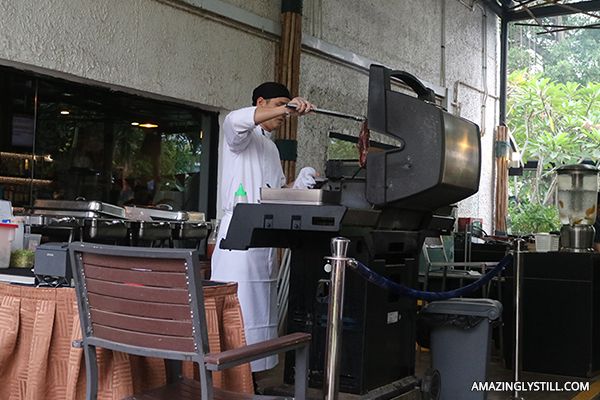 The chef behind the BBQ pit.
The poor guy had so much smoke in his face, and as the night went on,
he had little light to see what he was cooking!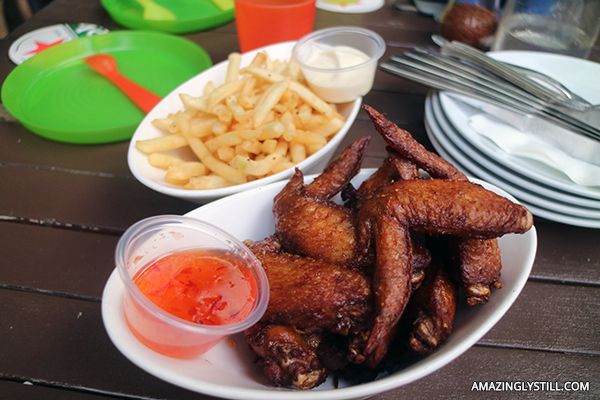 First up, Truffle Fries ($10) and Chicken Wings ($14)
This was an obvious hit with the children. They relished in the Truffle Fries and began to call dibs on it by pouring them relentlessly into their own plates. And every time Sean placed the de-boned chicken meat on their plates, it's gone. I managed to grab a wing, and I must say, it was lightly flavored and the skin was sinfully good!
Given that it's Saturday Social BBQ, we definitely had to order a couple of items off their BBQ Menu, which is only available on Saturdays.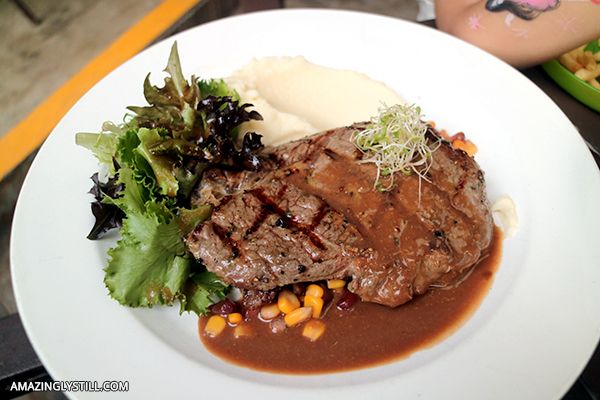 Grilled Ribeye Steak with Horseradish Red Wine Sauce ($25)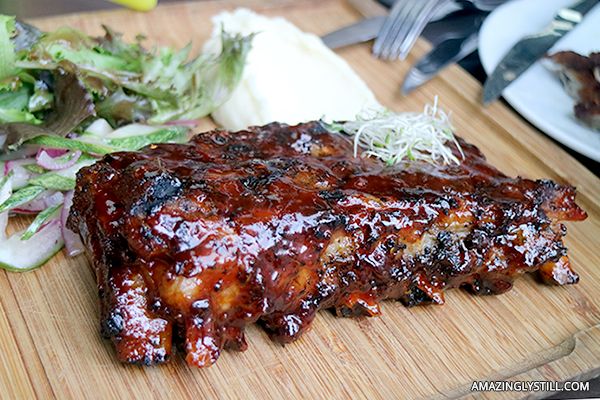 Baby Back Ribs with Homemade BBQ Sauce ($22)
The Grilled Ribeye Steak was a new item on the menu and for the first time, I tried steak that wasn't cooked to well done (I like my food super cooked. Haha!) I had forgotten to indicate how I'd like the steak to be done, so it was served medium well by default – and I'm not hating it at all. Even when it was cold, it still tastes good! Sean enjoyed the steak a lot too and he mentioned that it was really juicy and tender.
The Baby Back Ribs was awesome. I love ribs and I love ribs with meat that drop off the bone cleanly without any protest even more. Couple that with their delectable homemade BBQ sauce and we have a winner!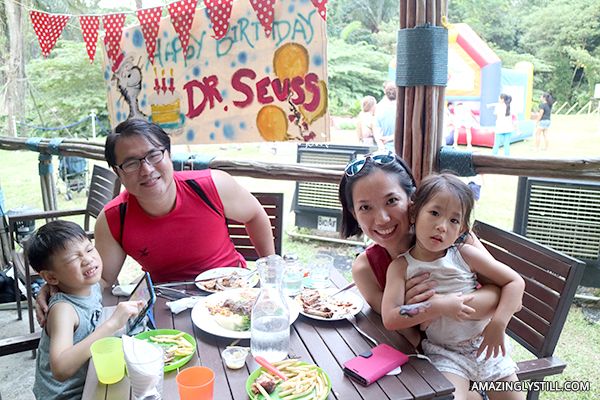 Before the sun sets, family photo!
1850 hours: The children headed out to play once again.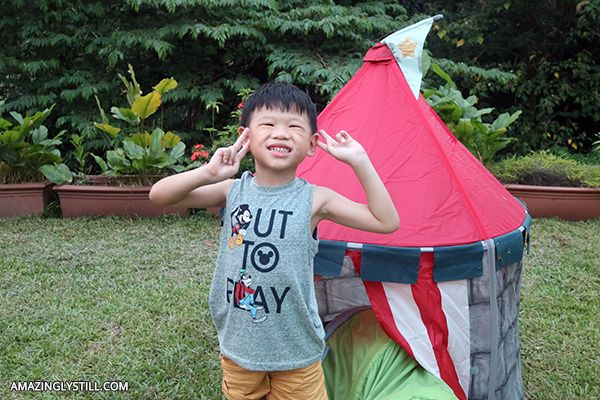 But the fun was cut short for Nakayla when a boy punched her in the stomach. I'm going to go off topic for a bit to relate the incident, so please, bear with me.
One of the older girls saw everything and told us that a boy had punched Nakayla, causing her to roll down the steps (thank goodness it was an inflatable pirate ship!). The staff chaperoning the area attended to Nakayla right away and told the boy firmly about the rules of play (basically, don't hit anyone!). And when the boy's helper came over, the girl told her what happened and the little boy got a round of scolding from the helper. That's when I heard the most incredulous thing come out of a little child's mouth, trying to justify what he did – "She was annoying me. She climbed so slowly!"
I have never felt so angry over such things before, after all that's how children learn how to be tough, right? But I couldn't believe what he said! The helper couldn't either, and told me to speak to his mother. And so, I did. He told his mom the reason he punched Nakayla (gotta give him some credit for admitting to his mistake), and I couldn't resist and retorted, "So if I find you annoying, can I punch you?" I know it's childish and immature of me to be speaking like this to a child, but I was furious! Nakayla didn't stop crying until the mother of the boy looked at her, asked if she was okay and apologized on her son's behalf.
After the incident, Nakayla decided she was safest with Sean and stayed at our table for the rest of the evening.
1920 hours: Blake had his fill bouncing and running around. It was also starting to get dark. The live band started playing again, so we made our way back to order even more food.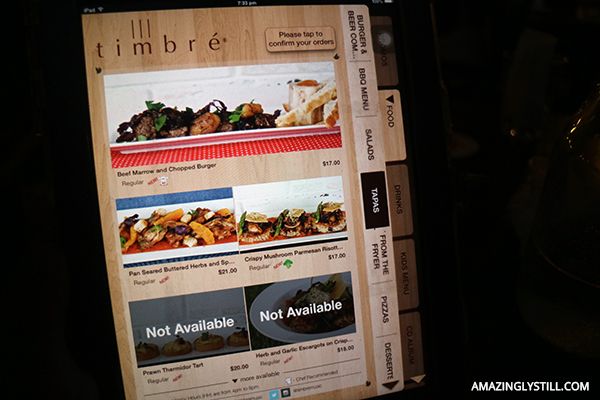 Graphics to show you what you're ordering and it's availability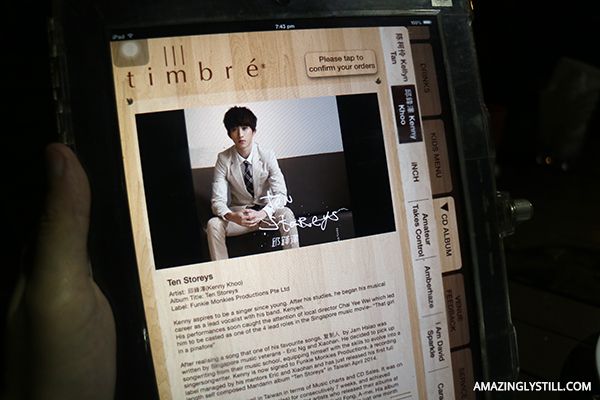 I was surprised to see an ex-classmate's album up for sale at the CD Album section!
For our second round, we ordered items from their regular menu.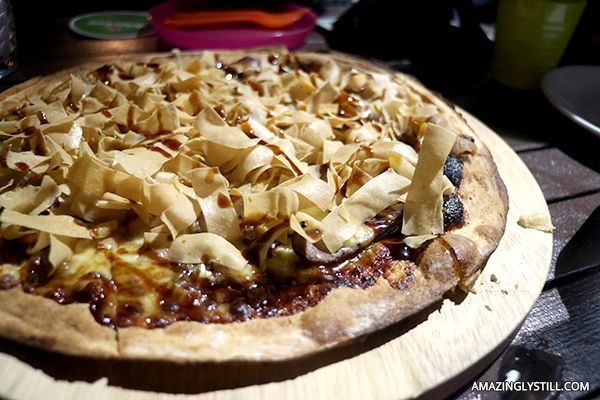 Roasted Duck Thin Crust Pizza ($22)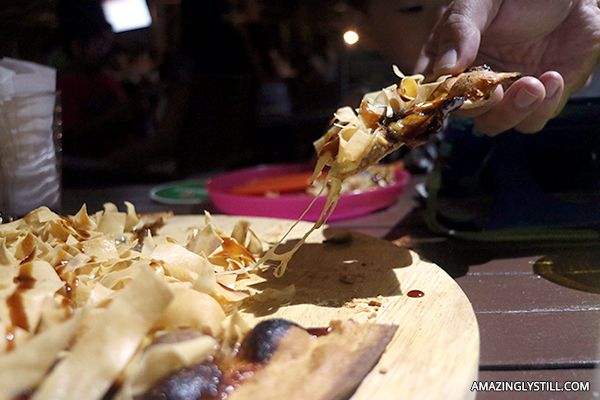 Bacon wrapped Scallops ($22)
The Roasted Duck pizza is amazing! This is the one dish that all of us went ga-ga over, and this is coming from a person who is hardly a fan of thin-crusted pizza. But this was so crispy, sauce and duck meat aplenty, that I'm madly in love with it! Sean puts it best when he said it tasted like peking duck (another of my favourite!) on pizza. Love, love, love this! Should've ordered two portions of this because Blake was happily snatching the slices off the plate and I feel like I didn't have enough of it. Haha!
The Bacon Wrapped Scallops was riding on higher than usual expectations, following the Roasted Duck Thin Crust Pizza. It fell short of impressing us, but it was still pretty good. Nakayla enjoyed it and ate most of it!
2000 hours: When we were almost done with our second round of food, we placed orders for dessert.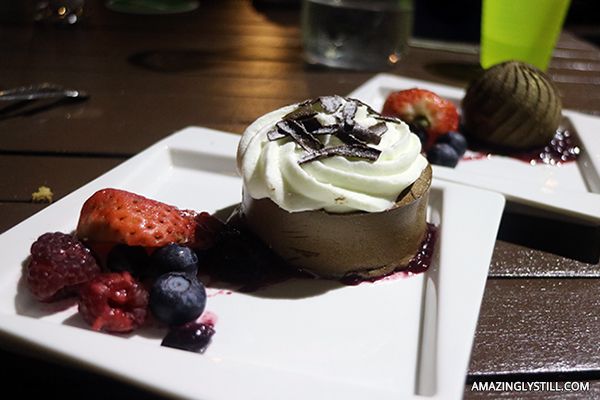 Chocolate Chantilly ($16)

Chocolate Sphere ($15)
These took a while to arrive, which was a good thing. It allowed our bodies some time to create more space for desserts!
The Chocolate Chantilly and Chocolate Sphere are both new items and tastes pretty similar to one another, given that it's largely made up of chocolate mousse. And both were simply a delight for our taste buds! There are differences between the two though.
Appearance wise, you can see that the Chocolate Chantilly comes with whipped cream topping and the Chocolate Sphere does not.
On the inside, the center of the Chocolate Sphere is made up of hazelnut crème that's cool to the tastes buds even when the mousse is pretty much almost room temperature (at least it felt that way to me), whereas the Chocolate Chantilly had crushed cocoa biscuits filling, giving this dessert a little more texture and chew factor.
Between all the eating and waiting for food to be served, the children enjoyed music from the live band, and seriously, there is no escape from 'Frozen'. The band got the children on an all-time high by singing 'Let it Go'. Haha!
Overall, our experience at Timbre @ Gillman's Saturday Social BBQ as a family had been nothing short of amazing. I love how we can just sit back and enjoy our dinner leisurely, and how the children felt comfortable enough to do whatever they wanted to whilst filling their bellies willingly with all the food we ordered – no rejection of food at all!
This is definitely a family-friendly place I don't mind heading back to again, especially for special occasions.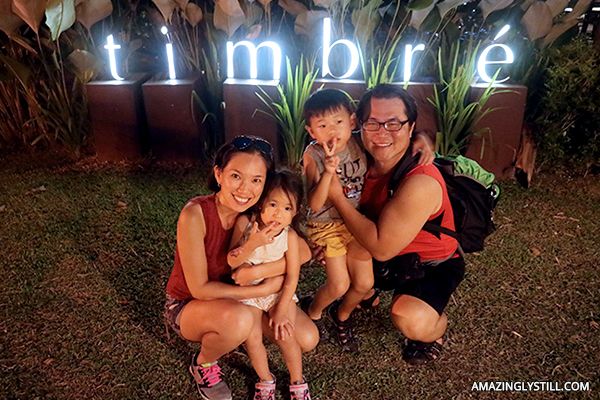 2110 hours: We said goodbye to Timbre after an evening of fun, food and family time!

* * *
Saturday Social BBQ (SSBBQ) happens every Saturday at Timbre @ Gillman from 4pm onwards. It is a weekly family affair with a different theme every month. It is the one day of the week set aside for children to run and play while parents chill out and relax to live music. As part of SSBBQ, chaperons are also on site to help the children out with the various activities.
In the month of March, SSBBQ celebrates Dr Seuss' birthday. From story-telling to arts and crafts, expect tons of fun activities for the children rain or shine!
If you miss the March theme and celebrations, fret not! April's theme is SPIES and there'll lots of spy crafts and activities too!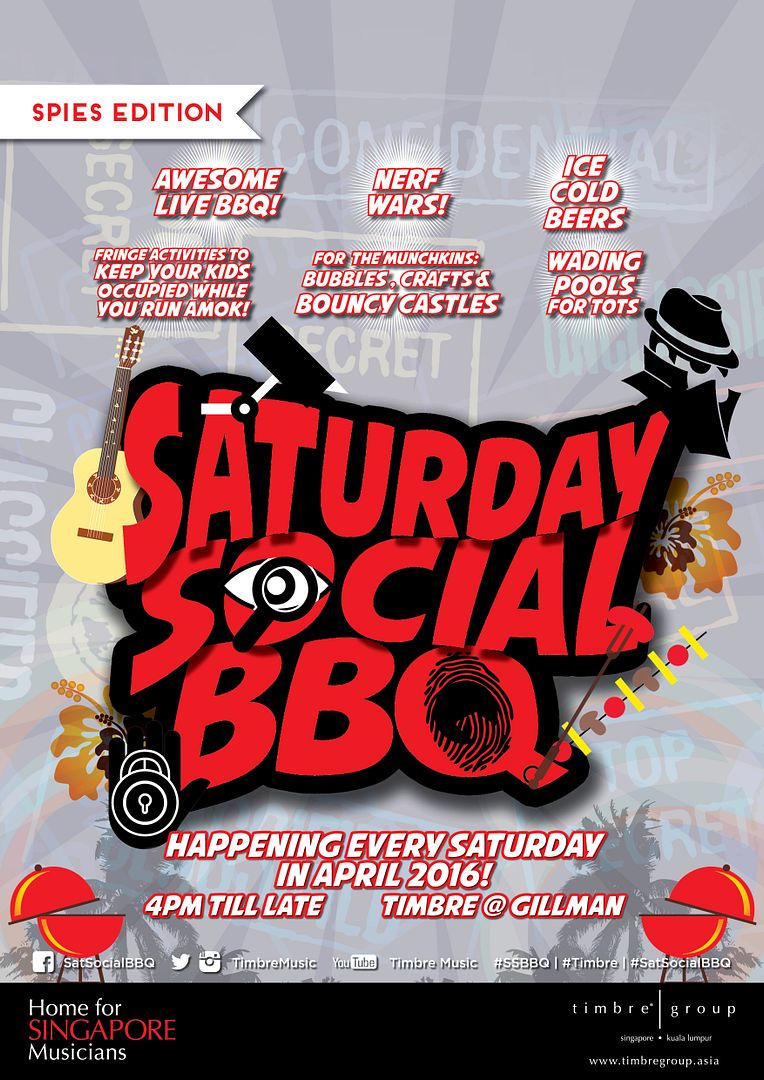 * * *

Timbre @ Gillman
9A Lock Road Gillman Barracks, Singapore 108926

Tel:(65) 6694 4201

Operating hours:
Monday to Thursday – 4pm to 11pm
Friday – 6pm to 1am
Saturday – 4pm to 12 midnight
Sunday – 12 noon to 9pm

Please note that SSBBQ is only available on Saturday.
Children's activities – 4pm to 8pm
BBQ – 4pm to 11pm

* * *
In the event you can't make your way down to Timbre to enjoy a meal with your loved ones, there's the option of food delivery.
Timbre Delivery is an island-wide service that runs from Monday to Sunday, so that anyone can enjoy Timbre's signature dishes in the comfort of their own home! Deliveries are made between 12.30pm to 9.30pm.
There is currently an early bird promotion, where online orders above $150 will receive 10% off.
Another on-going promotion is the '25th Order Free', where every 25 orders received (100, 125, 150, 175, 200 etc), the customer receives their meal free!
For more information, do visit their website or call (65) 6296 1622.
Disclaimer: While we were invited to Timbre @ Gillman for their Saturday Social BBQ for the purposes of this review, this review was provided on a voluntary basis, and no compensation was received.