Campaign
The challenge continues…
Day 2 of 5
Breakfast: Pancakes, Bacon, Scrambled Eggs and Grapes
On this particular day, I woke up late and didn't really have much time to prepare breakfast. My lifesaver for mornings like these has always been Betty Crocker's Pancake mix, eggs and some bacon. Throw in some fruits – I managed to get seedless red grapes from Fairprice – and a wholesome breakfast awaits!
Pancakes, Bacon, Scrambled Eggs and Grapes
Serves: 4

Ingredients:
1 cup Betty Crocker Pancake mix
¾ cup Cold water
4 eggs
3 slices of bacon
1 tsp butter

Served as sides:
2 cups grapes
Maple syrup

Cooking Method:
1. Add cold water into the pancake mix (according to box instructions) and fry the batter in a non-stick pan. No oil required.
2. After the pancakes are done, add butter in pan and melt. Add bacon and cook till done. Remove from heat.
3. Beat eggs, pour into the same pan with bacon juices and scramble till cooked.
4. Plate and serve warm.
Lunch: Fried Rice with Pork/Chicken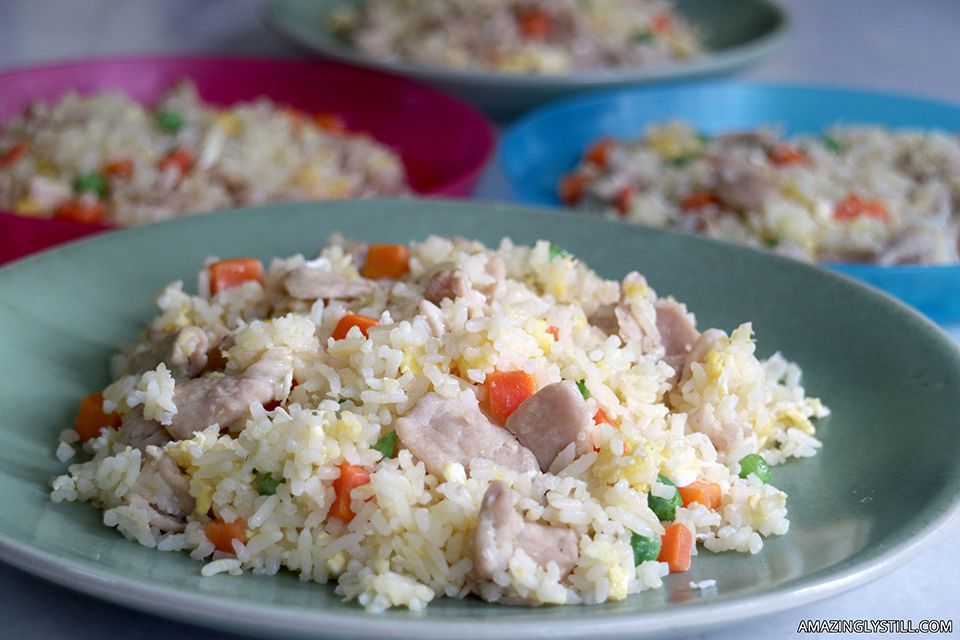 While I was preparing breakfast, I cooked some rice to set aside for lunch later in the day. I also took out the meat to thaw and lightly marinate. The early preparation made cooking lunch for the family a breeze!
Fried Rice with Pork/Chicken
Serves: 4

Ingredients:
1 cup rice + water needed to cook it
1 Porkee frozen lean meat
1 tbsp light soy sauce
1 tbsp corn starch
Dash of salt and pepper
1 tbsp butter
2 eggs, beat
2 cups frozen mixed vegetables

Cooking Method:
1. Cook rice separately and set aside to cool.
2. Marinate meat with light soy sauce, corn starch, salt and pepper.
Note: If your family doesn't eat pork, you can always switch to chicken meat.
3. Add butter and meat to wok, stir fry till meat is fully cooked.
4. Add cooked rice and mixed vegetables into the wok.
5. Add beaten eggs.
6. Cook till done and serve.
Dinner: Stir Fry Chicken with Xiao Bai Cai and Prawns
+ Breaded Fish Fillet + Pork Ribs Soup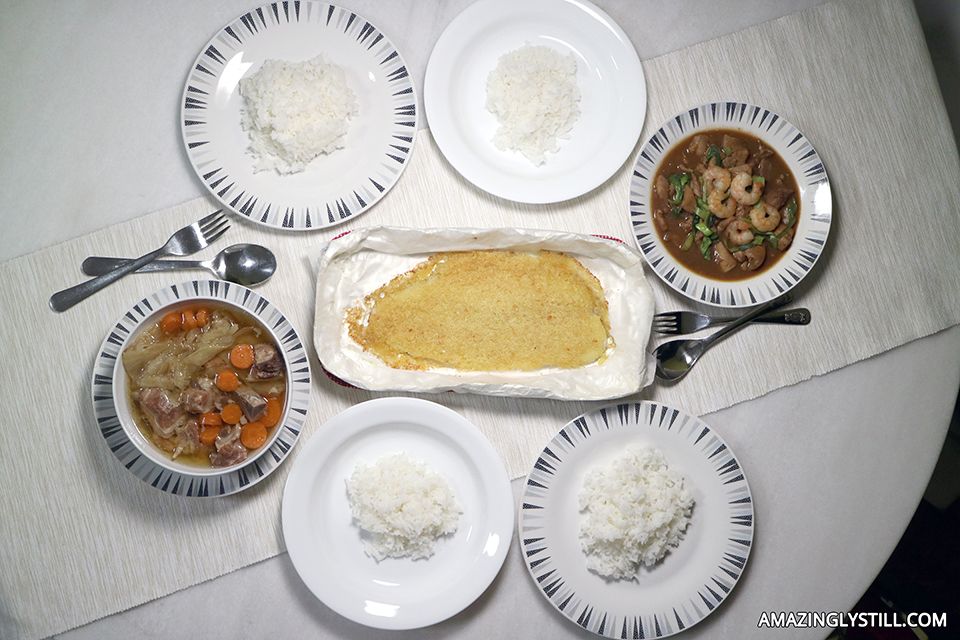 For dinner, there were two special requests from the children – Blake wanted his favourite breaded fish fillet, and Nakayla wanted soup. Whenever Blake and Nakayla request for certain dishes for dinner, I do my best to fulfil them because it'll be a win-win situation for all of us. For one, I don't have to think of what to cook. And two, they will eat their food faster with no fuss at all! Yay!
Breaded Fish Fillet

Ingredients for Fish Fillet:
1 Sutchi fillet
1 cup bread crumbs*
1 tbsp lime*
1 tbsp mayonnaise*
2 tbsp butter, softened*

Cooking Method:
1. Mix the starred* ingredients together.
2. Pat fish fillet dry and place in baking dish. I used aluminium foil and baking paper.
3. Coat the fish evenly with the bread crumbs mix.
4. Bake at 180°C for 30 mins. No pre-heating required.

Recipe adapted from My Recipes.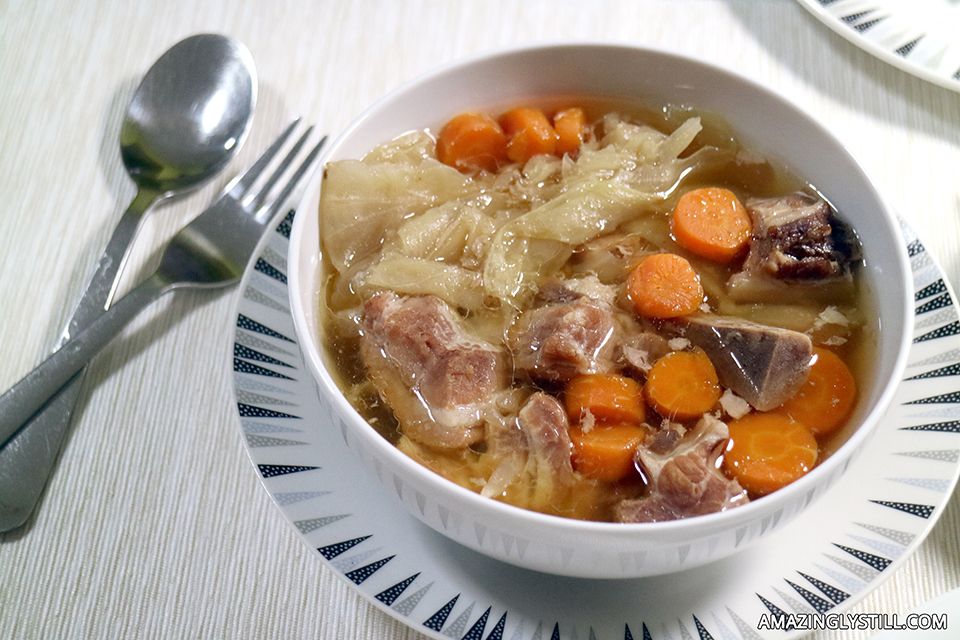 Pork Ribs Soup

Main Ingredients:
1 Porkee frozen spare ribs
1 tbsp light soy sauce
Dash of salt and pepper
2 Carrots, chopped
Desired amount of cabbage

Cooking Method:
1. Put everything into slow cooker.
2. Pour enough water to cover all ingredients.
3. Set on High and cook for at least 4 hours before switching to auto mode.

*Alternative meat: Chicken with bones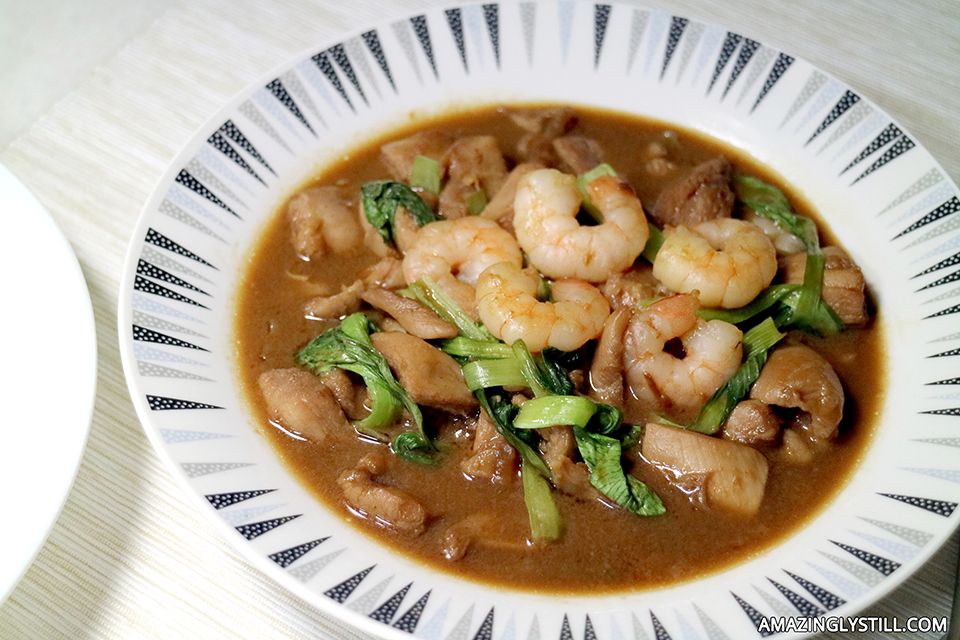 Stir Fry Chicken with Xiao Bai Cai and Prawns

Marinate Ingredients:
1 chicken thigh
1 tbsp light sauce
½ tbsp dark sauce
½ tsp sugar
1 tbsp corn flour
1 tbsp oyster sauce
Dash of ground white pepper

Add-on Ingredients:
Cooked frozen prawns and xiao bai cai as desired
Half-cup water

Cooking Method:
1. Mix everything under marinate ingredients together and leave to marinate for at least an hour. Overnight will be best.
2. Before cooking, thaw the frozen prawns and wash the xiao bai cai.
3. Heat wok up and add cooking oil.
4. Add the marinated meat in and stir-fry till about half-cooked. Add about half a cup water to the wok.
5. When the meat is cooked, add in the prawns and xiao bai cai. Stir to mix in. If you want more gravy, add more water.
6. Cover the wok and leave it to simmer for about 5 minutes.
7. All done and ready to be served!

Recipe provided by my mom, passed down from my grandma.
See what the nutrionist has to say about the meals from today:
Day 2 of 5 review
Disclaimer: We received a 5-day challenge from Fairprice Singapore, where we have to cook healthy and nutritious meals (breakfast, lunch and dinner) for the family within a given budget. This is part two of five posts brought to you by NTUC Social Enterprises and The Smart Local.