Campaign
We're half-way there!
Day 3 of 5
Breakfast: Prata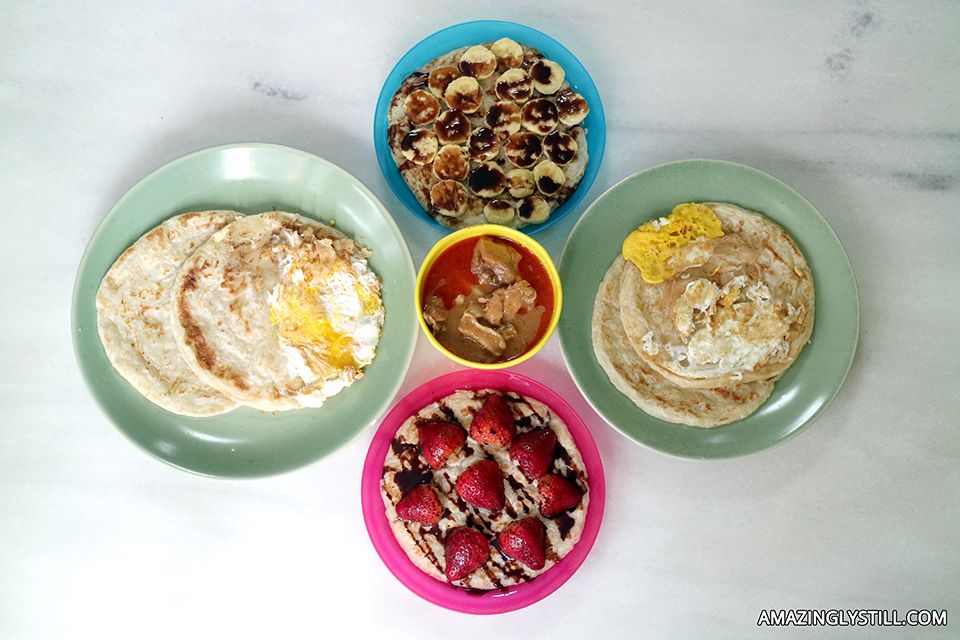 One of our favourite breakfasts to have as a family is the prata at our nearby coffeeshop. But when I heard from my mom that Fairprice sells really good housebrand frozen prata, I decided to give it a go! And I haven't looked back since.
Not only can I have it in the comfort of my own home (read: in my pyjamas), but I can also customise the prata according to each person's preference.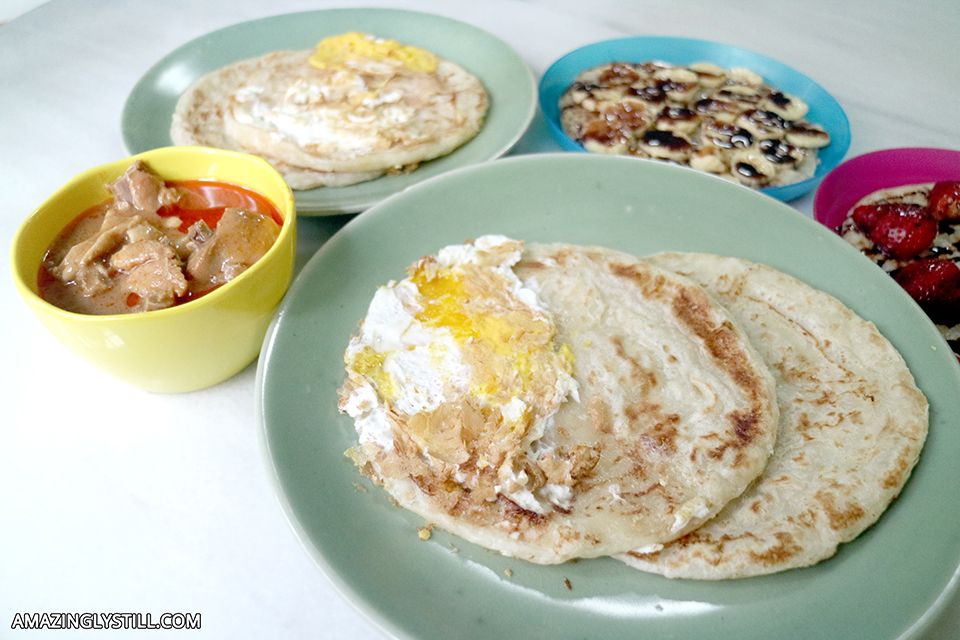 The adults had something more traditional – Egg Plaster Prata with Chicken Curry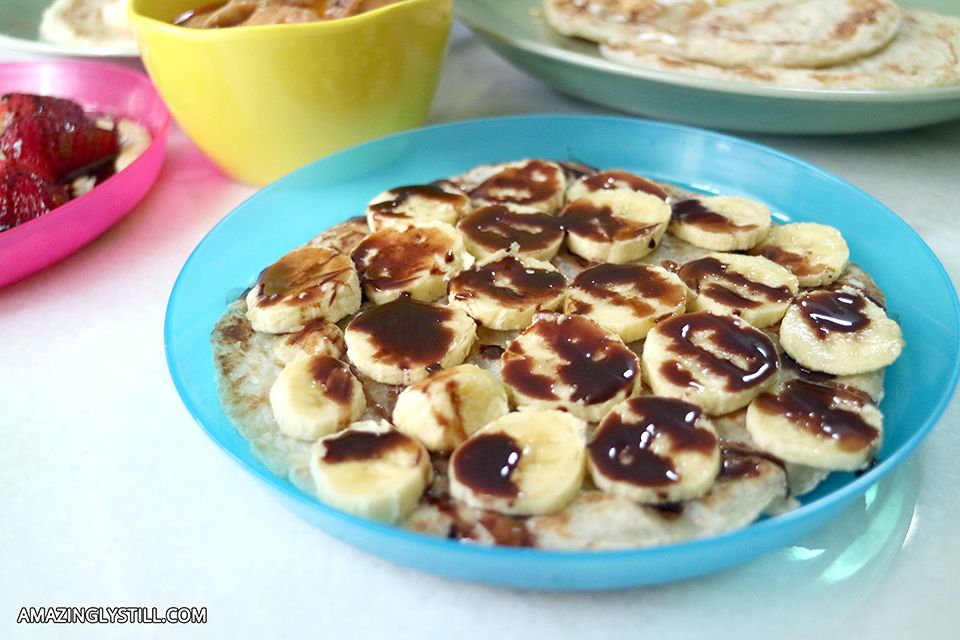 Blake loves bananas!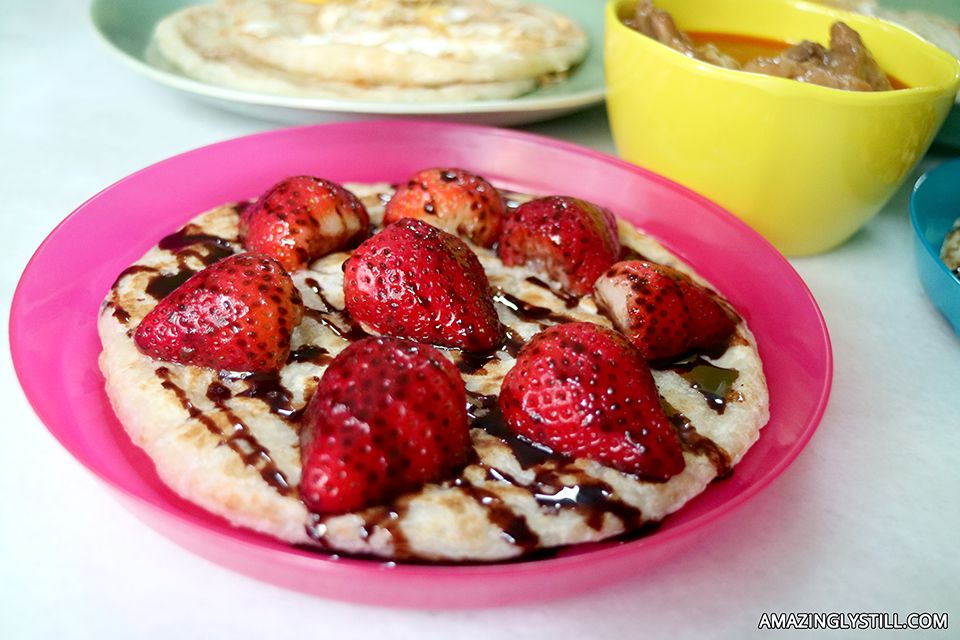 Strawberry Prata for Nakayla!
Adding fruits to the prata and topping it off with chocolate syrup was an idea I got from a restaurant we frequent. While it's listed under the dessert section there, I think this doubles up as a really good breakfast meal for the children!
Prata

Ingredients:
1 pack Fairprice Frozen Roti Prata (6 pieces)
2 eggs
1 large banana
4 strawberries
1 can Yeo's Chicken Curry
Drizzle of your favourite Chocolate syrup
Note: We use Smucker's Sundae Syrup.

Cooking Method:
1. Heat wok up on medium heat and crack egg into the pan. Place frozen prata on top of it.
2. Flip it over after 2 minutes.
3. Flip over a couple more times to ensure the prata is well cooked (It will puff up).
4. Repeat the same steps, minus the egg, for plain prata.
5. Heat up canned curry and serve on the side.
Lunch: Chicken Teriyaki Ciabatta Sandwich
I really love bread and sandwiches. It's one of the few things that's really easy to put together, yet expensive to have at a cafe. Ever since I discovered that I can get ciabatta bread from Fairprice, I've been more active in prepping easy on-the-go meals for everyone! It's perfect to pack and bring along when we're heading out and unsure of the food choices we'll have.
Note: Smaller buns are used for children's portion
Chicken Teriyaki Ciabatta Sandwich
Serves: 4

Ingredients:
2 chicken thighs, chopped to bite size pieces
3 tbsp Teriyaki Thick Marinade
2 Ciabatta bread
2 Gardenia Litemeal Rolls
2 cups mixed vegetables
1 cup broccoli
Drizzle of your favourite Mayonnaise
Note: I usually buy whatever is on sale.

Cooking Method:
1. Marinate chicken with teriyaki sauce for at least 30 minutes.
2. Heat pan up and add a drizzle of oil.
3. Add chicken, cook till done. Remove from pan.
4. Cook vegetables in juice from chicken.
5. Slice Ciabatta bread in half and toast lightly.
6. Assemble the sandwich and serve.
Dinner: Sauté Chicken + Korean Minced Pork with Tofu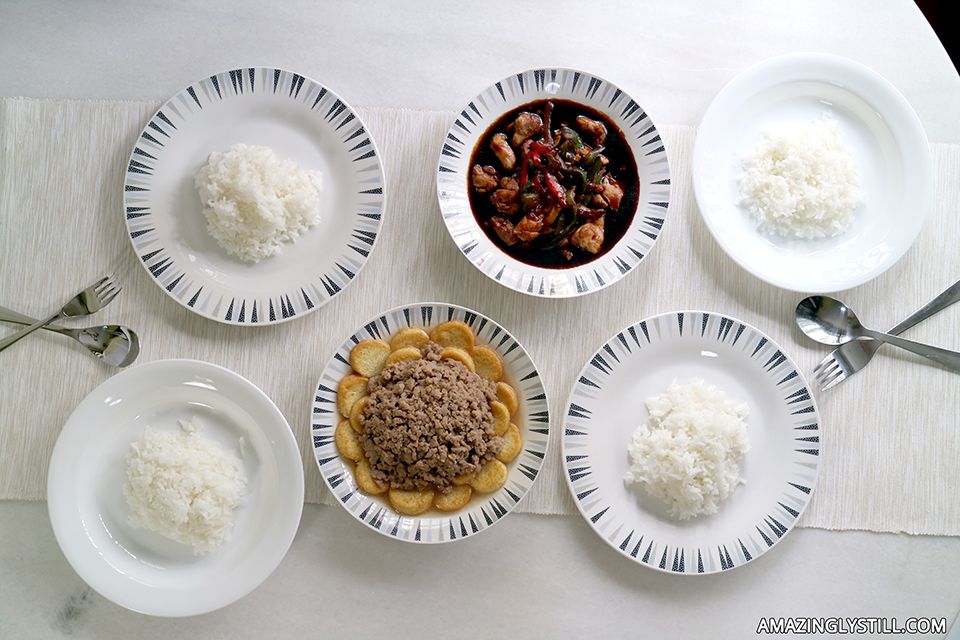 There are days where I'll be at a complete loss as to what to cook. These are the days I take as opportunities to experiment with a dish. Given that fact, I have to make sure that the other dishes are guaranteed to be edible and delicious for the family, and also relatively quick to prepare so that I can concentrate on my experiment.
My go-to fuss-free dish is usually made with ready-made sauces. Recently, we have been obsessed with CJ Bibigo Original BBQ Sauce! Couple that with pan-fried beancurd, and we have a family favourite to cover my bases while I proceed to concoct a new recipe.
Korean Minced Pork with Tofu

Ingredients:
2 tubes of egg tofu, sliced
1 Porkee Frozen Minced Pork
5 tbsp of CJ Bibigo BBQ Sauce

Cooking Method:
1. Marinate meat with ready-made sauce and set aside for 30 minutes.
2. Pan-fry egg tofu till golden brown. Set aside to drain out oil.
3. Stir-fry the meat with a drizzle of oil.
4. Place tofu on the serving plate. Pour meat on top of the tofu and serve.

*Alternative meat: Minced beef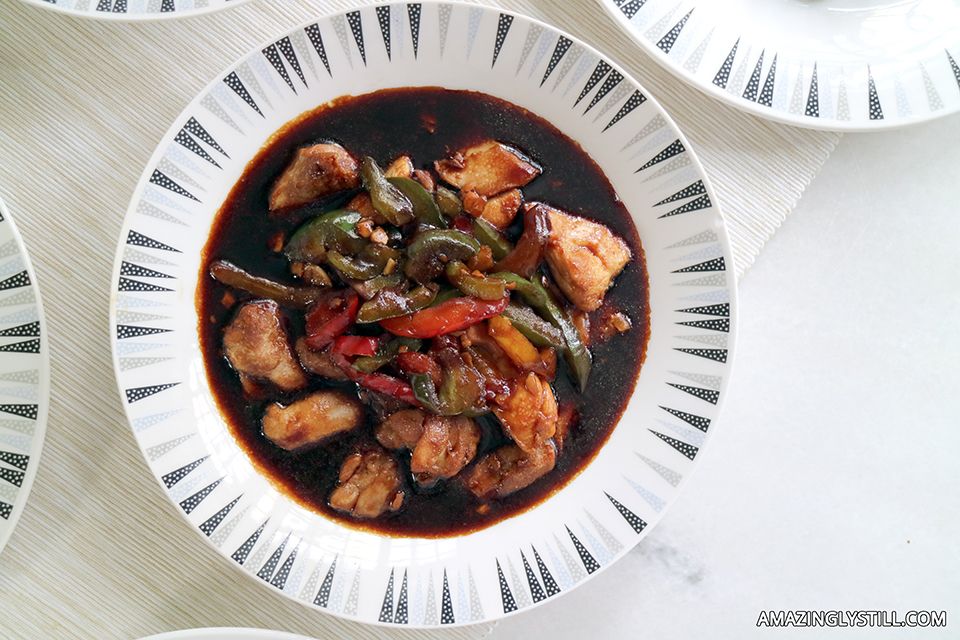 Sautéed Chicken

Ingredients:
1 chicken thigh, chopped into bite size pieces, skin removed
1 tsp minced garlic
3 tbsp light soy sauce
2 tbsp dark soy sauce
1 tbsp sesame oil
½ tbsp sugar
½ tbsp corn flour
Dash of salt and pepper to taste
½ cup water
Handful of frozen mixed capsicum

Cooking Method:
1. Mix the soy sauces, sesame oil, sugar into a bowl and set aside.
2. Heat wok up and add cooking oil.
3. Add minced garlic and stir fry till semi-golden.
4. Add chicken in and stir-fry till cooked.
5. Add the mixed sauces, stir it in.
6. Using the same bowl, add half a cup of water, salt, pepper, and corn flour – mix well and stir the mixture into the wok.
7. Remove the chicken from the wok and set aside.
8. With the sauce still in the wok, add capsicum in and stir-fry till cooked.
9. Pour it over the chicken and it's ready to be served!
See what the nutrionist has to say about the meals from today:
Day 3 of 5 review
Disclaimer: We received a 5-day challenge from Fairprice Singapore, where we have to cook healthy and nutritious meals (breakfast, lunch and dinner) for the family within a given budget. This is part three of five posts brought to you by NTUC Social Enterprises and The Smart Local.