Café Hopping Trio
Back in July (yes yes, like finally, am I right?), Lin Ying, Natasha and I rushed out a spontaneous meet-up just because one of us had a car that day. Haha! And it turned out to be a birthday treat for me! Yay!
Our initial plan of visiting two cafés in the same block was dashed when one of the cafés opened much later than we anticipated (it said 10am on its website!) and we were basically scrambling for time as I had to leave earlier than usual that day.
After a rather comical car ride heading towards the East, we reached fArt Tartz at Singapore Expo.
What a random location, I know. Haha! But that's the only café we could find in the East that opens early (9am!), and neither of us have been to. It also helps that they have really pretty food!

Such pretty mud tarts!
While Natasha and Lin Ying are busy being the professional bloggers that they are – snapping photos of the food and taking notes of how each food item tasted – I was busy fooling around directing them on how to get their perfect shots. Haha!
Note: I just somehow didn't feel like being a blogger that day. I call it, "It's my birthday and I don't have to work if I don't want to!" syndrome.
I did take some photos of the food though.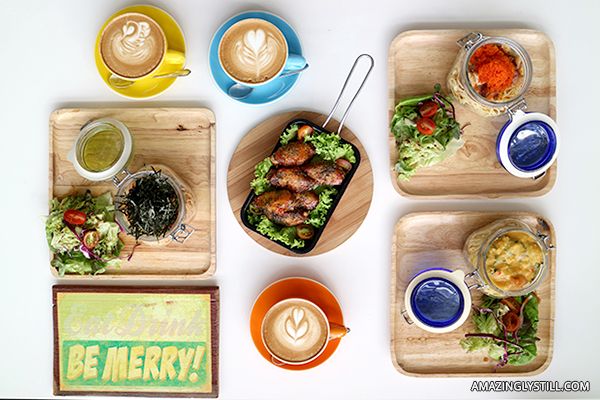 Our starter, mains and coffee

Grilled Hot Wings, $8.50
As I prefer not to take spicy food, the staff at fArt Tartz were kind enough to tweak their Grilled Hot Wings recipe for us so that we can have a non-spicy version. And it's so delicious! I think they should offer this non-spicy version too!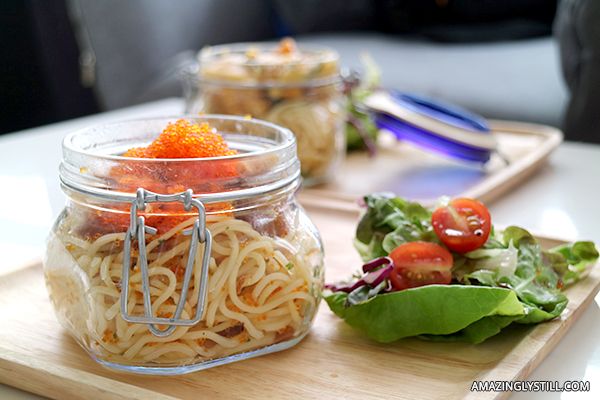 Bulbous Oriental Pasta, $13.90
With Lin Ying and Natasha both ordering pasta, I thought to order a sandwich or a flat bread burger. I requested for all the vegetables to be removed, but the staff said that it wouldn't be nice. I am assuming that they know we'll be taking photos of the food, and they wanted their food to look presentable. So I asked for a recommendation instead, something that's all meat with no vegetables mixed in. Haha! Hence, Bulbous Oriental Pasta. Another pasta. Haha.
I'm not mad at it though. I am mad about it! The Bulbous Oriental Pasta is just too delicious! I do wish there was more duck and fish roe as I didn't have enough of both to go with my pasta to finish the meal.
My mind basically switched off after this, so I don't have anymore food related photos or possible review to provide on the food. But! Lin Ying did a very good job on that two months ago. You can read about it here. Haha!
I was more interested in setting up my camera on a gorillapod and have it on remote so I can snap away whenever I want!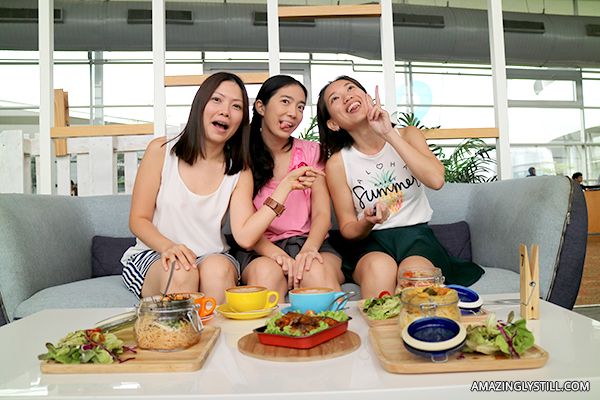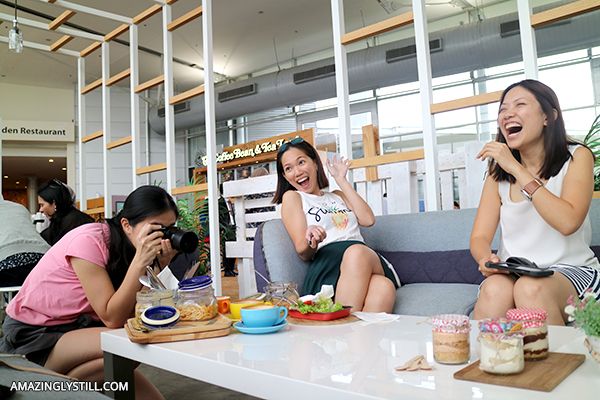 Hehe. Okay, that's all… That I'll put on the world wide web. Haha!
* * *
Open letter to Lin Ying and Natasha.
We need to visit their South Bridge Road outlet! They have more yummies there!
Okay. That really is all.
P.S. I wrote this back in August, but for some weird reason, I absolutely FORGOT to hit the publish button or schedule a date for it. So… Ya. Better late than never, yes?
Disclaimer: This meal was sponsored by Lin Ying and Natasha to celebrate my birthday. This post was written voluntarily amidst my fight for sleep that I need so desperately. Thus, this post may be incoherent and serve no real purpose other than to show off what good friends I have around me, and what good food they feed me so we can all be happy.