Media Invite
On a no-longer-so-rare day out for me, I got my brother to join me in the latest edition of The Music Run.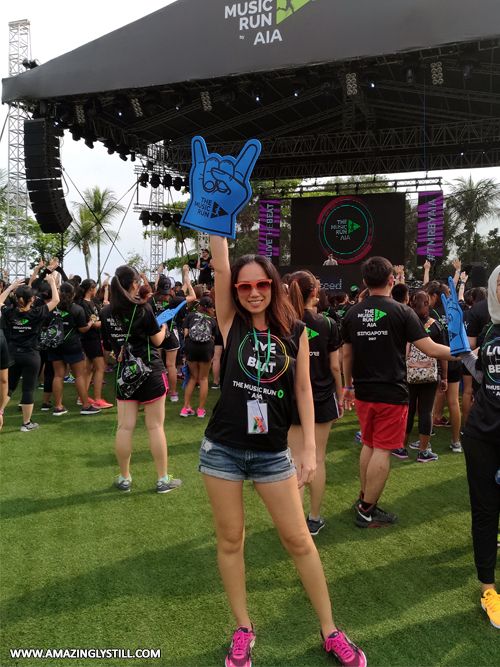 He was my "personal photographer" for the evening. Haha!
We arrived just as the DJs were getting the Music Runners all pumped up by showering them with foam fingers. It didn't take long before the crowd grew in numbers.
The brother and I somehow found our way to the top and had this gorgeous view of the entire event. And I tried to get some panorama shots in, but I think the one my brother took is still the best. Mine were horrendous. Tons of people being duplicated within the photo. Haha!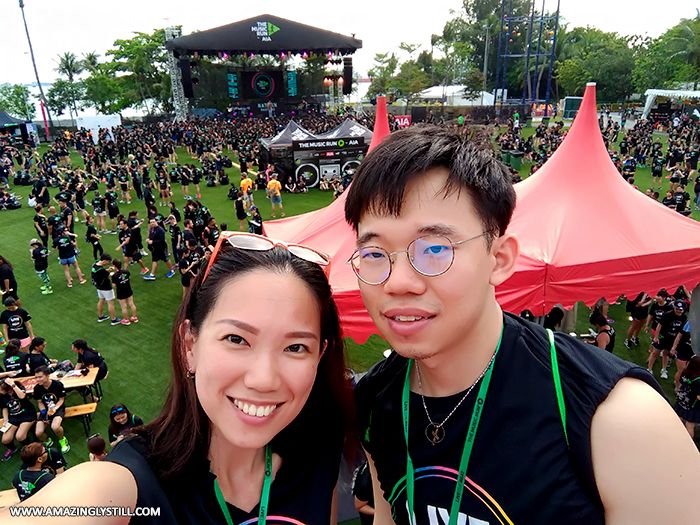 Reach the top, snap a shot!
We made our way down to get closer to the stage, and by the time Nathan Hartono was halfway through his set, all I saw were black tees all around.
The huge crowd meant that there was a human jam at the entrance to the start line, when they opened up the gates for the first wave of runners. We waited for about 20 minutes or so before making our way over. It was a slow start/stop walk to the start line, but everyone's spirit was high as music blasts throughout.
The DJs kept everyone on their toes too with dance music and intermittent encouragement to get the crowd to dance and jump along to the beat. Clearly, this is a run made for all music lovers who aren't shy to dance freely along to the music!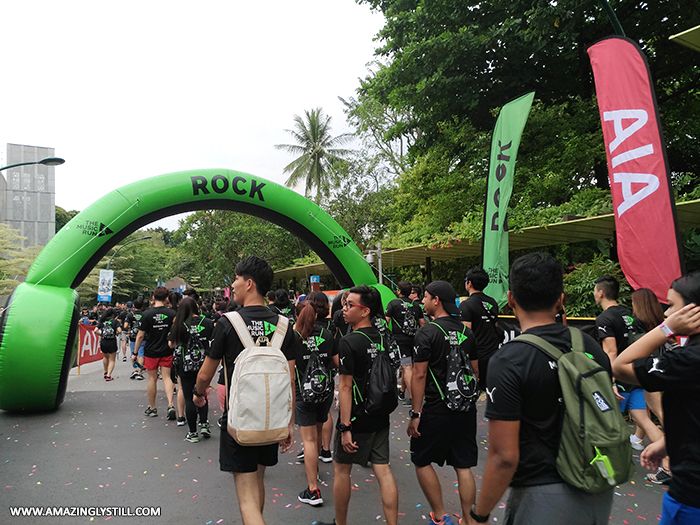 First genre to come up on the route was ROCK
I was surprised when I didn't get to hear one complete song before we entered the zone of POP music.
Of all the songs played, I can only remember one song – Shape of You by Ed Sheeran. Haha!
The POP zone was much longer and I wondered why the section for ROCK was so short. It wasn't long before we were greeted by ROCK again with We Will Rock You by Queen.
Then, we came face to face with this:
We were really impressed by the way they decorated the place, with all the lights blinking away. The "Rock On!" vibes were strong!

We left ROCK behind and a familiar tune was heard – the last chorus to It's Gonna be Me by NSync!
But, uh-oh… Songs that I'm most familiar with are now classified as…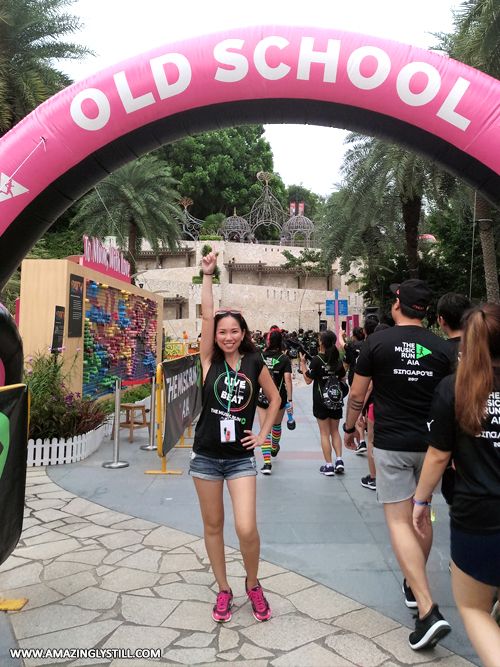 NOOOOOOOOOOOOOOOOOOOOOOOOOO!
I resigned to my fate that I'm hitting the next decade milestone this year and it is true that some of these songs are so old that they are practically "teenagers" by now, but I think what's most shocking was the next song that came on – Single Ladies by Beyoncé.
I get it when It's Gonna be Me by NSync, released in 2000, is classified as old school, but Single Ladies by Beyoncé, released in 2008!? Not even 10 years old and it's filed under old school… Woah!
Right after that, a familiar beat was heard and I screamed! A prelude to the upcoming Britney Spears concert in Singapore with Oops! I Did It Again!
I danced my way through, surprising myself when I still remembered the dance steps to the chorus. Haha!
Up and down Sentosa Island we went and soon, we found ourselves moving to the rhythm of HIP HOP, of which, I can't remember a single song… Haha. Sorry about this. This is one genre I'm least familiar with, but I do listen to Chinese Hip Hop such as this:
We finished the last lap of the race with DANCE and I'm pretty glad we were there right in time for this song:
We reached the finishing line, took a mandatory finisher shot and collected our medals.
We stayed a little while for the music festival but had to bounce shortly after as we had dinner plans.
Here's a short video I put together of our first Music Run experience!
Pardon the shakiness and not so fantastic quality. I was packing light that day so I only brought my mobile phone with me for photos and videos.
Disclaimer: A media invite was received with no obligations to write this post. Only putting it down in words cos it's a first for us and we had a great time!