Media Giveaway
'THE SKY IS FALLING! THE SKY IS FALLING!'
Is it really though?
Chicken Little surely thinks so!
Life on the farm can be a scary place if you're poor Chicken Little! Mercilessly teased by her brother and sister for her everyday fearfulness, Chicken Little's afraid of absolutely everything, even the rain! So when one day she feels something fall on her head, she immediately fears the worst – the sky is falling! But none of her family hears her plea, which led her to set off looking for The King, the one person who'll listen to her.
Join Chicken Little on her quest to save her fellow farmyard animals on a journey where she'll meet a whole host of quirky, vibrant much-loved characters, including Cocky Locky, Ducky Daddles and the brave Turkey Lurkey. But with the fearsome Foxy Loxy on the loose, can they make it to the King alive?
Chicken Little is an infectious new musical adventure with toe-tapping songs from the creators of SRT's Red Riding Hood and Treasure Island.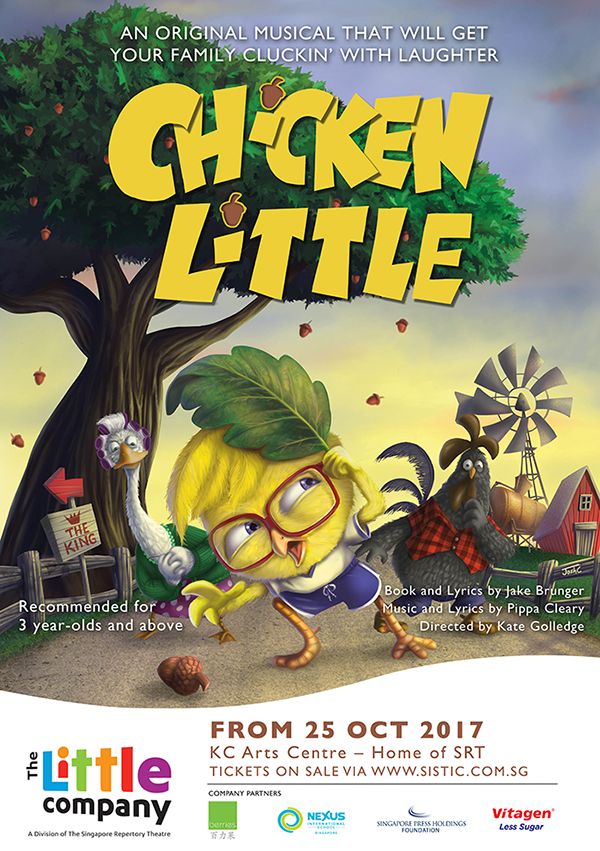 Showing from 25 October 2017 to 8 December 2017 at KC Arts Centre – Home of SRT
Weekday Showtime: 10am
Weekend Showtime: 11am and 2pm
Tickets are now available for purchase here.
* * *
CHICKEN LITTLE GIVEAWAY!
We have a set of 4 tickets to give away to one lucky winner!
Simply follow the instructions to the widget below to participate. And just in case some of you miss out on this particular instruction, all answers to the question listed are to be left in the comment section at the end of this blog post! Good luck!
Chicken Little Giveaway
Disclaimer: We are invited to the show and were provided an extra set of tickets to give away for the purpose of this post.