With the meet and greet done, all's left to the rest of an awesome night was the concert itself!
After dinner and braving the crowds to enter the stadium, we reached our seats with about 5-10 minutes to spare before the start of the concert. That only meant one thing – photos!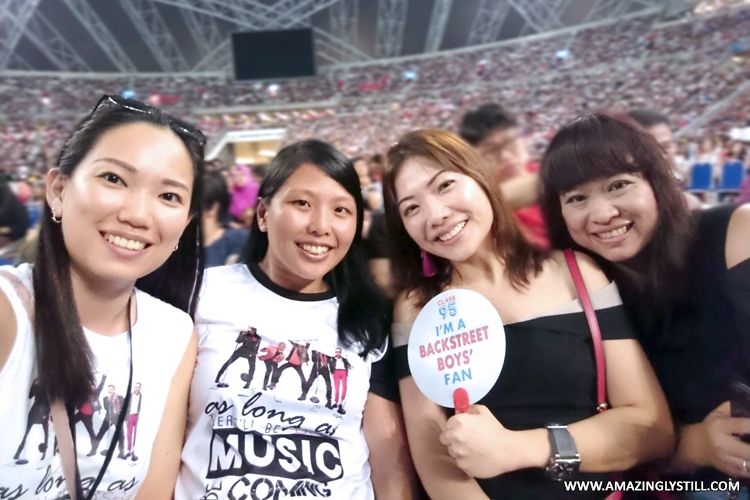 Our crew for the night

Madeline loved the design I came up with and had a tee printed! That gave me courage to get mine done too!
We were pretty high from just being there and snapping photos when music boomed through the loud speakers and the screens lighted up. This sent everyone screaming, getting up on their feet and singing away! What a way to get us ready for what's to come!
It didn't take long for the lights to go down, sending everyone into louder screams of sheer joy!
That night, we were transported back to the year 2001 with their opening song and concert namesake, 'Larger Than Life'.
They sang their classic hits from 'We've Got It Goin' On', 'Anywhere For You' and 'I'll Never Break Your Heart' to 'I Want It That Way', 'More Than That', 'Drowning' and plenty more.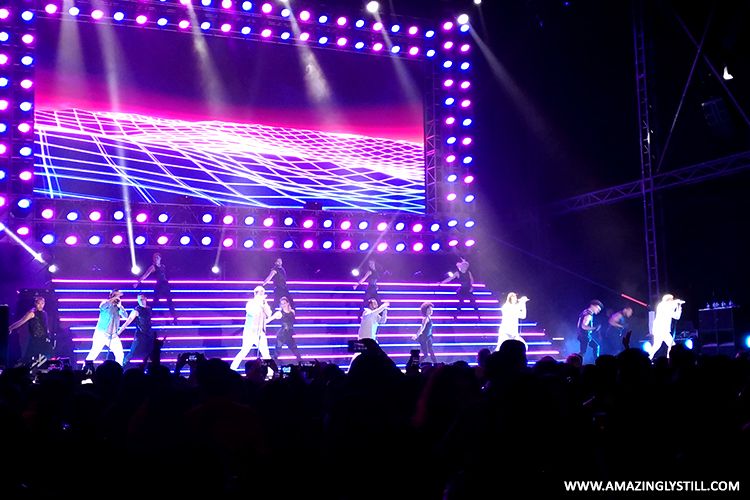 Whilst none of the songs from their last two albums made the playlist that night, I was happy with all that's played. There really is no way they'll be able to play all their songs from the last 24 years in one night – even if they were to just focus on their hits. There are just too many!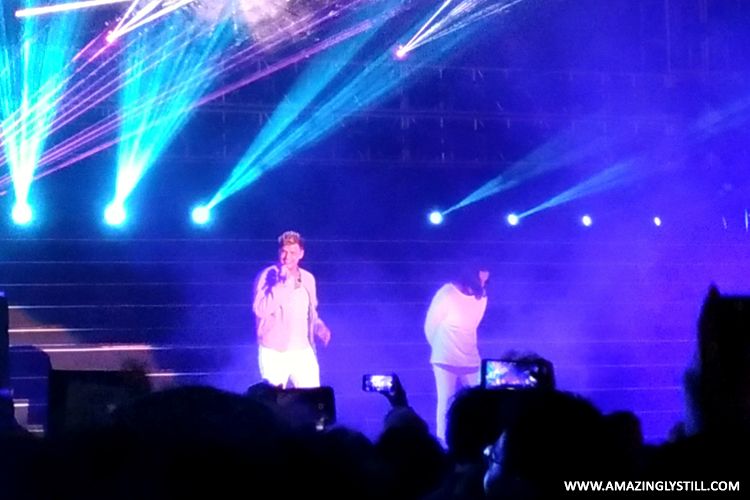 But the part that got everyone super excited was when Nick Carter announced that they're working on a new album, which means another world tour, which means… OMG! THEY'LL BE BACK AGAIN! I really don't mind if they keep coming back. I'll gladly pay for every single concert ticket and meet and greet session!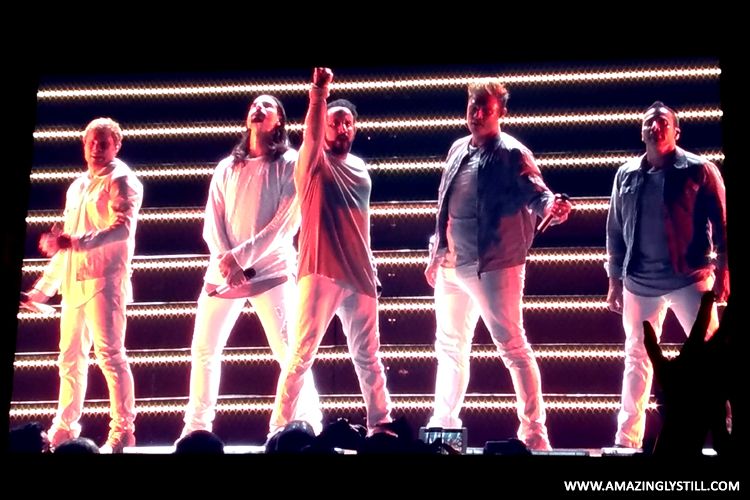 Seeing them closer than previous years has surely made it clear to me that I can never settle for anything less for the next round. The immediate gratification of seeing them interact with each other on stage and the little things they do to work the fans… Stuff you won't be able to see clearly if you're not near enough or those moments aren't showing up on the big screens.

That's Brian making the ♥ and Nick next to him
(Gif cropped from video below. Spot it if you can!)
Fun fact: Just before they sang "As Long As You Love Me", Brian mentioned that it's his favourite song. Besides the fact that it is a really good and catchy song with the classic chair dance, I think him meeting his wife on the set whilst filming the music video was a major bonus!

Brian and AJ adding a dance routine
(Gif cropped from video below. Spot it if you can!)
And just like the saying goes, the time passed a little too quickly while we were having the time of our lives. When the finale, "Everybody (Backstreet's Back)", blasted throughout the national stadium and the confetti came showering down on us to seal the deal, it was pretty obvious – Nobody wanted the night to end.
But end it did, and I shall now patiently wait and save up for their next concert. In the meantime, I'll keep the Backstreet Pride well and alive and reminiscence through videos I've taken.