Following our Jungle Breakfast with Wildlife, we set out to explore the zoo with one goal – find the new Butterfly Aviary.
Blake had enjoyed every trip we made to visit butterflies so far, so why not a third encounter with the butterflies this June holiday? Haha!
Whilst we were looking for the butterfly aviary, we came across a new exhibit – RepTopia.
Besides the fact that it's new and an exhibit we've never been to, it was also a cool zone (read: shelter) and with the weather fluctuating between wet and dry, it'll be a nice respite from the outdoors.
And also cos muddle-head me thought the butterfly aviary was somewhere in there. Haha!

The first thing the children saw and ran into excitedly

This chameleon looks like Pascal (a.k.a. Rapunzel's pet in Tangled)!

If I'm not wrong, the one on top is an Amazon milk frog, and the other one below is a Dyeing dart frog

Saw the green vine snake (I think) and immediately thought, "This looks like Serperior (Pokémon)!" Haha!
There were about two (correct me if I'm wrong) sections where you could explore the outdoors and see the animals up-close and roaming freely. To be honest, I was pretty scared and clung onto Sean for dear life, cos I was so terrified a reptile will just jump or drop in front of me. Thankfully, nothing happened. Haha!
And when we headed back in, we saw this happening: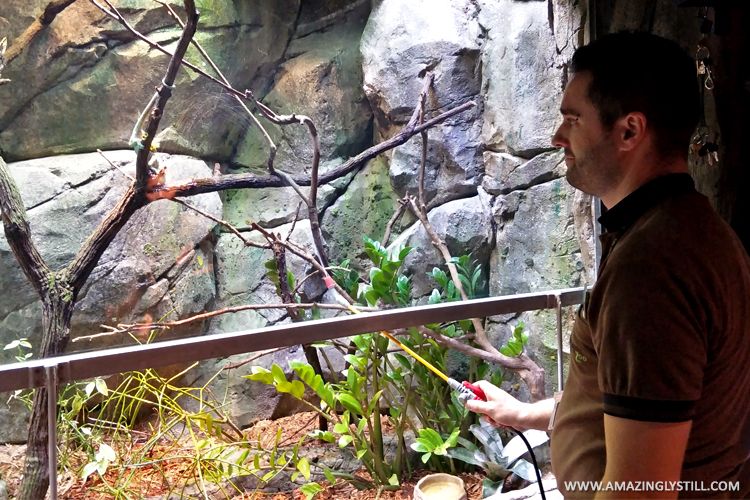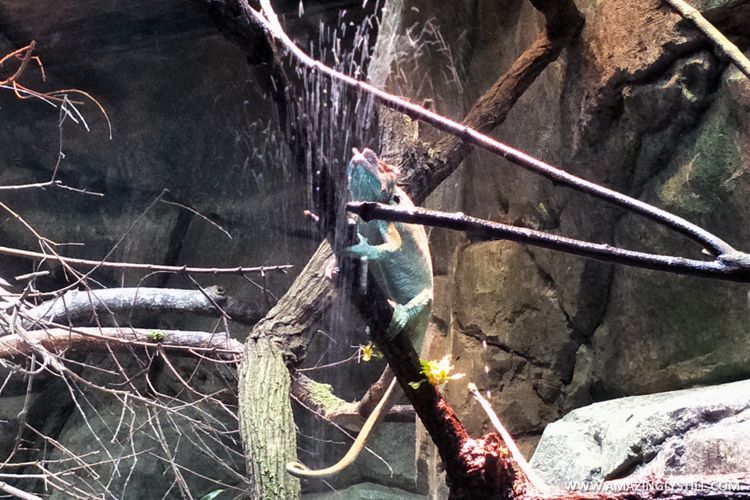 I had thought feeding was taking place, but the zookeeper told us he had to let the chameleon drink first (the feeding came sometime after but we didn't stay for it). Whilst there's a bowl (simulating a puddle of water) within the exhibit for the chameleon to drink from, the chameleon also drinks from water trapped in branches from the rain.
Those who came after the zookeeper's explanation thought the chameleon was having a shower! Haha!
After we finished with RepTopia, we continued our search for the butterfly aviary, which just happened to be right next door at Fragile Forest!
There weren't many butterfly species in the aviary, but we did see a supposedly extinct species in Singapore – Clipper butterflies.
Also, I suspect some butterflies escape cos we saw so many unique ones flying in the area, outside of Fragile Forest.
We ventured further in and came face to face with yet more wildlife.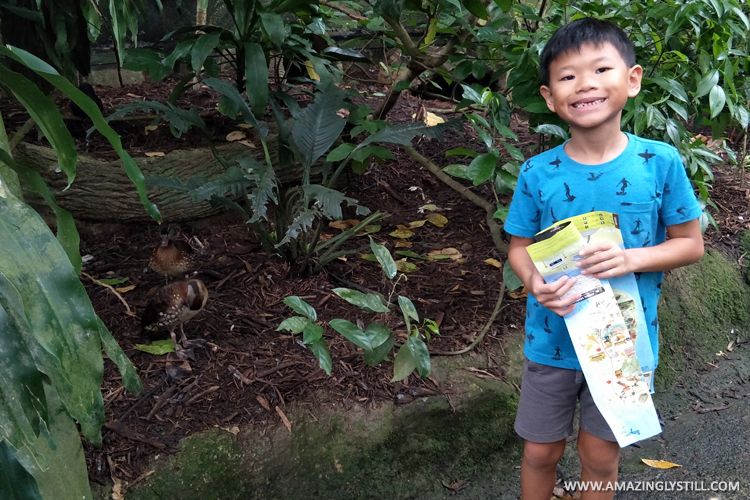 Plenty of ducks roaming around!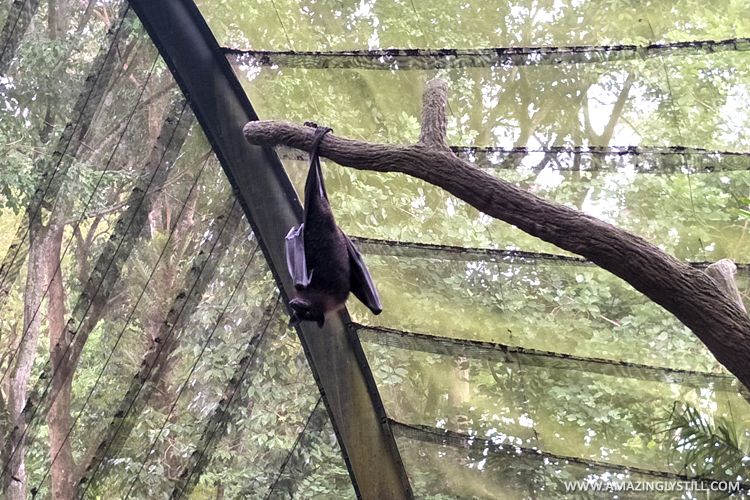 Bats! AHHHH!!!!
I thought I was clingy in RepTopia, but it was worse here. I literally plastered myself to Sean's back cos I didn't want the bats to come near me. Only to have Sean tell me, "They can fly in from your back know?" YIKES!
Despite the bats, there are beauties to look out for.

Toucan!

Such loving ducks!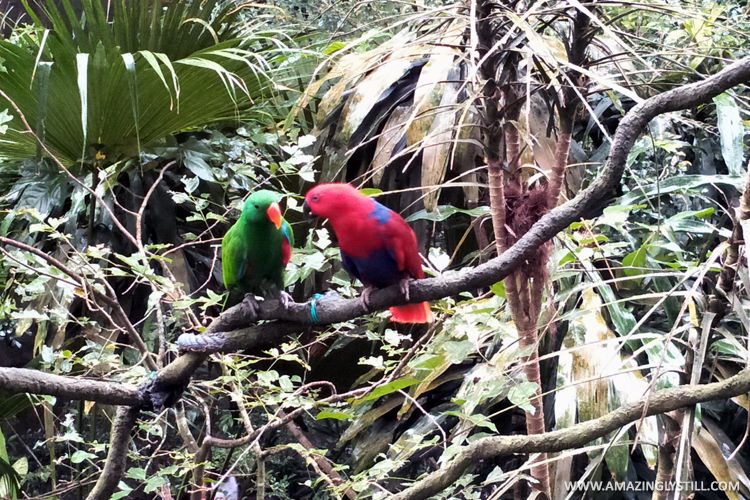 There were parrots too!
Through our journey in Fragile Forest, we also saw a mousedeer, crowned pigeons, pheasants and lemurs. There's supposed to be a sloth too. Just one. But we didn't have any luck spotting it. Sigh.
By the time we finished exploring the two exhibits, and a few others along the way as we had opted to walk instead of taking the tram, we had already been at the zoo for 6.5 hours (including the morning activities). And the only thing that came to mind at the end of our trip was that maybe I should sign up for the Friends of Wildlife again! Should I? Hmm…
* * *
The following is something I contemplated on whether or not to share here, but seeing how it made quite an impression on all of us that day, it shouldn't be any harm. I think. After all, a couple of visitors had called it Live Discovery Channel when it happened.
But before we proceed, I need to put this out there first:
WARNING: This is pretty X-rated, by some people's standards. DO NOT, I repeat,
DO NOT continue if you're offended by seemingly sexual contents!

.

.

.

.

.

.

.

.

.

.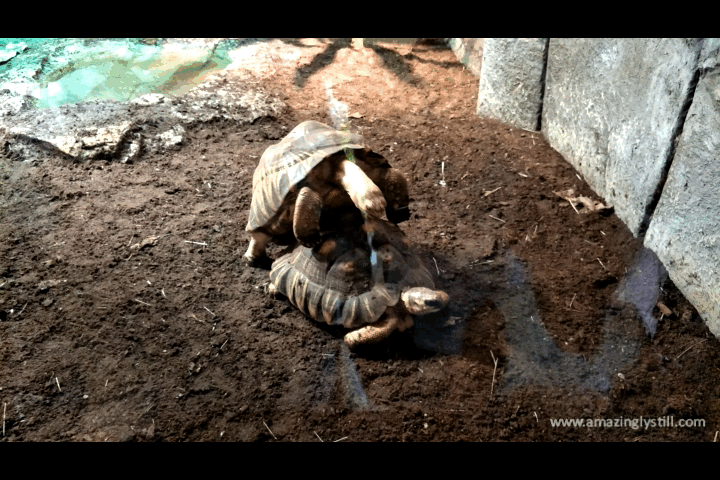 The funny thing about how I got this video is that, they were butt-facing us at first. But before I could get a shot of that position, they stopped. I had thought out loud, "That's fast" – which got quite a bit of giggles from fellow visitors. Then, the following happened… The male tortoise started to push the female tortoise. It took him a few minutes, and making a full circle, but he eventually got them both to turn around to give us this view. Haha!