Last Friday evening, I signed up for a bake class with Munch Ministry at the very last moment, seeing that the class was on the following day at 9.30am.
Why sign up so last minute? you asked. Well, mainly cos I didn't think I'll make it to anywhere on a weekend at 9.30am. Haha. But I started to have second thoughts (sleep can come another day, right?) after seeing a couple of posts by Singapore Mom Bloggers (SMB) on the Hokkaido Chiffon Cake they baked in an earlier class they had. Just looking at the photos they posted up, I was drooling!
So that evening, I tried my luck and Pauline (fellow SMB and co-owner of Munch Ministry) told me that there was one more slot! Yay! Once I told Sean about it, and confirmed he's ok with it, I started digging through my containers for a suitable one to bring my bakes home in! I also text my dad to ask him if he was able to give me a ride down. Hehe.
The next day saw a heavy downpour early in the morning, so thankful for the ride my dad gave me, and the husband for packing breakfast for me! Hehe. I reached early, found a place to sit and had my breakfast before class started.
Just a little after I was done with breakfast, Adeline messaged me on facebook (don't we all love smart phones and facebook?) to let me know some of them were in the class already.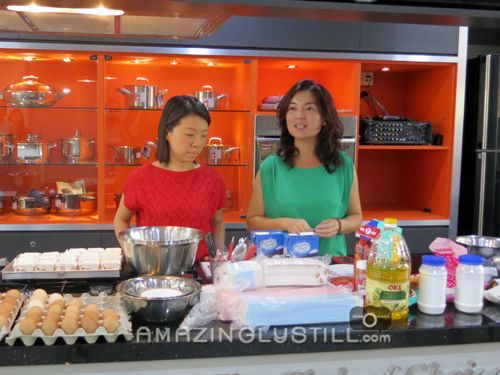 Our lovely teachers, Pauline and Louisa
The class started when all of the mommies arrived. Then we baked away! Well, we did after the demonstration part 😀

Part of the recipe!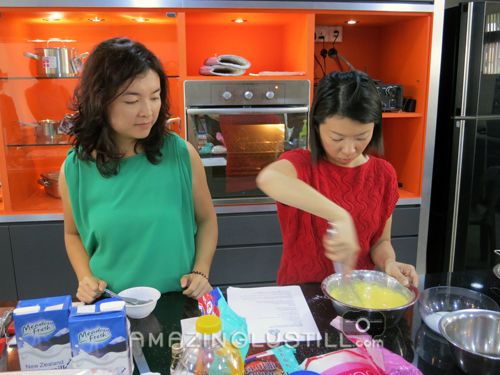 Pauline made it look so effortless!
After the demonstration was done, it was our turn to bake!
We were paired up, and I was super lucky to have Rachel for my partner.
We had to split the yolks from the whites, but I didn't have my trusty egg separator with me. I was worried for a moment but Rachel took the eggs and had them separated easily!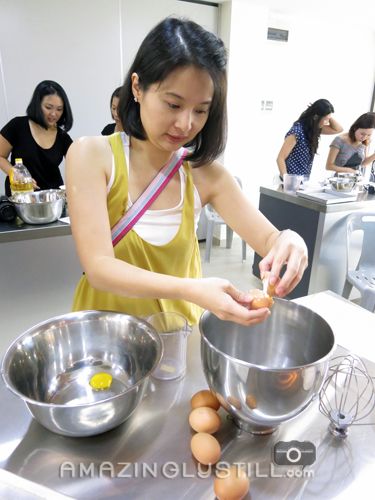 My very pro partner at work
One yolk was broken in the process, but she managed to catch it all in the egg shell before it got mixed into our egg whites. How awesome is that?! Once she had the yolks and whites separated, we split the work. I took charge of the egg yolk mixture, while she went to have the egg whites beaten to a state of stiff peaks. We switched roles from time to time cos whisking the egg yolk mixture is really tiring!
Very quickly, we managed to put everything together, into the cupcake cups and then, the oven!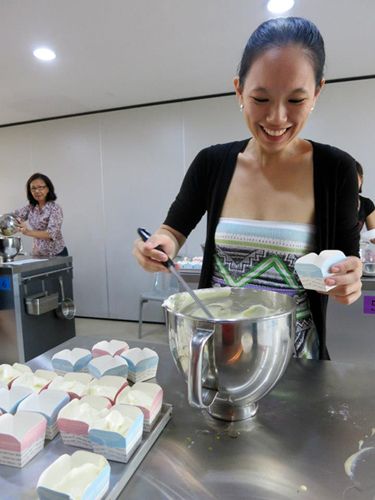 Picture taken from Munch Ministry's Facebook Page

Just had to insert this picture of Cherie and Estella! Too cute!
After about 15-20 minutes, our cakes were done!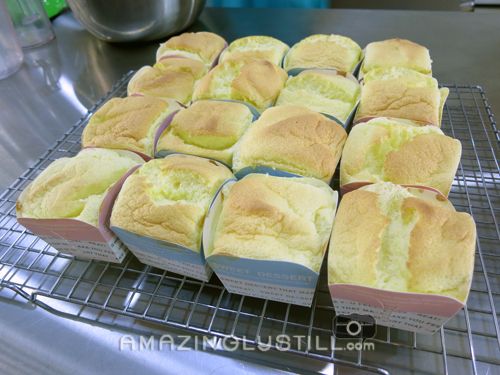 Louisa then showed us how to get the cream done, making enough for everyone so that we don't have to wait further to have our cakes and eat it!

Louisa showing us how to 'stab' the cakes and have the cream fill the center of the cake, all the way to the top!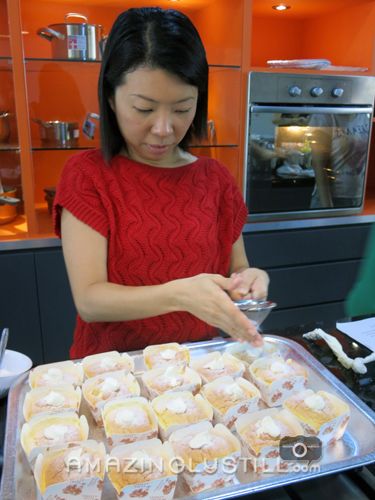 Pauline dusting snow powder on the cake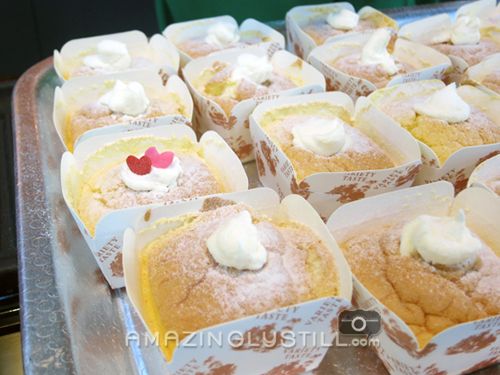 Adding the little hearts for the finishing touches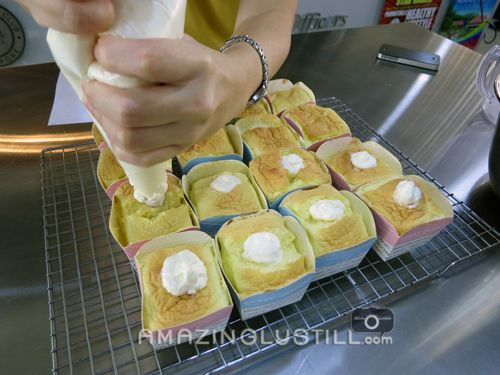 Rachel at work

Picture from Connie

Our cakes after we filled it with cream and decorated it with snow powder and hearts!
Right after the photos were taken, Rachel and I took a cake each to fill our bellies with. Too irresistible! And it was so good!
We were supposed to chill it for a while before eating it, but honestly, nothing beats cakes just right out of the oven! BUT, it does taste better chilled. Haha!
After all the baking, it was photo time!
Here's me stacking things to make my "tripod", like I always do when I forget to bring my Gorillapod.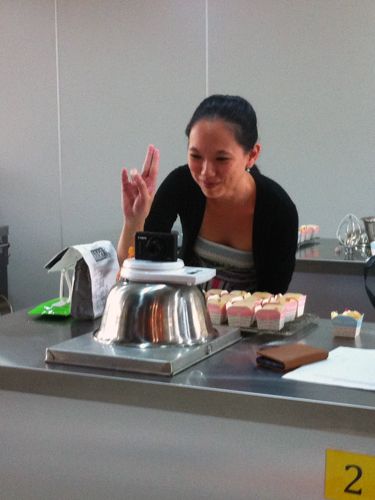 Picture from Estella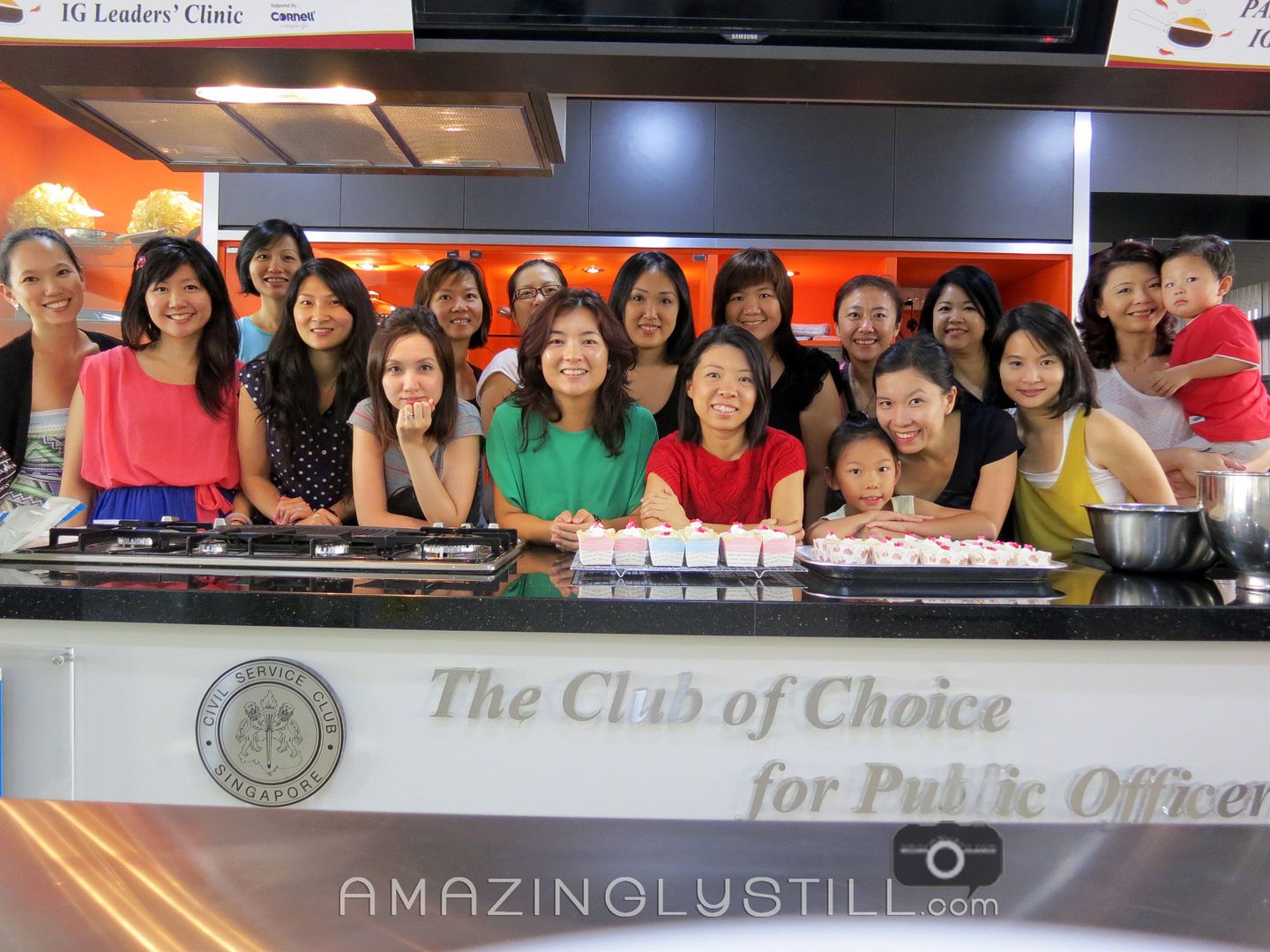 Photo from my camera, on my make-shift tripod.
Not bad, right? Hehe.


Picture taken from Munch Ministry's Facebook Page
Standing, L to R: ME!, Ai Sakura, Delphine, Cherie, PC, Jennifer, Liza, Connie, Adeline, Klessis, Jiahui, Regina
Leaning on counter, L to R: Estella, Louisa, Pauline, Jiahui's daughter, Rachel
Before leaving class, the lovely ladies of Munch Ministry gave out goodie bags to everyone! Yes, we can have our cake, eat it, and have new accessories to bake it again!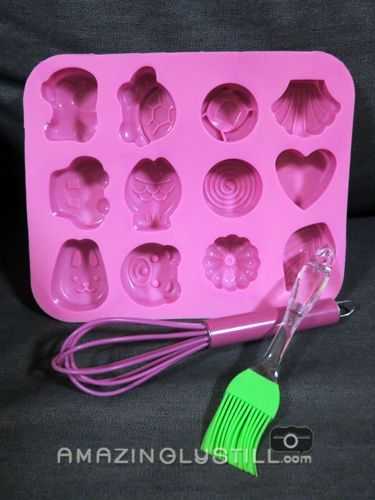 I'm so glad I made it for the bake class. It was my first SMB activity too, and it was such a joy to meet everyone! I'm like one of the newer members, but they all made me feel so welcomed! So much love to go around in this group. Thanks, ladies! 😀
This activity was made possible in celebration of SMB's first birthday!
Read Rachel's post on the bake class here!