When I was younger, all I ever wanted to be was my paternal grandma, whom I call 婆婆 (po po) ever so affectionately. She had taken care of us while my parents were at work, and through the very short years we had together, she showed me what it was like to be a good housewife, and grandmother. I knew for sure I'll grow up to be like her. Or, at least try to. And look where I am now 🙂 Except, I'm not a grandmother. I'm a mother, who can't cook many dishes, much less anywhere near her standard.

Yes, I was very fat before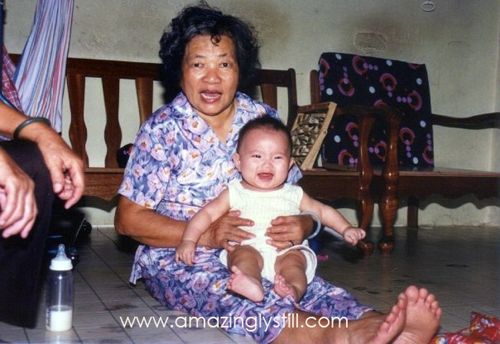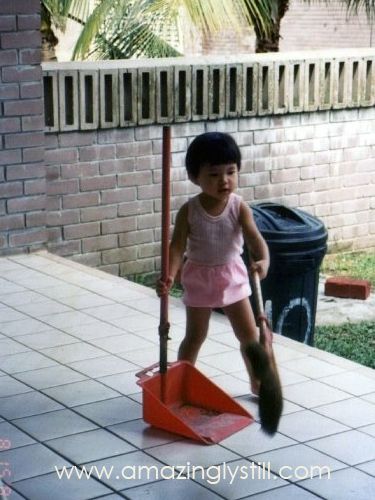 I started off young. Haha!
My 婆婆 passed away when I was very young, but I would never forget the times we spent together – playing badminton in the living room (yikes!), cuddling up to her for nap time on the sofa lying on a very flat rectangular cushion, putting eye drops for her (I was so excited about it then cos I was like her little nurse!)… Those years were the best 🙂
婆婆 could only communicate with us in the Hainanese dialect, and I was really fluent back then! One of the things she said, which I'll never forget is, "Got hands, got legs, won't die!" If I didn't remember wrongly, it was because my parents were worried about my future back then, seeing how I'm terrible at studies. And that was her response. Haha.
While 婆婆 showed me how to be a housewife, my mother showed me how to be a career woman. She placed emphasis on how we presented and carry ourselves. She told me to always keep up with the times, especially if I were to be a stay-at-home-mom. She reminded me time and again to never lose touch with the world outside. And one of the funniest thing she told me, "Stay at home, you will end up eating a lot!" Which was true for me, and the moment she said that, I started to watch how much I ate. Haha.
She may work long hours, even up till today, but she never fails to show up for important events and milestones in my life – my graduation, birth of my children – and is always only a phone call away (but sometimes, she doesn't hear her phone ringing. Hahaha!).

At the 4 Divas Concert with my mom, on her birthday!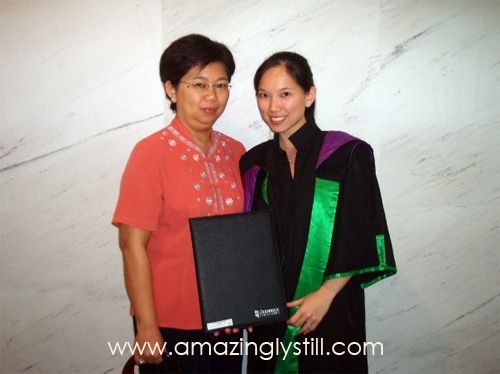 When I graduated from Republic Poly

When I graduated from Murdoch University
I hope I did my mommy proud by getting a degree,
when it seemed almost impossible when I was younger!
(Shout out to Sean, who told me I must have at least a Bachelor!)
So, this Mother's Day, I want to celebrate these two women who have shaped me to be the work-at-home-mom I am today. A combination of both, that's the best of both worlds, right? 🙂
Ending this post with a song from the Backstreet Boys titled The Perfect Fan. This song says a lot more than I can put into words for this post 🙂
It takes a lot to know what is love
It's not the big things but the little things
That can mean enough
A lot of prayers to get me through
And there is never a day that passes by
I don't think of you
You were always there for me
Pushing me and guiding me
Always to succeed

You showed me
When I was young just how to grow
You showed me
Everything that I should know
You showed me
Just how to walk without your hands
'Cause mom you always were
The perfect fan

God has been so good
Blessing me with a family
Who did all they could
And I've had many years of grace
And it flatters me when I see a smile on your face
I wanna thank you for what you've done
In hopes I can give back to you
And be the perfect son

You showed me
When I was young just how to grow
You showed me
Everything that I should know
You showed me
Just how to walk without your hands
'Cause mom you always were
The perfect fan

You showed me how to love
You showed me how to care
And you showed me that you would always be there
I wanna thank you for that time
And I'm proud to say you're mine

You showed me
When I was young just how to grow
You showed me
Everything that I should know
You showed me
Just how to walk without your hands
'Cause mom you always were
The perfect fan

'Cause mom you always were
Mom you always were
Mom you always were
You know you always were
'Cause mom you always were
The perfect fan

I love you mom

Lyrics from eLyrics.net
Linking up with: