Sponsored
Guess what? The mommy is doing the blogging, but the daddy received a little something-something from Philips! It's the all new Philips AquaTouch Shaver AT940!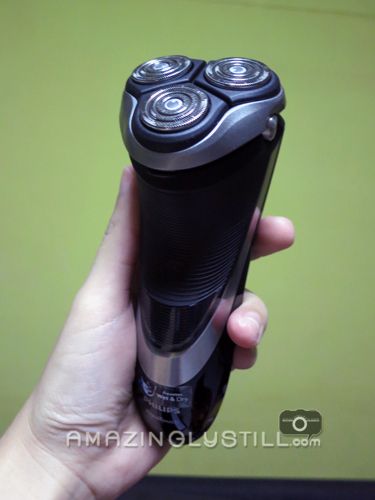 The Philips AquaTouch AT940 is a wet and dry electric shaver with pop-up trimmer and triple-track blades. Anything that can be used in wet and dry conditions is, or will be, Sean's favourite!
Features that really amazes!
1. SmartPivot
The three shaving heads maintains constant skin contact for a fast shave
2. Skin Protection System
Rounded low-friction protection heads glides smoothly and adjust to the curves of your face to limit skin damage
3. Cordless use for 60+ minutes
Fully charges within an hour, and one full charge gives you enough power for 20 shaves
4. Quick charge for one shave
Just takes three minutes of charging will give you enough power for one shave
5. Pop up trimmer
Perfect for grooming sideburns and moustache
6. Super Lift & Cut Action
Dual blade system lifts hairs to cut for a closer and more comfortable shave
7. DualPrecision Cutting
Allows shaving even the shortest of stubbles
8. QuickRinse System
Allows shaver to be washable
9. Aquatec Wet & Dry
Aquatec seal for a comfortable dry and refreshing wet shave, even in the shower. Optimized for use with shaving gel or form.
Now, when it comes to shavers, Sean is kind of traditional. Prior to being approached by Philips to try out their AquaTouch Shaver, Sean was still using the hand-held manual type. And before we were married, he was using just the blade itself to shave his facial hair – yes, holding just that one piece of blade to shave, no handle whatsoever! Old school or what? I have never seen a man use any of these methods to shave cos as far as I remember, my dad has always been using an electronic shaver for his own facial hair.
There are a couple of reasons why Sean never bothered to look at electronic shavers. The first being what a hassle it must be to clean after use and secondly, being an electronic shaver, he didn't think it will go well with bath time cos usually, when you mix electronic goods with water, there is only one sad ending. I know this particular part a little too well.
But, after using Philips AquaTouch Shaver for a few weeks, Sean has been telling me how amazed he is with the shaver!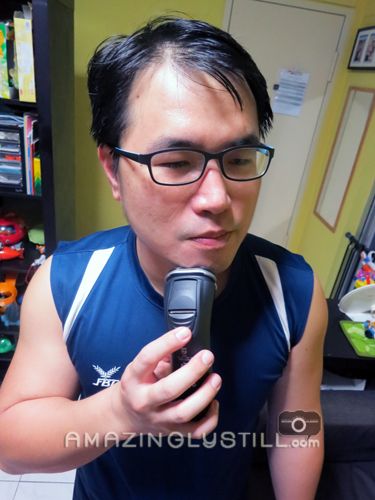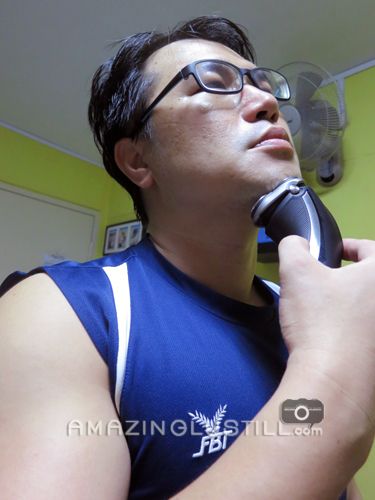 Here are the highlights Sean had experienced with Philips AquaTouch Shaver:
1. It was a pretty silent shaver. Sean had expected it to be loud and noisy like our electronic toothbrushes, but it's not! Every morning when he prepares for work now, he will gladly walk to and fro the house using the AquaTouch shaver, without fearing that the children or I would wake up from it!
2. It isn't as big a hassle to clean it as he had thought. Seeing how he uses the AquaTouch shaver mainly in the morning now, before work, it must have really been a breeze cleaning it. I would sometimes see it all laid out in the kitchen (yes, the kitchen!) or bathroom after he had cleaned it.
3. It goes well with water from the showers. There are days where I will find the AquaTouch shaver in the bathroom. These are the days Sean would take the shaver into the showers with him (usually on days he overslept), and the shaver is still in perfect working condition! Hurray for electronic gadgets that can withstand the power of water! (Sorry, no sexy photos of my husband in the showers with his amazing shaver 😛 )
4. It gives him a really smooth shave, even without shaving cream. Not only does his face feel smooth after shaving, the experience during the shave was an equally smooth ride! According to Sean, there was no tugging feeling of the facial hair, and it was a painless. He also stopped worrying about cutting his face when he's shaving in a hurry!
Needless to say, Sean is now a convert to electronic shavers thanks to Philips AquaTouch! And based on Sean's electronic gadgets track records, I'd say his next electronic shaver will definitely be a Philips AquaTouch. After all, it has been tried and tested!
Oh yes! Before I end this post… Philips Promotion Alert!
The Great Singapore Sale (GSS) is coming right up! Oh GSS, don't all ladies love a good sale? Hehe.
During this season (yes, I consider it a season in Singapore!) of the GSS, the Philips AquaTouch AT940 is on a promotional price of $159 (U.P. $179). Also, by spending a minimum of $200 on selected Philips products (Philips AquaTouch AT940 is one of them!) in a single recipe from 1st June to 31st July 2013, you will get to participate in a sure-win lucky dip for shopping vouchers ranging from $30 to $200! Terms and conditions apply.
And what perfect timing too, cos Father's Day falls within GSS period! Hehe. The Philips AquaTouch AT940 Shaver will make a really handy and practical gift for your husband and father. No men will complain about money spent on a handy and practical gift for them. Especially if it's a gift from you – the wife and daughter! I know, for sure, Sean is mighty pleased with his Philips AquaTouch AT940 Shaver.
Do follow Philips Twitter page at @PhilipsSG and participate in the Twitter games to win up to $100 shopping vouchers!
You can find out more here: Philips Great Singapore Sale Promotion
Disclaimer: Sean was given a set of Philips AquaTouch Shaver AT940 for the purpose of this review.