Sponsored
In my previous post, I mentioned that Sean received a little something-something from Philips. Well, before you think Philips had forgotten about me, don't! Hehe.
Introducing my own little something-something… Philips Salon Dry Pro AC Lite Hairdryer HP4997!
Highlights of this amazing hair dryer:
1. Professional AC Motor
Longer lifespan than usual motors and an extra powerful airflow for fast effective drying
2. Professional 2000W
The powerful airflow results in quicker and easier drying and styling for hair
3. Lightweight Design
Easier to handle with it ergonomic and lightweight design results in improved styling flexibility
4. Six Flexible Speed and Temperature Settings
Choose from any of the six settings for speed and heat to create the perfect style, including cool shots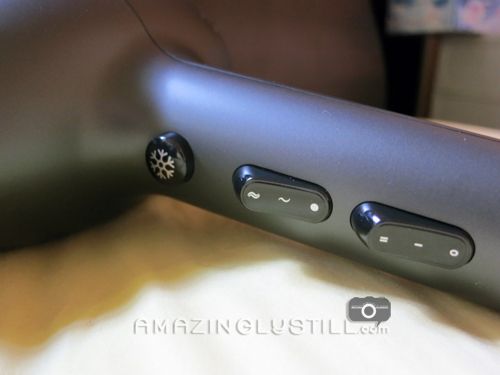 5. Ceremic Element
Issuing infrared heat, its gentle warmth helps dry our hair and preventing it from overdrying, without compromising on the effectiveness
6. Ion Conditioning
Conditions and smooth down the hair cuticles to intensify the hair's shine and glossiness. Less frizz and more beautiful shiny, smooth hair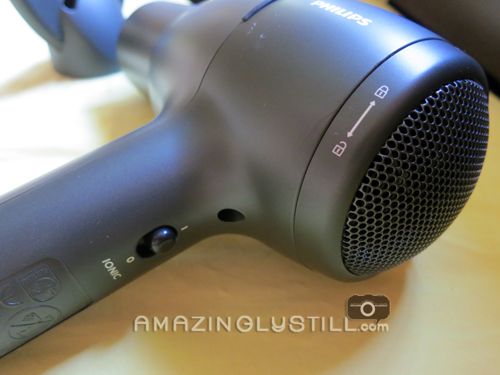 7. Ultra Narrow Concentrator 15mm
Works by directing the flow of air through ultra narrow opening for precise styling – great for touch ups or to finish a style
8. Volume Diffuser
Enhances volume for curls and bouncy styles
9. 2.5m Cord
A longer cord means you can use it almost anywhere you want
I have used many hair dryers before, but this is the first time I am using one that is powerful yet small and light! My previous hair dryer was one of those salon-standard big hair dryers, and I tend to give up drying my hair halfway through because of the sheer weight of it. So much so that eventually, I went back with the old school towel-drying method.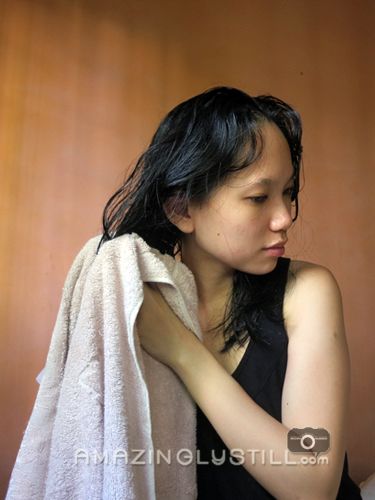 But the Philips Salon Dry Pro AC Lite Hairdryer! Oh my, it's unbelievably light comparatively! And blow drying my thick head of hair was a complete breeze – no straining arm muscles at all! I especially love the cold air and ionic functions.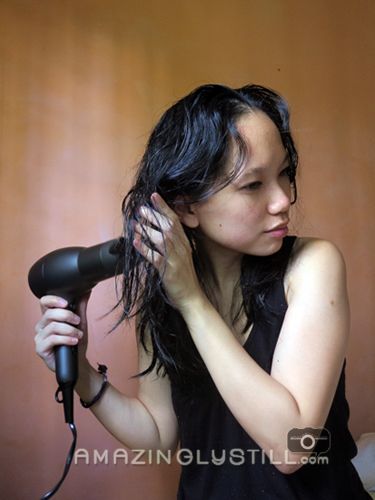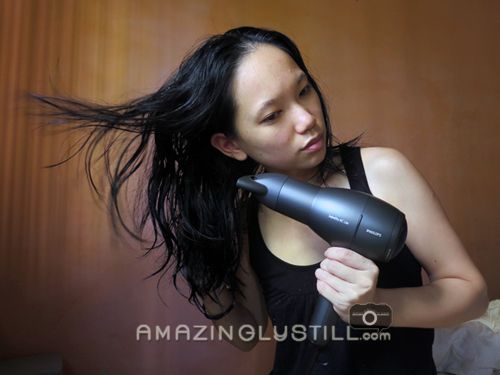 I am no self-hairstyling expert, but just look at how nice my hair looks after a simple blow dry, using only the ultra narrow concentrator! No, I didn't use any leave-on conditioner or comb or hair brush during the process of hair drying or after.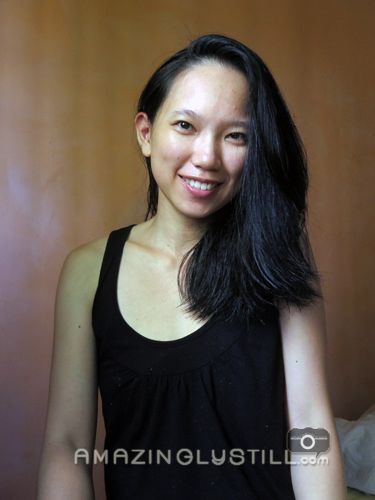 Being a full-time mom working from home, I always appreciate anything that would help make my life at home with the children easier. Now, with Philips Salon Dry Pro AC Lite Hairdryer, I don't have to run around the house with wet hair after a good shower! I can easily have it all blown dry! Yay!
And guess what? You can buy Philips Salon Dry Pro AC Lite Hairdryer along with Philips AquaTouch Shaver during the Great Singapore Sale (GSS)!
The promotional price for Philips Salon Dry Pro AC Lite Hairdryer HP4997 during this GSS season is only $99 (U.P. $135). Might as well pamper yourself since you will be getting a little something-something for your husband and father for Father's Day, right? Hehe.
And not forgetting the sure-win lucky dip you will get to participate in, if you spend a minimum of $200 on selected Philips products in a single receipt. You will stand to win shopping vouchers ranging from $30 to $200! And yes, both Philips Salon Dry Pro AC Lite Hairdryer HP4997 and Philips AquaTouch AT940 are part of the products in this awesome promotion! Only from 1st June to 31st July 2013! Terms and conditions apply.
Do follow Philips Twitter page at @PhilipsSG and participate in the Twitter games to win up to $100 shopping vouchers!
You can find out more here: Philips Great Singapore Sale Promotion
Disclaimer: I was given a set of Philips Salon Dry Pro AC Lite Hair Dryer HP4997 for the purpose of this review.