Sponsored
There will come a time for most parents to begin toilet training for their children. But there are some like me, who are just waiting for the child to be ready so that there's less mess to clean up.
Oh, I know all about wetting beds. I can still remember vividly how I used to wet my bed growing up. As a kid, it's easy. If I want to sleep, I will sleep – even if nature's calling. I never have to clear the mess up anyway. Hehe.
But now, I'm the parent, not the kid. I am the one cleaning up the mess! And any parent, who has had to clean up any kind of mess that got soaked through to the mattresses, will know what a nightmare it is to clean them!
So imagine my delight when Pupsik Studio gave me two sets of their own DreamFit Mattress Protector for this review!

Not only does it feel really soft, but it is also waterproof.
Protects your mattresses from being soiled!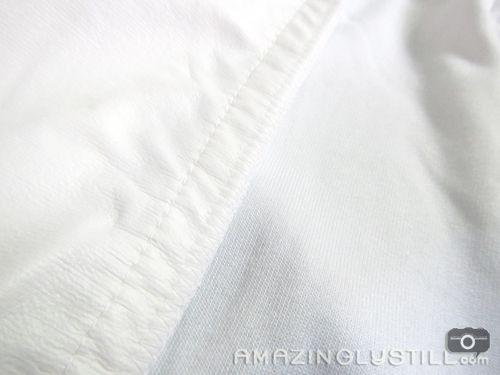 The waterproof layer (left) also acts as an anti-allergy barrier
for protection against dust mites!

Fitted absorbent waterproof mattress protector
I had always thought that waterproof mattresses will be uncomfortable, warm (that is, unbreathable) and noisy. I mean, it's usually made with some kind of plastic, right? But the material used for DreamFit Mattress Protector is so awesome that not one of them knew I had put the mattress protectors in place!
Whilst Sean was lying on the mattress, playing with our children, I asked if he felt that there was something different about the mattress. He said, "No." And this coming from a man whose body gets warmed up and perspires easily!
The children also didn't think anything was different, and Blake slept just as well as before 😀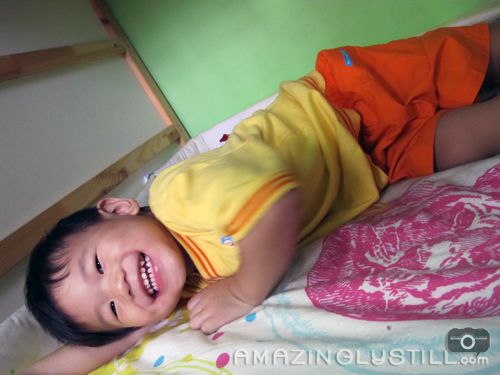 While the boy has let himself go, and vomited in the middle of the night, with the DreamFit Mattress Protector on (thankfully!), the girl has been drooling, and sometimes regurgitating, all over the mattresses. And I'm happy to report that both our mattresses are safe! Free from pee, drool and regurgitation! Phew!
Cleaning up is also easier cos all I have to do is remove and have it machine washed. There is no need to scramble to sun the beds or spray FeBreeze frantically all over the soiled spots! Love it!

They obviously don't feel the existence of the waterproof mattress protector!
And I'm super happy that I have much less to clean now!

* * *
AMAZINGLY STILL READERS PROMO ALERT!
Enter this code "DREAM" to get a special discount when you purchase a DreamFit Mattress Protector in either a Single Bed or Cot Bed size from Pupsik Studio. They also have a Mat version!
This discount is just for you! Valid till end September 2013. Terms and conditions apply.
Disclaimer: We received two sets of Single bed size DreamFit Mattress Protector from Pupsik Studio Singapore for the purpose of this review.