Sponsored
A few weeks back, this arrived in the mail for Nakayla!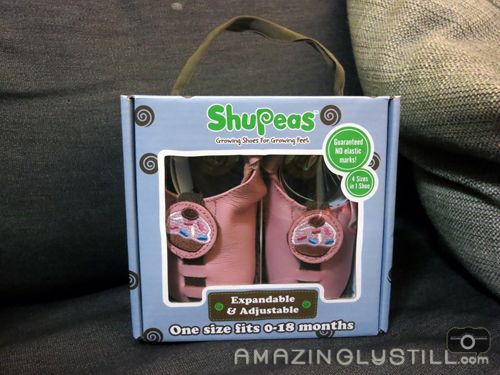 Distributed by Ten Tiny Toes, Shupeas is the first adjustable and expandable baby footwear in the world! The shoes are designed specially to fit most babies from 0 – 18 months old. How amazing is that?
I remember when Blake was born, I had to constantly buy him shoes to wear as he kept outgrowing them. In the end, I gave up trying to keep up and let him go barefooted everywhere till he was ready to walk on his own, before getting him shoes again. That will explain why, photos from his first year, he was mostly barefooted wherever we went. Haha. It's just a complete waste of money to keep buying new shoes for little babies to wear! But with the adjustable straps on Shupeas, I just need a single pair to last the first 18 months, and maybe more! Awesome!
I was pretty curious about how it all works, so the first thing I did after un-boxing (and taking photos) was to 'play' with it.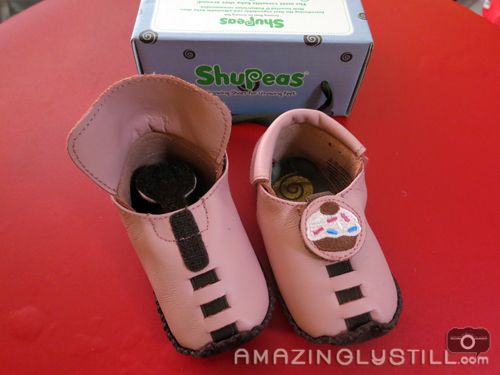 The rear flap and front velcro strap (with the cupcake a.k.a. medallion) are what's hiding the secret to this adjustable and expandable baby footwear!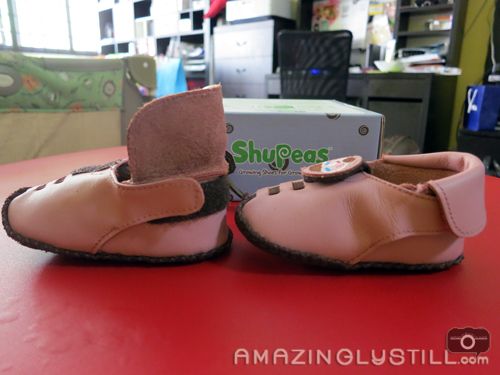 The velcro straps at the back can be adjusted to the size of your child's ankles

The medallion can be pulled forward to adjust the length of the shoes.
I had quite a tough time putting the shoes on for Nakayla initially, cos she was so excited and kept kicking her feet! Haha. But after wearing it for her a couple more times (when she didn't kick), I realize that it is pretty easy to put on. I even did it once without looking at her feet cos she was strapped onto me!

Look at how happy she is with her new footwear!
When I first put on the pair of shoes for Nakayla, I thought maybe I had worn it too loose for her, cos it looked like it was going to fall out in the midst of all the kicking she was doing. But nope! The shoes remained on her feet! I really thought I'd have my first taste of flying shoes after putting it on for her 😛
I still thought maybe I wore it a little loose, so I went to tighten it further. Then I got worried that maybe it was too tight, but there were no protests from her, except when I try to touch her shoes. Haha.
For Nakayla, at about six months old, I had to pull the medallion all the way to the front and the velcro straps at the back to till both ends touched before it would fit her well. There are still space within the shoes after wearing, which is good cos that means her feet has room to grow! 😀

Slip resistant suede soles
I love how the soles felt. In fact, I love how the entire pair of shoes felt! This particular pair of Shupeas Nakayla received is made of 100% genuine soft leather, with mocassin padded insole.
For those who aren't too keen on genuine leather goods, you will be pleased to know that they also have a Vegan series available.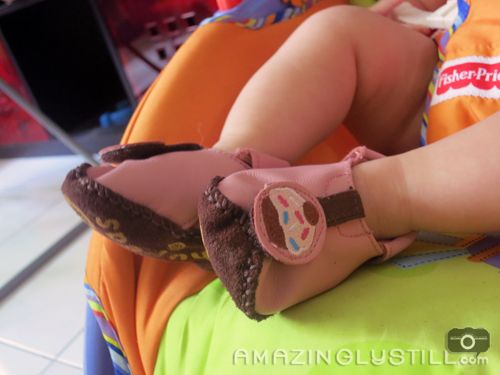 After letting her wear it for quite a while, I decided to remove the shoes so that we can do some rolling around on the bed – much to her dismay. She cried non-stop and I had to put it back on so that she would stop crying! Goodness me.
But I'm happy to report that even though the shoes were pulled to their tiniest possible size, Nakayla's ankles and feet looked as well as when she didn't wear any shoes. No red markings or any signs of discomfort. Yay!

Yup! The girl loves her Shupeas!
Needless to say, I am super happy that Ten Tiny Toes approached me for this review. Hehe. You guys made my little girl (and me) very happy! And now she has a beautiful pair of shoes for all events and occasions!
* * *
SHUPEAS GIVEAWAY!
The very nice people at Ten Tiny Toes are giving away a pair of Shupeas from their Shupeas Too collection.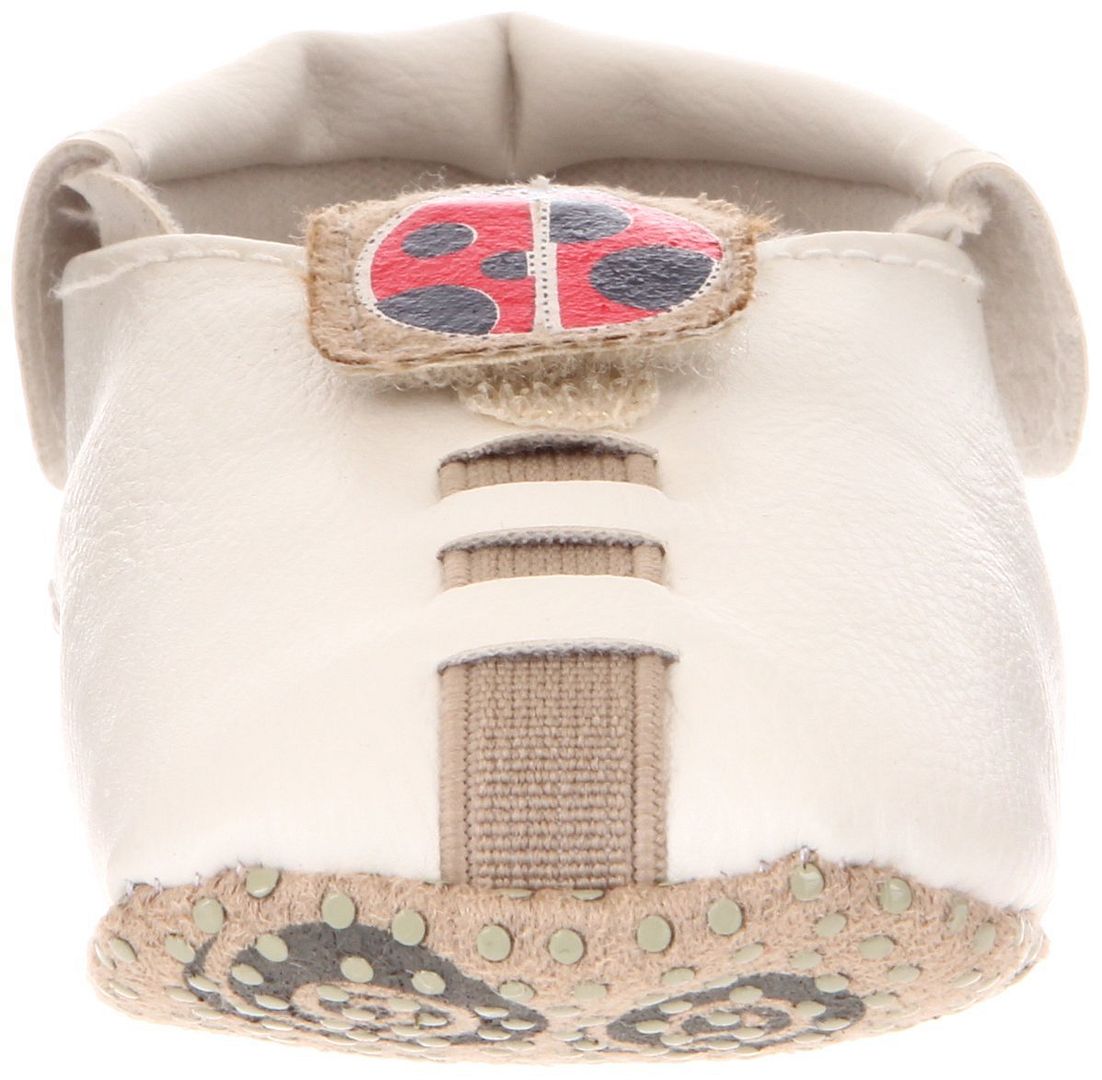 Images provided by Ten Tiny Toes
The lovely LadyBug Shupeas is unisex, and can easily match any outfit your child wears. It is also one of their more popular designs!
To win yourself a pair of LadyBug Shupeas for your little one, simply enter your chances to win below! Good luck!
a Rafflecopter giveaway
Disclaimer: We received a pair of Shupeas for Nakayla for the purpose of this review.