This could probably be filed under Flashback Friday, but I chose to have it as my very first official Timeout Thursday post. Main reason being, Flashback Friday are for past events with our children that we have yet to finish blogging about. It felt weird when I dropped a post or two about myself under Flashback Friday.
At the same time, all I'm about reminiscence in this post are from back in 2005-2008, the period where I felt made me a better person than I had been. Not only do I look forward to going to school, but I also started to work really hard from this point on (I still cut certain classes because of the facilitator though. Haha!).
Today, I'm taking a timeout on my motherhood life, to show you a part of my life as a student in Republic Polytechnic, School of Technology for the Arts (STA) – Diploma in New Media.
I was part of the pioneer batch of STA. And I remember that on the first day of orientation, we were all packed into a room to meet our would-be facilitators. There were only about 120 of us that made up the very first batch.
The head of STA, Ms Gan Su-Lin, asked us a question which had most of us turning red. I cannot remember word for word, but she asked, "How many of you are here because you cannot get into the course of your choice? Raise your hands."
Hardly anybody moved, then she said (again, may not be word for word), "Let's be honest, shall we?" This time, almost all of us raised our hands up, and we started laughing – our would-be facilitators included.
Being a new course at that time, there weren't any cut-off points for admission – I got in with an L1R4 of about 20 points. And this course was my 6th choice out of 12. I can only thank my lucky stars that I had been retained at the Secondary 3 level. Cos if I hadn't, who knows what course I'll end up with instead?
The following year saw some students from other disciplines crossing over to join us in STA. We were seen as the fun diploma, where almost everyone knew everyone. Our facilitators became our friends, and a few of them even attended my wedding dinner in 2006.
During the years at RP STA, a lot of our time were spent going in and out the STA lab loaning and returning equipment,
Coming up with theme days with our very spontaneous facilitators,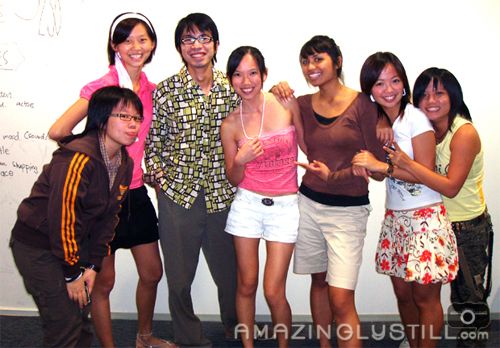 Retro day!
Won my first (and only) bowling pin trophy,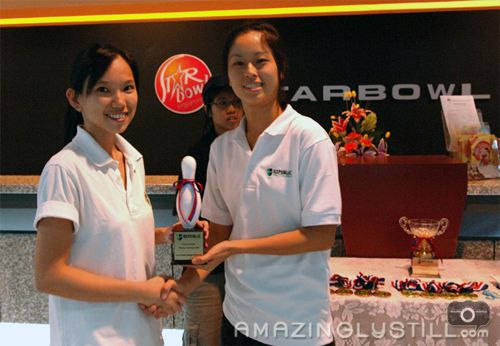 Going on school excursions to Mediacorp,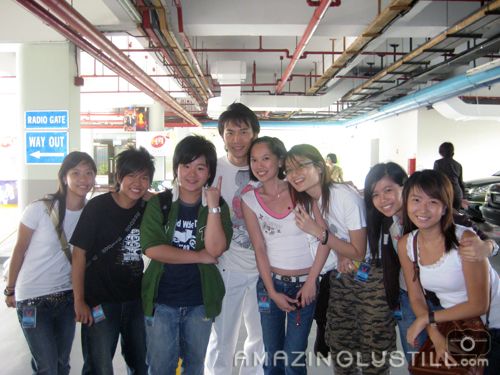 where we're not supposed to take photos. Hahaha!
We also saw Joanne Peh, asked her for a photo, but she was carrying stacks of shoeboxes, so it was kind of unglam for her. Haha. Within the studios, we saw and spoke to one of my favouritest actors in Singapore, Tay Ping Hui, but because we were in the studio, we can't even try to sneak a photo at all. They were filming 黄金路 (The Golden Path) at that time.
I also met my other favourite local celebrity Fiona Xie, when they came to film Campus Superstar,
Did as arty-farty a shot as we possibly could with balloons,

Did the water effect by bursting many, many water-filled balloons
Fell in love with stop-motion, attempted to work with the Traffic Police, and got an 'A' for the first of two final year projects,

Jaywalking with Earphones on

Reckless Cycling Behavior

Playing at the Bus Stop
A similar accident really did happen to a schoolmate of mine in Primary school
Wrote, composed and sang my first and only song with my friend and two-time FYP team mate, Audrey,

We're amatuer singers with no training at all, ok? 😛
And yes, deliberately used 'I' instead of 'Me' cos it sounded nicer then. This is a bathroom written and composed song, by the way. I'm not that talented to have played the guitars as well. I had the help of my brother-in-law, Nelson. He played the first guitar track based on the melody I provided. The final guitar parts were played by a friend, and one of our facilitator.
Everything was so awesome during the time spent there, I told everyone who asked about RP/STA how wonderful it was that the school used Problem Based Learning (PBL – one problem to solve a day), that we had to work in groups of at least 3 to 5, and were graded on a daily basis (rather than just that one major exam!).
We didn't have textbooks, only laptops ('Google' was our best friend), or exams (we do have little tests), because we learn by doing our own research and got our experience from our own experienced facilitators. They do treat us like children once in a while, but they seldom hold back when it comes to work. Personally, I find that it helps ready us to join the real workforce.
But sadly, the pioneer diploma for STA, New Media, will no longer exist come next year. It has been re-named 'Media Production and Design'. But all these good times spent at RP/STA will forever be etched in my mind 🙂
* * *

There is only one rule for Timeout Thursday, and that is,
STRCITLY NO KIDS ALLOWED!
Nope, not even the mere mention of their names or having them in the photos.
This linky is all about indulging us, the parents!

Grab the code below, link up back here with your post URL, and it's all good to go!
Linky party will be open for 3 weeks from the first Thursday of every month.
For more details, please read my first Timeout Thursday post