We brought Nakayla for her first swim a couple of months back, a little after she turned 6 months old. Blake too had his first swim at about 6 months old.
Our version of swimming at this age is teaching them how to hold their breath under water – no floats of any kind is used. It is highly important for us to do this as we firmly believe that only by doing so, between the ages of 6 to 8 months old, will the children learn how to hold their breath under water instinctively. Key word: Instinctively.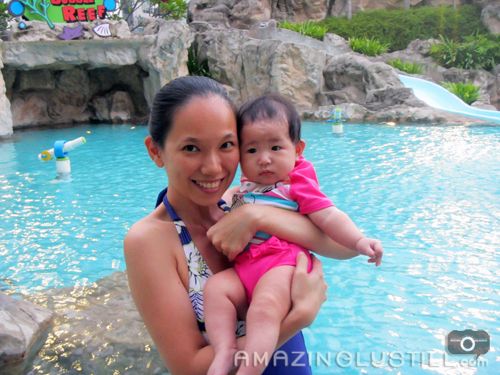 When Blake went for his first dip in the pool, I was filming the whole thing, so I didn't get to do it for him. But mostly, it was because I didn't dare. Haha.
With Nakayla, I plucked up the courage and did it. And also cos my younger sister followed to help me film everything, and Sean was busy chasing Blake all over the swimming club. Haha! In any case, I DID IT. But I didn't think I did it right, so I got Sean to do it for Nakayla later when he managed to get Blake into the pool.
Take a look at the difference in the video below. Haha.
Nakayla's a real trooper. I think it helped that from the day I took over bath duties, after confinement, I sprinkled her face with water from time to time during bath time when I'm washing her hair (Blake had so little hair, a dripping wet towel was sufficient!). And because she calmed down much easily, and didn't struggle as much, I thought it would be fun to let her play in the water for a while more.
And the result as such…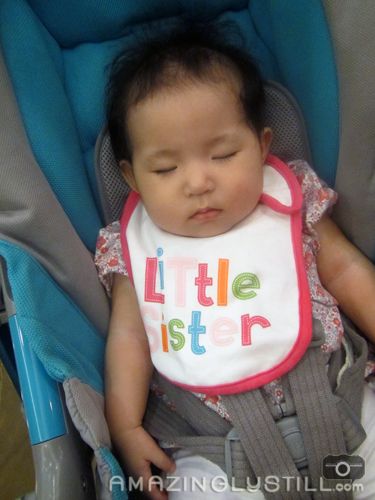 She slept almost immediately after her bath, and milk.

About halfway through dinner time, she woke up all smiley!
We went a couple more times to dip her in the pool since, and she didn't develop any phobia to swimming pools! She's eager to play with Blake, and would sometimes get a little frustrated when I don't bring her into the pool (wide variety of reasons) to play with him. Hehe.
Two children, two very different first swim experiences and after-effects. Hehe. Oh, kids!
* * *
Have an old post that has yet to be published, and still in the draft folder?
Don't know how a super backdated event you wish to write about can fit into your current up-to-date life?
Fret not! Simply join the Flashback Friday linky and share your Flashback posts with us by grabbing the code below and adding your blog post's URL at the bottom!