Advertorial
Honestly speaking, I don't think words will be able to describe how delicious Greenfields Fresh Milk is when it's written all over Blake's face.

He opened the fridge and went, "Milk! Mommy, milk!"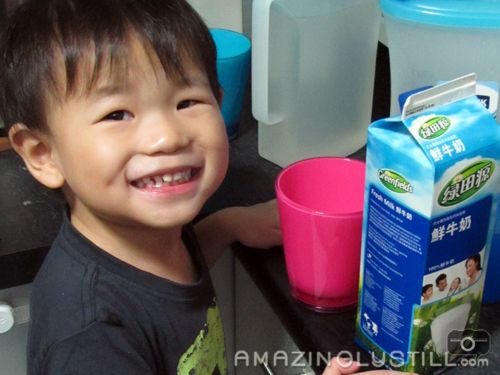 Yup, he's super happy to have fresh milk to drink!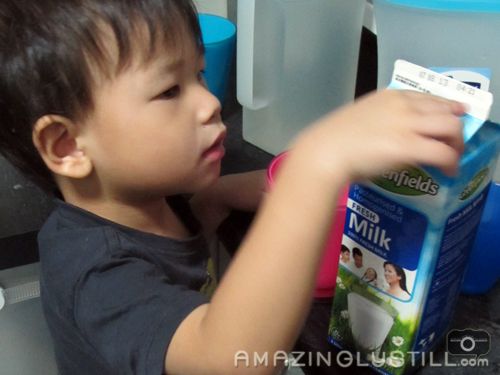 Attempting to open it on his own cos I was busy taking photos of him. Haha!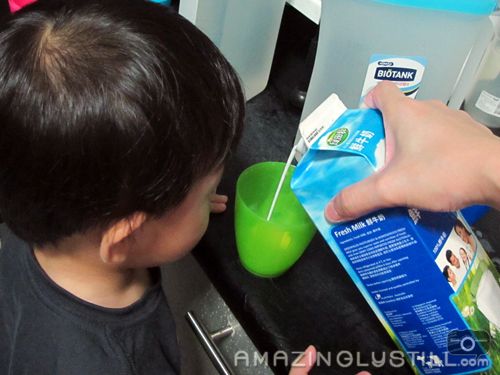 Finally! This was his second helping, by the way. Haha!

Doesn't his face have the word 'Delicious' written all over it?

Actions speak louder than words. Just like his dad. Hehe.
A child never lies, and I never asked him to pose for any of these shots. It was an impromptu moment, which explains why the first photo is super blur. Haha. And I totally didn't expect him to lean in to kiss the carton of Greenfields Fresh Milk.
As honest as my son is with his love for Greenfields Fresh Milk, the company is equally dedicated in providing honest milk to families like yours and mine.
Greenfields milk comes from scientifically-sourced and managed herd which does not include additives, chemicals, antibiotics and hormones. It is produced, pasteurized and packed in their own dairy farm, and only single-pasteurized to ensure optimal freshness.
In other words, it's pure honest to natural goodness milk.
While I'm not a fan of drinking milk, I do use them quite often in baking and making desserts. And I'm using them more than ever now since I got my baking mojo back!
The most recent bake I did with Greenfields Fresh Milk is Mozzarella Cheese Biscuits. No, it's not the flat type of dry biscuit. It's the bun type served at Popeyes and Texas Chicken.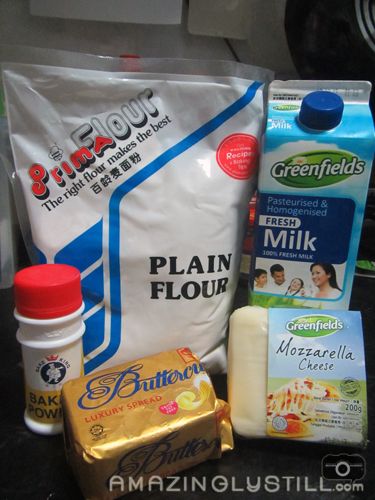 Ingredients used to make Mozzarella Cheese Biscuits. Caster Sugar optional.

Before going into the oven

Piping hot from the oven, with cheese oozing out everywhere!
Mozzarella Cheese Biscuits
2013-08-03 14:42:39
Ingredients
• 2 cups all purpose flour, sifted
• 3 tsp baking powder, sifted
• 1/2 tsp salt, sifted
• 1/2 cup caster sugar, sifted (optional)
• 60g butter, small pieces at room temperature
• 3/4 cup fresh milk
• 100g Mozzarella cheese, cubed or shredded
Instructions
1. Preheat the oven to 220°C
2. Sift the flour, salt, sugar and baking powder into a large bowl
3. Place butter inside the bowl with the flour
4. Using your hands, combine butter and flour mixture until it becomes coarse crumbs
5. Mix in the milk a little at a time until all the milk has been used
6. Add in mozzarella cheese, mix well
7. Divide the dough into 12 balls and place on baking pan
8. Bake for 15 minutes or until baked through
9. Served while still warm
Notes
★ Fresh milk is the main ingredient for this recipe, so choose only the best
★ This is also an egg-free recipe, perfect for those allergic to eggs
★ Sweetness level can be adjusted from completely removing sugar from recipe to adding up to 1/2 cup
★ Store in air tight container and refrigerate for up to a week
★ To heat up, wrap in aluminium foil and pop into the toaster for 5-10 minutes
Adapted from Honest Cooking
Amazingly Still http://amazinglystill.com/
* * *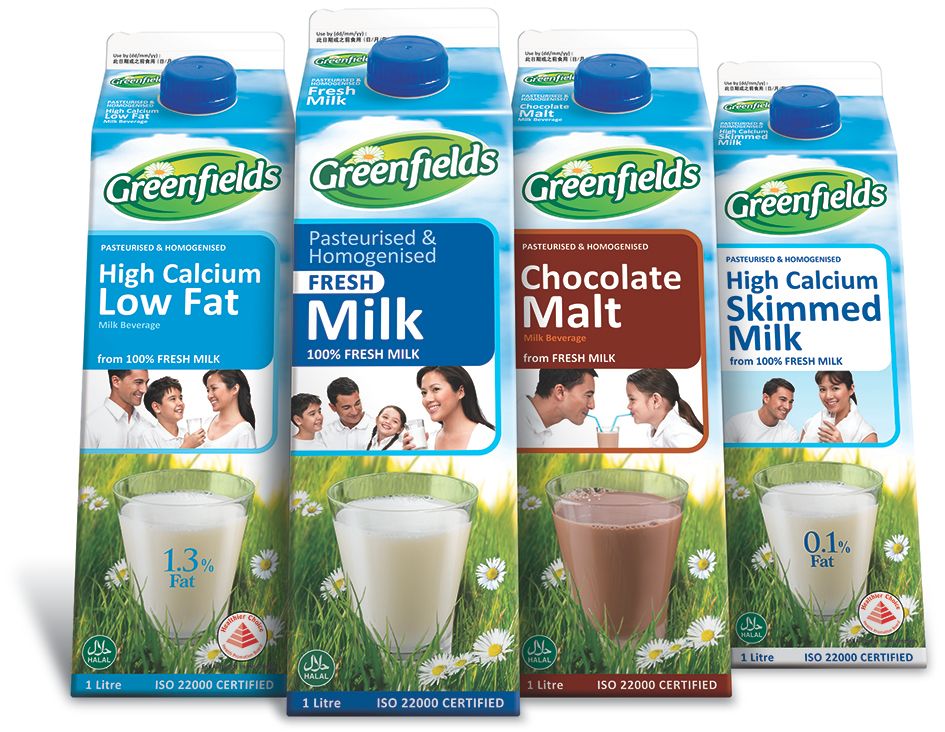 Greenfields milk can be found at leading supermarkets & Hypermarkets in Singapore at $5.95 for 2 Litres bottle (all except FairPrice), $3.25 for a 1 litre pack, and $1.50 for a pack of 200mL Greenfields Milk.
Promotion Alert! Buy any 2 x 2-litre Bottles or 3 x 1-litre Packs to get your free limited edition cup. Promotion is valid from 12 August, while stocks last and available at major supermarkets and hypermarkets nationwide. Limited to Four Cups in a single receipt.

I went to get my own limited edition Greenfields cup! Go get yours too!
Disclaimer: This post was sponsored by Greenfields. We also received a mix of the different types of milk they have and a packet of mozzarella cheese. Photos of Blake enjoying his cup of Greenfields milk are as-is. He really does love it a lot 🙂 He also loves the chocolate malt milk a lot, and seriously, the chocolate malt milk is awesome. I tried it and loved it! My first cup of milk (and many more to come) since I was pregnant with Blake!