Advertorial
It's undeniable. I've said it once, and I'll say it again – I ABSOLUTELY LOVE shopping online. All the more when it involves heavy items like washing detergent and many other household items!
Shopping online is really convenient and saves a lot of hassle, but it can get a little frustrating should the website be complicated and tough to navigate. I have seen a great variety of online shops – some I like, some I don't – and the moment I don't like how the website looks, I immediately navigate away. It's the same when I go to the malls to shop – if the shop front is anything but appealing and welcoming to me, I won't even take a second look. Not even if there are big posters of 'SALE' plastered all over the shop.
So, when I was invited to review RedMart, the first thing I did was to visit their website.
And I was greeted with this: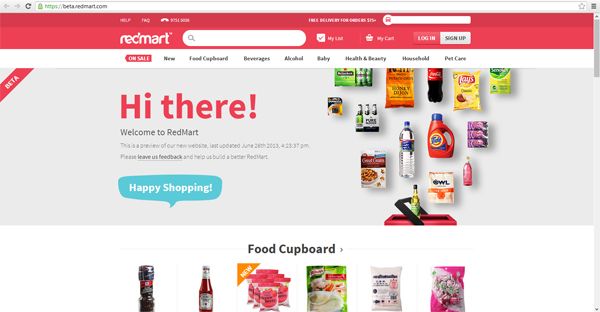 I love it! Nice and clean look, with a really inviting 'Hi there!' I have yet to view their products, and I'm already impressed. First impressions definitely count!

They even offer cheat tips to some household chores!
Tip in screen grab, under 'Hey, did you know…': To easily remove burnt food from your skillet, simply add a drop or two of dish soap and enough water to cover bottom of pan, and bring to boil on stove top.
I then proceeded to view every single product they have in every category.
Naturally, the first section I went to was the baby section. Haha. Under the 'Baby' category, a preview of various related items that are further separated under the different sub-categories will show. This is a feature I seldom see on online shops, but absolutely love. It makes it so much easier for me to go straight to get what I want!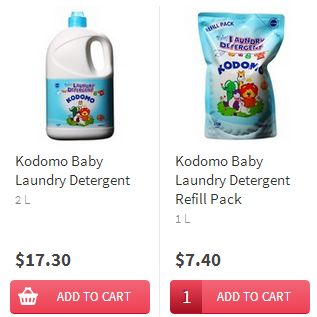 Left: Basket indicates 'add to cart'
Right: 1 (the quantity) of the above item has been added to cart
For all the familiar items I want to get, I just added them to cart without bothering to look at the details. And for the occasional scatterbrain in me, I am thankful that RedMart chose to show when we have added an item (and its quantity) to the cart. No need to navigate to another page, or look anywhere else, to double check what's in the cart. Everything is there, at a glance.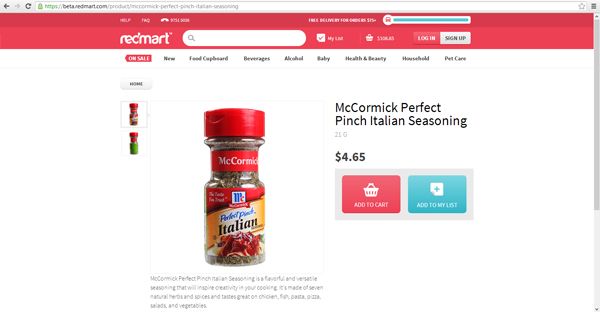 As for items where I seldom or have never bought before, I will click on the item and view it in full details. Much to my very pleasant surprise, I can really see everything printed on the item with their hover-to-zoom-in feature! This is a very important feature to me as well, especially when I want to purchase food-related products. I have come across too many online shops which said things like 'click to zoom' and all I got was an image that is no bigger than what's already shown. I'm super glad that RedMart understands the meaning of 'zoom'!
And here's one cute feature that many online shops, which offer free delivery if you hit a minimum amount spent, fail to have…


A countdown bar, and indication as to how much more to go to free delivery!
I don't know about the rest of you, but I found this feature to be quite the fresh air, which is why I wanted to make it into a gif. Haha.
After a few hours of browsing, most of the time I was away from my computer cos I had to attend to my children, I finally checked my cart out.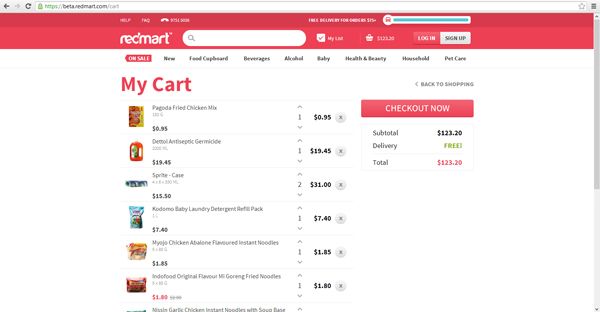 Choosing of preferred day and time for delivery after keying in delivery details
Not only does RedMart offer a smaller time window for delivery (only 2 hours!), but they have also listed out all the different days and timings they have to offer for delivery!
And this last step made me really happy. It has the option to pay via PayPal – with no extra charges! Some shops make consumers pay the merchant fees imposed on by PayPal. So happy that I can do grocery shopping, and charge it all to my husband's credit card now! Hehe.
The overall experience I had with RedMart has been nothing short of amazing. The website is easy to navigate, with additional useful features I've never seen on other local online stores before, and delivery was prompt and within schedule.
The driver even called prior to delivery – very rare nowadays! I was preparing for Nakayla's bath when I received the call, and decided to wait for the deliveries to arrive before bathing for her. And I didn't have to wait very long either! Truly am amazed and happy with such good service. It really is very rare nowadays. Keep up the good work, RedMart!
AMAZINGLY STILL READERS PROMOTION!
Simply enter rm_amstill in the discount code box before you check out completely to receive 10% off your very first purchase with RedMart!
Disclaimer: All images here are screen grabs from RedMart. This post is the second of two posts brought to you by Forever RedMart Pte. Ltd.