Sponsored
One of the few things I really enjoy about being a mother, besides the real mothering aspect of it and organizing their birthday parties, is having all sorts of labels printed for the children! Yes, everyone loves stickers – including me, the mother. Haha.
When Blake's earlier batch of labels was running low, I started looking around for a new company to print labels with. I wanted to explore my options, as the previous set of labels were not exactly worth the amount I paid for. I had gone through a few websites, all undecided if I should make a purchase, when Stickerkid approached me.
And thus far, I've been more than pleased with their customer service. Here's why: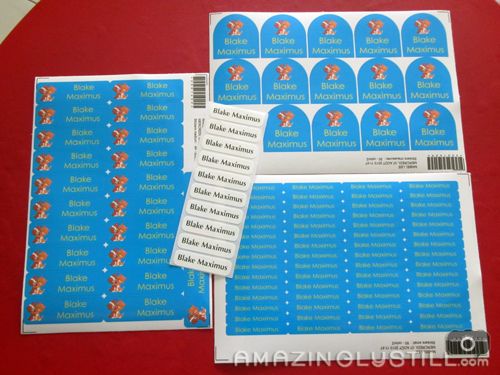 Stickerkid labels arrived from Swizterland. I love how vibrant the colours are!
I specifically chose the same icon for Blake and Nakayla, cos I like how the dog and cat are hugging one another with such love, and I really do think Blake and Nakayla are like a dog and cat – so similar, yet so different! And I took the obvious route of blue for the boy and pink for the girl. Haha.
There were only two things that was rather disappointing to me. The first was printing the wrong colours for the small labels bearing Nakayla's name. I had requested for green font colour, but I received mine in white font colour. This wasn't that big a deal, cos print-wise, the quality was there.
Then I took a closer look of the iron-on labels.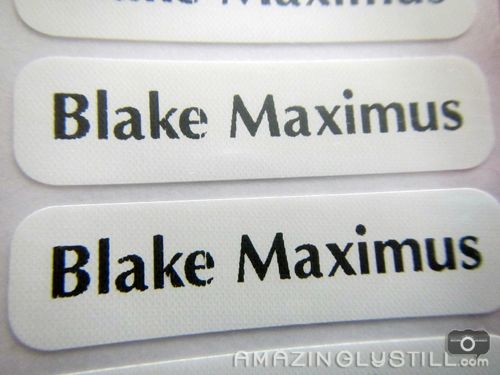 The iron-on labels were not that well printed, seeing how there are lines running through the middle of the names. I emailed Stickerkid to inform them of the misprint of colours and the poor printing on the iron-on labels, and this was their prompt response:
We are happy to reprint the stickers with the green font and ship them over with priority (4-5 business days). My apologies again!

As for the iron on labels, unfortunately with the technology of thermic printing, small imperfections as this are normal. This is clearly not as pretty as the normal stickers which are printed with ink, but ensure the strong robustness and long-lastingness when it comes to i.e. 60 degree heat in a washing machine.
After receiving this reply, I was rather pleased. They took the initiative to explain to me the kind of printing that they use, and explained how the imperfections had happened. I cannot stress on how much I appreciate it when people (especially those in sales) take time to explain their products/services to me, and not just regurgitate everything they memorized from the product manual or, the worst kind, think I'm wasting their time for asking such questions in the first place.
Besides the good customer service experienced, what made me even happier was when I received this a few days later: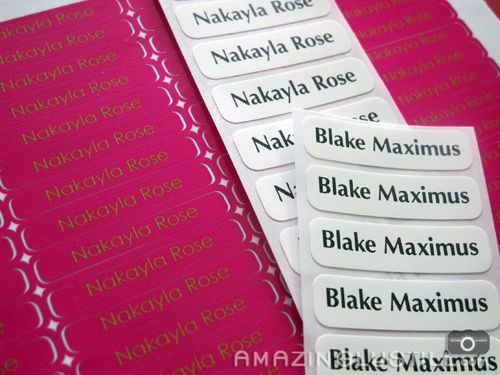 Not only did they reprint and send me the small labels bearing Nakayla's name, they also sent me a stack of iron-on labels, all printed nicely! I honestly didn't think they would send me more copies of the iron-on labels, seeing how they explained that it was pretty normal to have such prints due to the use of thermic printing. Needless to say, I'm thoroughly surprised!
Besides great customer service support, I have also been very pleased by the quality of the labels.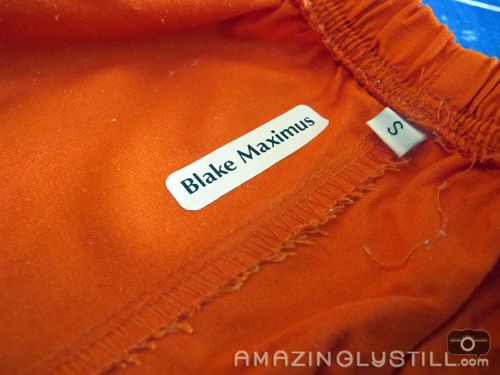 Only used Blake's as Nakayla have yet to get her school uniforms – next June!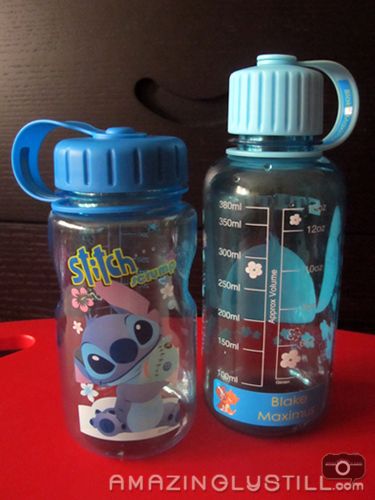 Labels for Blake's new bottles.
His sudden love for Stitch had me running to all nearby cartoon stores to search for Stitch products.
Amount paid and effort to find these two bottles totally worth it upon seeing his face 🙂

Close up

Yes, I labelled his duck lantern as well. Not gonna risk the chance of someone stealing my boy's precious ducks!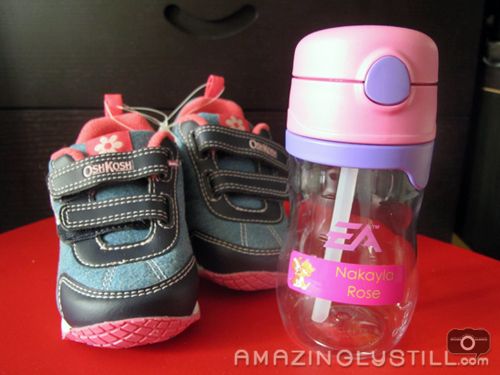 Only using these labels for Nakayla so far as she has yet to attend school.
And yes, I'm already prepping her for Playgroup classes next year! Hehe.
So far, I've been very pleased with the sticker labels. It feels so soft (as soft as such plastics can get, that is), and can easily bend according to the surface of the bottles and shoes. The iron-on labels feels tough, which is great, but I will love it more if they were to move away from thermic printing and use ink to print instead. What can I say? I love my colours. Haha.
My overall experience with Stickerkid has been good – great customer service and support, and quality products with such cute icons!
If you like what you see, and would like to buy these labels for your children, visit www.stickerkid.sg to place your orders. Don't forget to key in 'Amazinglystill2013' upon check out to receive a 10% discount off all products! Discount code is valid till November 30, 2013 and anyone in the world can use this discount code!
Besides giving all my readers the above 10% discount code, the awesome people at Stickerkid is also giving away a set of 'My First Pack' to my readers. Lo and behold – it's open to everyone all over the world! That's right, we are holding our first worldwide giveaway! Hurray!
To participate in this worldwide giveaway, simply follow the instructions on the widget below! Good luck!
– Giveaway is open till midnight of 4 October 2013 (SGT, Singapore time)
– Winner will be announced at 4pm on 4 October (SGT, Singapore) via my Facebook page
– Email will be sent shortly to the winner, so please remember to leave your email address behind
– Should the lucky draw winner not have an email address, another winner will be picked immediately
– All entries will be vetted, and we reserve the right to disqualify any incomplete entries
Disclaimer: We received a sample pack of labels from Stickerkid for the purpose of this review.