Beef lasagna is easily one of my favourite dishes in the world. I crave for it every now and then, but I just don't get my butt down to any restaurants to satisfy it.
A couple of weeks back, during one such craving, I decided to attempt making it on my own. I have been cooking quite a bit (at least once a week!), so why not, right? Only problem is, all the recipes online were a little overwhelming for my liking. So what I did was to get the gist of how to make a beef lasagne, with help from my friends – Nicole and her boyfriend – and Google, and put together my own little recipe.
It's easy to put together, and the part I love most about it? I can play with my children while dinner is baking in the oven! 😀
The verdict for this Easy Beef Lasagna Recipe I came up with? Amazingly delicious!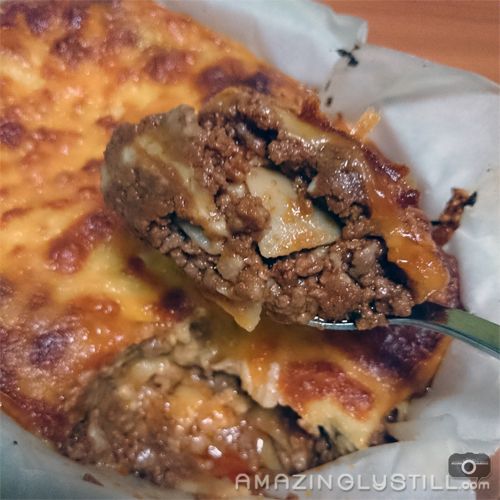 Easy Beef Lasagna Recipe
2013-10-18 18:40:03
Serves 2
Ingredients
4-5 pieces of Instant Lasagna Pasta
2 tablespoon Butter
300g Minced Beef
1-1½ cup Marinara Sauce (about half bottle)
Mozzarella and Cheddar Cheese (as much as you like!)
Marinate
2 tablespoon Marinara Sauce
A dash of salt and pepper
Instructions
1. Marinate minced beef for at least 45 minutes
2. Melt butter in a heavy saucepan and add beef in
3. When beef is about half cooked, pour marinara sauce in and cook till brown, stirring occasionally. Remove from heat.
4. Preheat oven to 180°C
5. Assemble the layers in a casserole dish: One piece of lasagna pasta, followed by minced beef, then mozzarella and cheddar cheese. Repeat until minced beef is all used up.
5. Cover the top with mozzarella and cheddar cheese.
6. Bake in the oven for 40-45 minutes, or until cheese has turned a golden brown.
7. Allow to cook for at least 5 minutes before serving.
Notes
✪ You can add other ingredients, such as carrots, onions and garlic, into the dish. Just chop them into tiny cubes (almost minced like), and put them in together with the beef when cooking.
✪ If you don't like beef, you can replace it with other types of minced meat.
✪ The instant lasagna pasta I used does not requires me cooking it first. It cooks while being baked in the oven. Please follow box instructions of the lasagna pasta you purchased.
Amazingly Still http://amazinglystill.com/