Media Invite
September 22, 2013 – That was the day a couple of us mommies were given the afternoon off from our daily mommy-duties, and had a great time catching up! And the reason behind this afternoon off? We were invited to a food tasting session over at Outpost 903 Gastrobar! And the selection of yums we tasted were right off their new brunch menu.
But first, a look around the gastrobar! Hehe.

I'd like you to know that I did a little homework before heading down, and found out that the outstanding water tank up there on the roof was personally brought back by Youyi (Co-owner) from Vietnam!

I also found out that the gastrobar is in the oldest building left in Singapore!

The interior decor of the gastrobar is filled with a whimsical mixture of up-cycled furniture by a Vietnamese designer

Rustic, yet warm and cozy vibe all around
Just setting foot into the gastrobar had me already won over! It's almost as if the food served wouldn't matter anymore, but I kid. Food is really important. After all, when you dine at a place that has been tastefully done up, there had better be a flavourful burst of a party in your mouth to go along with it!
And so, without further ado, I present to you… Food! Glorious food!

Benedict Duo ($14)
Poached eggs served two style (bacon and ham) on mini ciabatta bread served with salad
Personally, this isn't one of my must-have sandwiches, from the food we tasted that day. Maybe because I'm used to having my ciabatta bread being toasted crispy on the outside, but still soft on the inside, or maybe it was because we took quite some time taking photos of the food, but the bread was a little too hard for my liking when I finally had a taste of it. The poached egg and bacon (I had that half, of cos!) and the sauce that topped it all was done to perfection though.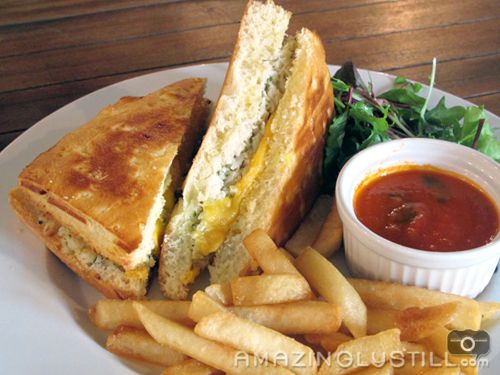 Crabmeat Sandwich ($20)
Juicy crabmeat sandwiched between two slice of toasted brioche loaded with cheddar cheese,
served with tomato soup dip, fries and salad
This sandwich had my taste buds going Mmmm! I had the sandwich on its own, without the tomato soup dip. Everyone else was raving about how yummy the dip was, but I kind of preferred the crabmeat sandwich as it was. It was fresh and light to taste. The crabmeat and cheddar cheese goes really well together, complimenting each other instead of overpowering one another.

Mac and Cheese Bacon Sandwich ($16)
Slice of mac and cheese topped with streaky bacon and spicy marinated tomato slices,
sandwiched between toasted brioche, served with fries and salad
This particular sandwich is a little heavy (bread + macaroni!), and I would've loved it even more if there were more bacon. Beware of the tomato slices if you're not a big fan of hot spice or black pepper like me though. I was warned in time and managed to remove it before a fire broke out in my mouth. Phew! Taste wise, after the tomato slices were removed, were thankfully nothing too explosive. Safe choice for the children, I'm sure! Hehe.

903 Burger ($16)
Homemade beef patty, lettuce, tomato, sweet onion, and gherkins
sandwiched between toasted sesame buns served with fries
This signature burger of Outpost 903 Gastrobar is so huge that three shots of the burger was needed to show you the fullness of this dynamic burger! The beef patty is thick, but it was cooked all the way through without charring the surface. The tenderness of the beef patty is oh-so-delicious! I would recommend that the sunny side up is consumed first, unless you like a mess to go with your dining experience. Hehe.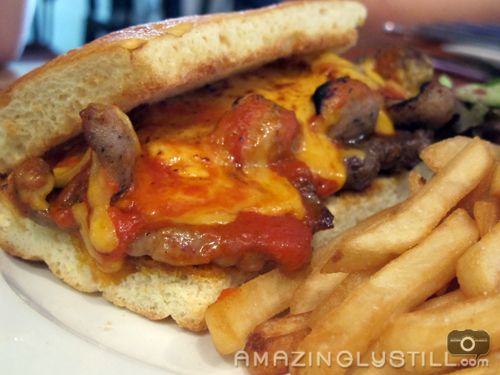 Cheesy Steak Sandwich ($20)
Thin sliced ribeye and pork bratswurst combination with homemade tomato sauce topped with mozzarella cheese and sharp cheddar cheese on whole ciabatta bread, served with fries and salad
This sandwich is originally served with ciabatta bread, but we had ours with toasted brioche. And boy was I glad! (seeing how disappointed I was with the mini ciabtta earlier.) This dish is HANDS DOWN my favourite of the lot. From the toasty soft bread to the cheese to the tomato sauce, and not forgetting the succulent combination of ribeye-pork-bratswurst steak… Everything in this sandwich spells D-e-l-i-c-i-o-u-s. That's right! That's Delicious with a capital 'D'! I would definitely recommend this dish to anyone who will ask for my taste bud's opinion!
All of the above sandwiches are from their new brunch menu, and the portion is pretty big. So if you're a small eater like I am, do share!

Available only on Sunday 10AM – 5PM
Note: You can opt to change your fries to salad and vice versa,
or top-up a few dollars to have truffle fries for your side!
If you think that's all we had, you couldn't have been more wrong. I've always believed that I have two stomachs – one for regular meals, and one just for desserts! There is always room for dessert with me, regardless of how much food I had stuffed myself with. Hehe!
And for desserts, we had…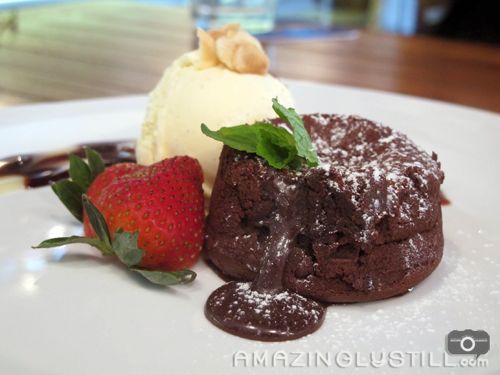 Chocolate Lava ($14)
Feather-light crust with molten chocolate center served with vanilla ice cream
This combination of warm chocolate lava cake with vanilla ice cream is the ultimate combination. It goes so well together that my taste buds fluttered to cloud 9 upon the first taste of it. It was so divine that I was left craving for it for days after! This dessert is the perfect exemplary on the importance of buying top-notch quality ingredients to make yummy-anything!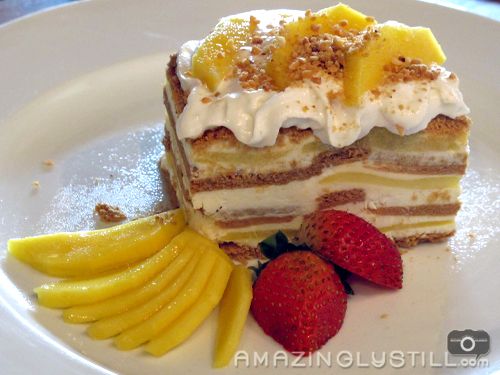 Mango Float ($12)
Layered graham biscuit with mango cream, topped with fresh mango slices
The Mango Float is a refreshing dessert to have after a heavy meal, and the freshness of the mango is undeniable. The mango within the layers carry a slight tangy taste that will perk you straight up. Seeing the layers of graham biscuit and mango cream, one would be able to tell that it is quite a tedious process to put together (all that layering!). But to the brains and chef behind this dessert, please be assured that it's well worth it. I'm one happy diner because of all the effort you put towards this yummy dessert!
After stuffing ourselves silly with all those good food, we had to burn off some calories, right? Sitting down and talking isn't quite enough, but I reckon taking photos should make the cut!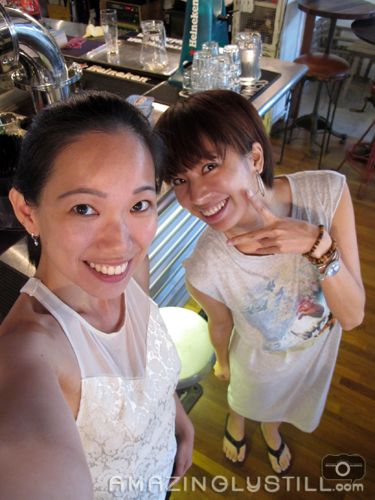 With Youyi, co-owner of Outpost 903 Gastrobar and Mediacorp artist

Together with mommy bloggers, Youyi and Agnes
Top row (L to R): Cherie, Winnie, and myself
Bottom row (L to R): Lynn, Estella, Youyi, Agnes, and Irene + James
With that, comes the conclusion of the awesome meal (and afternoon off) we had at Outpost 903 Gastrobar. And true to Outpost 903 Gastrobar's word, no one went home hungry that day!
Good company ☑
Recharged Energy ☑
Awesome food ☑☑

Outpost 903 Gastrobar
903 Bukit Timah Road
Singapore 589620

Opening Hours:
Mon, Wed – Thu: 17:00 – 00:00
Fri: 17:00 – 02:00
Sat: 15:00 – 02:00
Sun: 10:00 – 00:00
Closed on Tuesdays

Contact: 6468 4903 / info@outpost903.com
(You can book the place for parties and other events too!)

FYIs:
If you take the bus, it's right next to bus stop number 42031 – The Tessarina!

If you're driving, either park at Cherry Avenue or further up Old Holland Road,
where there are no double yellow lines, or single white lines!
Disclaimer: I received an invitation to a food tasting session at Outpost 903 Gastrobar.