Sponsored
Nakayla's one lucky girl. Since her birth, she's been blessed with so many awesome things to call her own! I say that because as a second-born, tendency to end up using hand-me-downs more than having brand new items to call their own is very high.
And recently, this box of goodies from Little Crates came specially courier to her!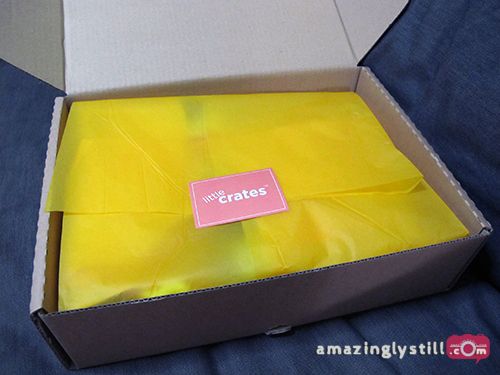 Oooh! The suspense!
In case you're wondering, 'Why the suspense?', this is because each Little Crate is put together according to your child's age, counting from the very day they were born, with gender in mind too.
Each child will receive something different from another, containing items that have been carefully selected by the owners of Little Crates. The owners of Little Crates are run entirely by moms and dads, with decades of experience in the baby industry. With this combination, you can be sure that the boys and girls will get what they really need, and in colours that suits them best!
Each crate contains 4-5 different products, representing some of the best and trusted brands in the baby industry – including toys, books, snacks and household products. How awesome is that?
And now, onto the revelation…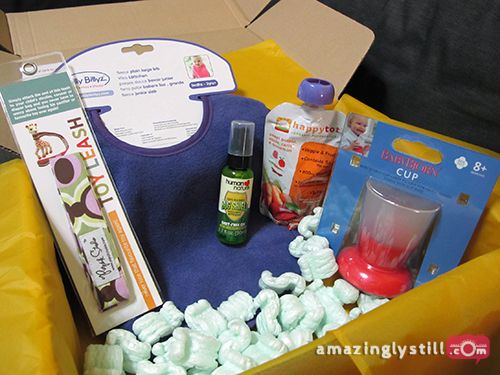 From L to R: Sophie's Toy Leash, Silly Billyz Fleece Large Baby Bib, Human Nature Citronella Bug Spray, Happy Baby Organic Food Stage 3, Baby Bjorn Cup

A note of description for all the items in our Little Crate
A lovely touch, if I say so myself!
There is only one item in this box which I doubt I'll use (for now) – Sophie's Toy Leash. Nakayla was never one to need toys when she's traveling in the car, or in the stroller. She's that awesome! Had this came along when Blake was 11 months old, well, that would've been so much handier! Hehe. But who knows what the future holds? I might just need it when she gets an upgrade in her car seat, and starts facing the front.
Truthfully speaking, Little Crates will make amazing gifts for family and friends who are about to have a newborn, or are already parents to young toddlers (below 2 years old). All the more for first-time parents!
I can imagine my life being made a whole lot easier had Little Crates been around when Blake was just born. Imagine all the time saved (and extra sleep I could have gotten) on researching for the best products out there, which are suitable for his age then!
It's also good for anyone who is absolutely clueless about baby products, but still want to shower a family member's or friend's baby with some lovely gifts. You're so thoughtful and awesome! And trust me, this beats almost all of the retail one-for-all-all-for-one baby gift sets/hampers out there.
Enough about all that now, cos I'm too excited and cannot wait any further!
Discount Code Alert!
Simply key in 'amzlsnov13' before check-out and you'll get a one month Little Crate subscription at $33, instead of the usual $38. Valid till end January.
Giveaway Alert!
The lovely parents over at Little Crates is also giving away ONE Little Crate to a lucky reader of mine!
Joining the giveaway is easy. Simply follow the steps in the box below to increase your chances of winning!
a Rafflecopter giveaway
Terms and Conditions:
1. Only open to participants with a valid Singapore address.
2. Entries that do not fulfill the requirements stated will be disqualified without notice.
3. Giveaway starts on 6 Nov 2013, and ends on 21 Nov 2013 (Nakayla's first birthday!) at midnight.
4. Winner will be announced on this post on 21 Nov 2013. Any further updates will be on my Facebook page.
Disclaimer: We received a Little Crate for the purpose of this review. Little Crates are best suited for babies and toddlers aged 0-2 years old.